Swim Gear News courtesy of Slix Australia, a SwimSwam partner.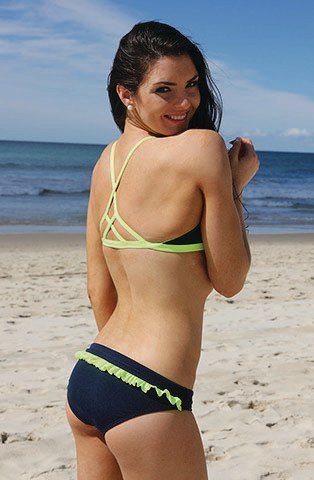 If you think you can't have a swimsuit that's both active and stylish, think again! While your racer back is practical and your bikini is cute, Slix Australia has found options that merge the two for your fit lifestyle. From two-pieces with maximum support to one-pieces with adjustable straps, you can be rest assured there won't be a slip. Click through to check out our favourite pieces to take your workouts to the water!
Are you sick of your swimmers back tan? Minimise your tan lines with Slix Training Bikini's.
Slix is refashioning swimwear with their tie on top and bottom. With this added feature you can do lap after lap without a slip or drag slowing you down. It's all in the details with frills, lace and exciting new back detailing we are revolutionising swimwear with our unique style. The new Flicka Hot Pink – Arrow Back Training Bikini is one of Slix Australia's most popular back styles. Frills and Fluoro are super cute this season have a look at the Sasha Fierce Training Bikini or the Rio and Ra-Ra Double Frill Training Bikini.
Slix Australia swimwear features our Exclusive STAMINA – Chlorine Resistant fabric and superior construction technology, and when combined with trend-driven designs, this truly sets our sports swimwear apart from others in the market. Slix Australia Ships Worldwide Daily.
Swimming Gear News courtesy of Slix Australia, a SwimSwam partner.