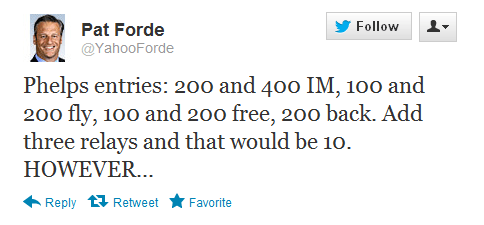 In a great interview with NBAC coach Bob Bowman this morning, Garrett McCaffrey got a little golden nugget out of NBAC coach Bob Bowman: Michael Phelps will be entered in the 400 IM and 100 free at the Olympic Trials next week.
Coach Bowman wouldn't commit to whether or not he would swim either event, but we now know at least that he's entered in both of those races.
Later in the morning, the plot got thicker, as Yahoo Sports' Pat Forde (a bit of a swim buff himself) reported that Phelps would also be entered in the 200 backstroke, giving him a full individual entries at trials.
Back to Garrett, Bowman told him that some of these events could be for a "worst case" scenario, with perhaps an event thrown in at the end of the week in case the beginning of the week doesn't go well. But with the 400 IM coming at the very beginning of the schedule, it wouldn't necessarily fit into that category.
The 200 backstroke might throw some for a loop, but it's not a bad backup event for Phelps either – His 1:54.64 in the race is the 6th-fastest time in history, despite him never swimming it at the Olympics.
Check out the interview with Garrett – we learned a lot more about the tapers of Michael Phelps and Allison Schmitt than maybe anybody's ever gotten in the past, and also got Bowman's best explanation for why event secrecy is so important to him and his athletes.