2021 CANA GRAND PRIX SWIMMING STELLENBOSCH
May 6 – 8, 2021
Stellenbosch, South Africa
Long Course Meters (LCM)
Olympic Qualifying Meet
Results Available on Meet Mobile Under "2021 Cana Grand Prix Swimming Stellenbosch"
The 2021 CANA Grand Prix has wrapped up in Stellenbosch, South Africa, marking the conclusion of one of the final 2021 Olympic qualifying opportunities for many countries. While South African swimmers have headlined the meet, athletes from countries including Benin, Botswana, Burundi, Cameroon, Cape Verde, Djibouti, eSwatini, Guinea, Malawi, Niger, Rwanda, Senegal, Seychelles, Sierra Leone, Tanzania, Tunisia, Uganda, and Zambia were all present at the meet.
For South Africa, this meet follows their official Olympic Trials which took place in April and gave swimmers another shot at getting under the FINA A standard to earn automatic Olympic qualification. Matt Sates was the only swimmer to get under a FINA A standard at the meet, hitting a 1:59.02 200 IM to undercut the 1:59.67 he needed.
While a FINA A standard gives a swimmer a pretty sure shot at being named to the team, there are other routes to be named to the team. Any swim between March 1 2019 and June 27 2021 will be considered for selection which means that times swum at the 2019 World Championships will also be used for consideration. Further, if a swimmer hits a FINA B standard they may also be considered for nomination.
As a reminder, the FINA A and FINA B time standards for this Olympic year are as follows: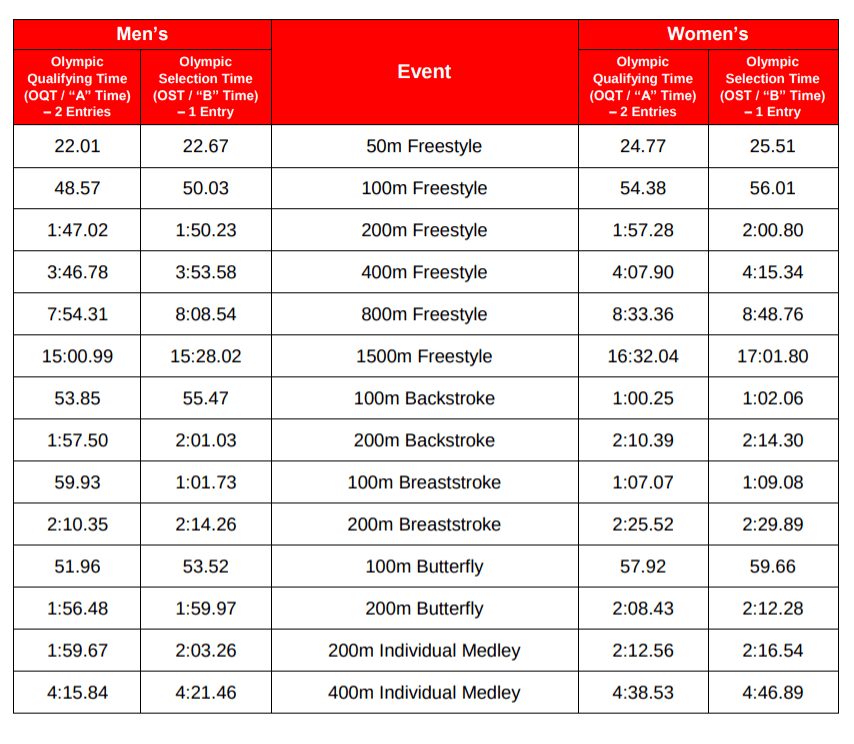 Chad le Clos swam to victory in the men's 200 freestyle with a 1:48.83, shaving some time off his prelims swim of 1:51.45. The swim got le Clos under the FINA B standard of 1:50.23 but he was a little bit off the 1:47.02 FINA A, as well as his own national record in the event of 1:45.20 which he set at the 2016 Olympics.
Le Clos also raced the men's 100 butterfly final and hit a 53.37 but was out-swum by Matt Sates who hit a 52.30 for the win. Both Sates and Le Clos trailed the FINA A selection cut of 51.96 but were each under the FINA B of 53.52. The winning swim for Sates was a bit slower than the 52.15 he swam at the recent South African National Championships. Le Clos will likely be selected to swim the event for South Africa at the Olympics, considering that he took bronze in the event at the 2019 World Swimming Championships with a 51.16 which is well under the FINA A and won silver in the event at the 2016 Olympics with a 51.14.
Later on in the session, Matt Sates swim a 22.88 50 freestyle to take gold in the event, out-touching Ryan Coetzee's 23.26 for silver and Elhadji Adama Niane's 23.39 for bronze. Sates was 0.10 seconds faster in the final than he was in the prelims where he posted a 22.98. Both swims, however, were a bit over the FINA B standard of 22.67, as well as the FINA A cut of 22.01. Those 2 swims for Sates were his first 2 times under 23 seconds in the event, improving upon his April 2021 best time of 23.74.
Michael Houlie got within half a second of the FINA B cut to win the men's 100 breaststroke, posting a 1:02.32 compared to the 1:01.73 B standard and 59.93 FINA A. While that swim itself likely wouldn't be enough to get Houille to Tokyo, he has been under 1:01.73 a few times during the qualification period including a 1:01.24 in November 2020 and a 1:01.27 in January 2020.
Rebecca Meder collected 2 gold medals as well during the final session of the meet, hitting a 2:17.41 in the 200 IM and a 1:05.05 in the 100 backstroke. While those swims were fast enough to win the events, they were actually both slower than her prelims swims of 2:14.70 in the 200 and 1:03.39 in the 100.
While both of her finals swims were slower than the FINA B standards, her 200 IM prelim swim was under the respective cut of 2:16.54 by nearly 2 seconds. Meder has yet to crack the FINA B standard of 1:02.06, holding a PB of 1:02.28 in the event from last month.
Hannah Roberston picked up her 2nd and 3rd victories of the meet during the second finals session by swimming a 58.70 100 freestyle and a 4:31.44 400 free. Both of those swims were quicker than her prelim swims of 59.15 and 4:31.88, respectively. The 400 freestyle for Roberston was a fair bit slower than her swim at South African nationals a few weeks ago when she posted a 4:21.46 for second place.
Dune Coetzee added to her 100 fly victory from earlier in the meet by taking gold in the 200 butterfly with a 2:16.06, shaving some time off her 2:18.98 prelims swim. Coetzee was recently a few seconds faster when she hit a 2:12.24 at South African nationals, earning herself potential consideration for the Olympic team by undercutting the FINA B standard by just 0.04 seconds. Coetzee also raced the event for South Africa at the 2019 World Championships where she was even faster, hitting a 2:11.92 for 20th place.
Additional Wins During Day 3 Finals
Lara Van Niekerk took 0.30 seconds off her prelim time of 31.36 to win the women's 50 breast in a 31.06. Later on in the session, she took gold in the 50 fly with a 28.69.
Wikus Potgieter swam a 28.73 to take gold in the men's 50 backstroke, adding 0.98 to his prelim swim of 27.75.
100 backstroke victor Martin Binedell repeated as champion in the 200 bacsktroke, hitting a 2:03.18 for the title.