Courtesy of Big Blue Swim School, a SwimSwam partner.
Since its founding in 2009, Big Blue Swim School has made a name for itself by providing swim lessons to families seeking water safety for their children aged six months to 12 years old. Now, the brand's semi-absentee franchising model is appealing to multi-concept franchise partners looking to expand their portfolios.
Big Blue offers an unparalleled swim school model made effective by highly trained professional swim instructors, a proprietary enterprise technology system and curriculum, and family-centric facilities. Big Blue offers a business model that supports franchise partners with proprietary cloud-based technology, top-tier franchisor support and strong unit economics. The brand is positioned to become the market leader in the underserved and fragmented learn-to-swim industry, valued at $3 billion annually.
"Our model is highly efficient and semi-absentee-focused in structure, so investors can maximize their time and capital with us," said Big Blue Swim School's CEO, Scott Sanders.
Chris Burden, a Big Blue franchise partner who has signed on to open three pools in New Jersey, agreed that Big Blue offers an attractive opportunity for multi-unit investors.
"I had a career in finance prior to franchising, and I had hit a point in my career where I could start something on my own," he said. "With my experience in finance, I recognized right away that Big Blue offered a business opportunity in which I could scale my investment portfolio successfully."
As a semi-absentee business opportunity, franchise partners are not required to be on-site running individual stores, making Big Blue attractive to people like Burden who want to scale their investments over multiple units or brands but don't have the bandwidth to be on site every day. With Big Blue's proven model and incredible support infrastructure, franchise partners can operate at a sophisticated level from the very beginning.
Big Blue creates the kind of high-performing returns and market longevity that multi-brand investors look for in a new business opportunity. The total investment necessary to begin operation is $2,334,223 to $3,641,998. Therefore, the brand attracts semi-absentee investors with sizable equity capital who are looking to add a recession-resistant business to their portfolios. Plus, Big Blue provides an entry point into the fragmented swim school industry that still has massive amounts of white-space opportunity.
"Participation in swimming is growing, with a 52% growth in year-round swim memberships from 2000 to 2017, according to USA Swimming," said Chris DeJong, the brand's president and founder. "Swim lessons fill a vital need for safety and cannot be outsourced or automated. People looking for great returns on their investment want to park their capital for a long period of time and see high returns. Since parents will always invest in their children regardless of the economic climate, Big Blue is the perfect opportunity."
In addition to the proven business model, Big Blue's cloud-based enterprise system, LessonBuddy™, is designed so franchise partners can operate successful pools without needing a daily presence on location.
"LessonBuddy allows our franchise partners to remotely manage their business through dashboards and KPIs all the way down to the shift level — they can track their costs and efficiencies so they have total transparency in terms of ROI and health of the business," explained Sanders. "LessonBuddy also allows families to reschedule lessons at the touch of a button, solving availability problems and maximizing reach."
Most Big Blue investors don't come from a background in the swim school segment, and Big Blue's private-equity-backed leadership team is well-equipped to fully support franchise partners regardless of their experience in the industry. The brand is focused on ensuring each pool is set up for success through critical services such as site selection, construction, technology, and marketing, allowing franchise partners to focus entirely on creating a positive and memorable customer experience.
"We are data-driven and we are nimble," said DeJong. "We have the experience to scale quickly and we optimize a data-driven real estate assessment that identifies the prime real estate in trade areas. Next, we deploy operational team members for both pre-and post-opening support as part of our proven marketing strategy."
With a proven business model, fragmented industry, strong corporate support team, and cloud-enabled proprietary enterprise system, Big Blue is designed for franchise partners who want to scale their investment portfolio and operate a successful business from any distance.
As Big Blue continues to appeal to qualified franchise partners like Burden, the brand is well on the way to achieving its goal of 240 pools signed by the end of 2022.
Multi-unit franchise opportunities are available for qualified candidates looking for their next big opportunity, and veterans can receive a 10 percent discount on the $80,000 franchise fee. The total investment necessary to begin operation of a new Big Blue Swim School is $2,334,223 to $3,641,998 (refer to item 7 in FDD) To learn more or inquire about Big Blue Swim School, visit https://www.bigblueswimschool.com/franchising/.
ABOUT BIG BLUE SWIM SCHOOL
Big Blue Swim School was founded in 2009 by competitive swimmer Chris DeJong. The first location opened in Wilmette, Illinois, followed by four additional Chicagoland schools. In 2017, Level 5 Capital Partners acquired a stake in the brand. Through that investment, Big Blue plans to grow through franchising to 150 pools by 2021. Big Blue Swim School's real estate expertise, strong brand, proprietary technology, and leadership support, coupled with its best-in-class consumer offerings, position its franchise partners for long-term success. To learn more about franchise opportunities with Big Blue Swim School, visit http://YourBigMomentStartsHere.com.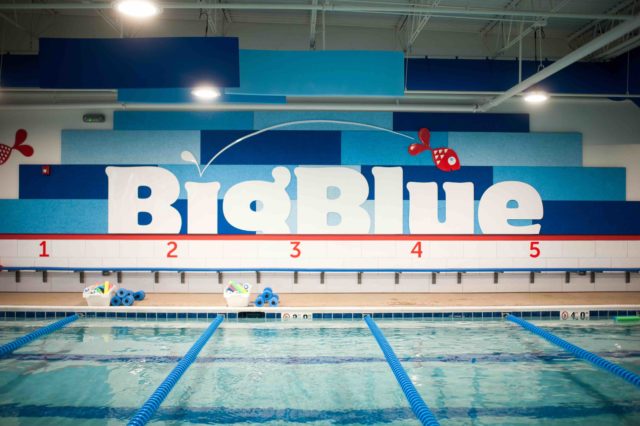 Big Blue Swim School is a SwimSwam Partner.