Big Blue Swim School emerged through a chase to be the best, and that vision has driven the brand ever since. Big Blue Swim School founder and U.S. National Champion swimmer Chris DeJong knows all about striving for excellence: After ranking No. 5 in the world and No. 4 in the U.S. in backstroke, training with the same coach as Michael Phelps, DeJong missed qualifying for the U.S. Olympic team in 2004 and 2008 by four-tenths of a second. Driven to start his own business yet unwilling to give up a passion for swimming and the life lessons it confers, DeJong opened the first Big Blue Swim School in Wilmette, Illinois in 2010. Since then, the brand has expanded to four more locations, with the fifth and newest Big Blue in Chicago's North Center.
That growth can be attributed to a number of differentiators unique to the brand, but perhaps none that runs as deep as Big Blue's expansive and experienced corporate leadership team. With DeJong as the "why" that drives Big Blue, the leadership has developed to include an impressive roster all committed to excellence.
"Our corporate team started over nine years ago and has grown to be a tremendous driver for the brand," said Chief Development Officer, Scott Thompson, who himself can claim over 18 years of experience in franchising, franchise development and executive management, and is an IFA-Certified Franchise Executive. "We offer our franchisees and franchise partners tremendous support thanks to the experience of our leadership," Thompson said.
Leading the charge is Big Blue CEO Chris Kenny, co-founder and CEO of Level 4 Yoga, who joined Big Blue in 2017 as a Managing Partner of Level 5 Capital Partners. Kenny strategically drove growth of the Level 4 Yoga brand in the Chicago, Denver, Phoenix and Raleigh markets, and is leading the charge to grow Big Blue to 150 locations by 2020. Kevin Bostick serves as Big Blue's Chief Financial Officer and brings years of experience working with private equity firms and in senior finance roles at New Global Telecom, Level 3 Communications and JP Morgan.
"We don't take a passive approach to growth and development," said Kenny. "We believe in our best-in-class model because it's data-driven, growth-oriented and backed by Big Blue's proprietary technology, which ranges from scheduling platform Lesson Buddy™ to real estate sourcing software. But an industry-leading offering needs industry leaders to pave the way, and we have a deep bench."
Leadership also includes Brooke Mallick, the new VP of Marketing, who joins Big Blue from PepsiCo, Inc.; Justin Waltz, VP of Franchise Operations who joined Big Blue from Premium Service Brands and College Hunks Hauling Junks, Michael Chin, President of L-5 Real Estate Services, who heads an eight-person team of analysts, deal makers, design, construction and facilities management; Ashley McKenzie, who works as the franchise field support to franchisees across all functions; Morgan Egan and McKenna Meyers our New Pool Opening marketing experts and Paige Reyhan, event planning, logistics and franchise development manager, as well as several other franchising and operations experts.
The complementary and industry-leading experience assembled in Big Blue's executive team means important things for franchisees and invested franchise partners alike.
Kenny and Bostick's backgrounds in private equity drive the brand's strategic initiatives, and, in particular, Kenny's direct experience growing Level 4 Yoga across markets provides the necessary foundation for Big Blue's splash-making growth plans approaching 2020. Combined with Thompson's 18-plus years of franchising experience and the skills of experts across such industries as marketing, operations and real estate, Big Blue Swim School's strength of leadership truly matches the strength of its offering and is on par with franchise brands with a footprint of 100+ units.
Franchise partners should also take note that those operating Big Blue locations find themselves awash in corporate support, all strategized and deployed by the expert members of Big Blue's leadership team. This all begins with the brand's commitment to only working with the highest-caliber franchisees.
"We have a mutual valuation process [for franchisees] because we want to make sure those joining our brand are the right fit in the interest of their success," Thompson said. Once a prospective candidate has officially signed on, the corporate real estate team has already sourced prime real estate and assigned a launch specialist to work with Big Blue's newest owner-operator.
"We leverage dealmakers who evaluate the market and develop a pipeline of sites as the discovery process unfolds," Thompson explained. "Once we find the site that meets our assessed need and footprint, we submit a letter of intent, and lead the way with a marketing plan, bidding for construction and delivering construction oversight."
The result for franchisees? "A turnkey solution that positions you for success," said Thompson. "We do a really extensive job looking at the data [for a location] because we won't open unless we can say, 'If it was our money, we would put our money behind that deal.'"
Furthermore, the corporate team takes care to connect with new franchisees thorough weekly calls and provides a flow chart that maps out all necessary action items, from pre-launch to launch and beyond. A corporate launch team then supports franchisees for their first 12 months of business, and a field support specialist visits quarterly with a strategic marketing plan and to chart metrics.
In this way, Big Blue's executive team ensures that its collective business acumen is immediately available—and regularly tapped—by every member of Big Blue's franchise system.
"Our values are unique and instrumental to guiding healthy childhood development thanks to our self esteem-building instruction model," said Thompson. "Correspondingly, the kind of franchisee we attract is one with both business acumen and a deep commitment to enriching the lives of children. That's exceptional; the caliber of franchisee that we attract to the brand speaks for itself."
Thompson also emphasized that the executive team doesn't view Big Blue Swim School as "a lifestyle business.
"It's a long-term legacy investment and we take the guesswork out of real estate, marketing and operations to maximize franchisee success," Thompson said.
All of this means that franchisees receive consistent support from a corporate team steeped in industry and operational acumen, positioning them for optimum performance in their markets. For investors looking at Big Blue, this means that, driven by an exceptional leadership team, Big Blue Swim school is positioned to emerge as the dominant national player in a $20 billion swim lesson industry.
"Our primary strategic goals are to maximize systemwide revenue and our franchise owners' profitability," said Thompson. "If an initiative doesn't fall into one or both of those buckets, we don't do it."
Looks like DeJong's near-qualifying collegiate swims may not have carried him to the Olympics, but they certainly set him on the path toward a gold medal brand driven by an all-star executive team.
Multi-unit opportunities are available for qualified candidates looking for their next big opportunity, and veterans can receive a 10 percent discount on the $50,000 franchise fee. The total investment for one Big Blue Swim School ranges from $1,825,500 to $3,687,000. To learn more or inquire about Big Blue Swim School, visit https://diveinwithbigblue.com/.
ABOUT BIG BLUE SWIM SCHOOL
Big Blue Swim School was founded in 2009 by competitive swimmer Chris DeJong. The first location opened in Wilmette, Illinois, followed by Niles, Buffalo Grove and Hoffman Estates. In 2017, Level 5 Capital Partners acquired a majority stake in the brand, and is rolling out an aggressive strategy to grow through franchising to 150 locations by 2020. Big Blue Swim School's real estate footprint, proprietary technology Lesson Buddy, coupled with its practice of employing full-time child engagement specialists that teach based on a proprietary distance-based swimming methodology sets Big Blue up for long-term success. To learn more about franchise opportunities with Big Blue Swim School, visit http://YourBigMomentStartsHere.com.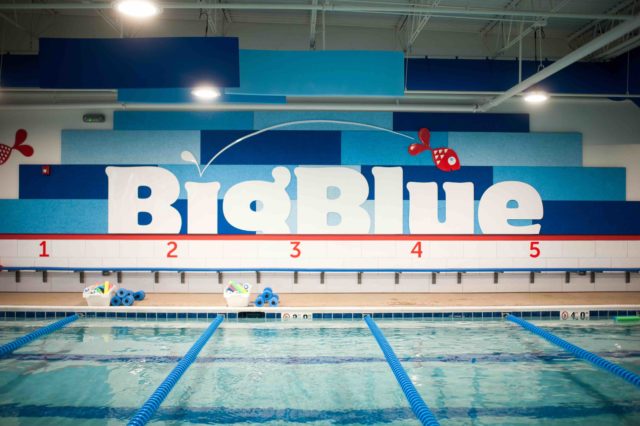 Big Blue Swim School is a SwimSwam Partner.