courtesy of Open Water Planet
It began with a conversation.
When Master Sgt. Rhoden Galloway's active service in the military came to a rapid end, he wondered how he would possibly assimilate back into ordinary life.  Although no longer on site at his platoon, a battle still lay ahead, geographically relocated to his home front.  
Arriving back home, Rhoden was introduced to the Wounded Warrior Project, a non-profit agency for those who had served in the military post Vietnam. The leading element of this program assists warriors who were either severely injured or ill in assimilating back into the civilian sector.  It was here that he learned the existence of adaptive sports.
"I learned about the Warrior Games in 2011.  I had to prepare and train for them. I cycled and swam in three events."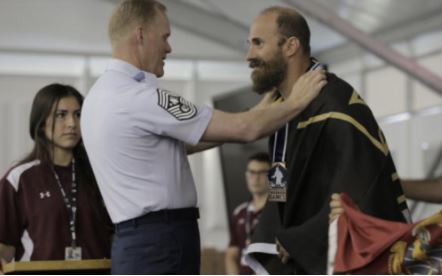 Growing up, his mom couldn't keep him out of the pool.
"I've been swimming every summer of my life since grade school.  The pool was certainly my second home."
But when Rhoden returned home after serving for the United States, the thought of getting back in the water was not something that floated in his mind.  His thoughts were centered on the army and his injuries. However, shortly after becoming involved in the Warrior Games, he developed a bond with his head swimming coach, Bobby Brewer.  
In preparation for the Games, Rhoden grew fond of his coaching style and appreciated his knowledge.  Their love for swimming was something each heavily related to and in the midst of conversation, he was introduced to a new style, open water swimming.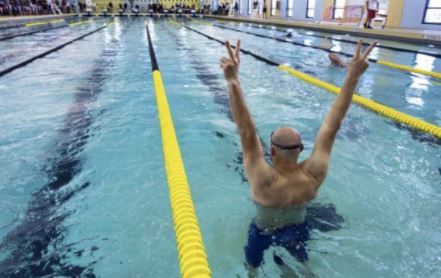 Participating in South Padre Island would be Rhoden's first open water event.
"I didn't realize what I got myself into.  I didn't realize there was something at stake.  I was disappointed with my time and didn't perform as well as I would have liked to."
Swimming for the entirety of his life within lane lines of a pool, now swimming against a current and wind presented a new challenge.  But he swam his hardest, even cutting at 90-degree angles to make the right buoys.
"Next thing I know Bobby told me I had won the Contender Series.  I was surprised and confused. I don't know if it was because it was my first event or because I was a novice."
But open water swimming became more than just a race for this warrior.  It rehabilitated his life.
Although he said people wondered, 'if you aren't competing to win, what's the point?  Why do it?'
He'll be the first to tell you, "To me the most important thing isn't so much that one swim at a competition.  You get in, swim, and it's over. It's about going back home to train with my friends. It's about the people you get to know.  That is the meat of the story."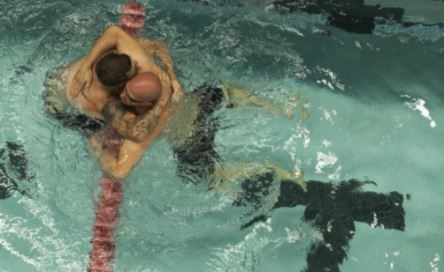 Open water swimming has given Rhoden the peace of mind he never thought he would experience again.  It's encouraged him to get others involved, simply by initiating the conversation. Just as Bobby did with him.
Anyone he thinks might be a suitable candidate, he opens dialogue, 'Hey there is an open water swim being put on by Open Water Planet.' "I encourage them to just get in the water and try it."
At the end of the day, "If nothing else, if it doesn't work out or you aren't cut out for it or it's even too overwhelming, they have safety crews there to get you.  Heck, you can even try it again! You build up the courage. But if nothing else, you'll walk away from the event trying something you had never done before in your life."
In Rhoden's story, the competition is fun and exciting.  
"It gives me a benchmark to prepare for.  But the heart of the story is the training.  Just getting in the water. When I let my body float, I am in a weightless atmosphere.  I am comfortable."
Sometimes all it takes is a conversation and the willingness to take the plunge.  
"It helps me remember I can be part of something I would have never assumed was a lifestyle I would have been able to be part of.  Here I am, being a part of it."



Courtesy of Open Water Planet, a SwimSwam partner.