Thanks to Katie Mcbratney for contributing this story.
Why do I do it? I don't do it because I can't play any other sports, it's Arizona thing, or because I like having bigger biceps than the average teenager my age. I don't do it for the tan, the boxes of medals and ribbons, or because the pool floaties at Costco are boring. The basic definition of swimming is, "propelling the body through the water by using the limbs. My definition is: grasping the suave scent of chlorine before dawn, the act of becoming family with teammates, and to never stop improving.
Four a.m., when the alarm on my phone fills the dark, peaceful, cave of wonders, it becomes the moment every Monday, or Wednesday and Friday that a champion is reborn. When my body is aching and telling me it's only one 90-minute practice, my brain's already doing the math as to how much I slept and how long ago it was that I last saw my coach. Not even eleven hours. Tearing myself out of the warm, gentle, portion of my room I call a bed, I pack my lunch, throw on a dry suit, grab a chocolate milk, and head out to the car.
First entering that weight room sends a pulse of energy through me. Either I sit around and only allow the pull sets and kick sets to mold me, or I pick up the equipment and make something out of myself. We're not only the clay, but also the sculpture. Our coaches, parents, and the meet officials, are the tools we're given to create a winner, and an athlete that can accomplish the goals they've set.
"Chlorine is my perfume." There's no better perfume or scented lotion like chlorine. Fresh tablets in a skimmer basket at 5:45 on a Wednesday morning, to me, is like it is to other girls walking into a Bath and Body Works. Splashing cool, fresh water on your face after a long practice, or even a meet, is rejuvenating, but to me it feels like I'm pushing the chlorine straight into my veins. Although the scent of it alone, is not as breath-taking as it can be when accompanied by the sound of splashing, rapid-moving water. When standing on the blocks for a split second, smelling the chlorine, gripping the edge of the board, rubbing your thumbs along the side, while looking down, and hearing the water rush into the gutter, I know I could stay in that position forever.
The sport is greatly linked to the senses, being the tactile person I am. Wiggling your toes in a pair of fins. Chewing on your snorkel till you get cotton-mouth. Playing with your paddles during a long, boring pull set when suddenly someone knocks them off your hand. Feeling a brand new cap move between your index finger and your thumb. The exhilarating, childish moment when you light up inside, peeling the stickers off a fresh pair of goggles. Moreover, opening that 4×7 Arena, kneeskin box and your face animates with the characteristics of a toddler on that magical Christmas morning.
Additionally, the emotions that come with being on a team that goes through everything together. Giggling and blushing when your friends older brothers call you "Godzilla," "a beast," tell you to slow down, or even try to get you to sing a dumb song that's playing on coach's phone. When the relay teams are all focused behind the blocks, but you can't help but busting a gut about the silliest of things, and looking like a bunch of baboons. Getting that adrenaline rush when you hear the buzzer at a meet and frantically go through the quick thought process as to what your going to swim, when it hits you, it's not even your meet. Smiling while swimming because your coach is running back and forth across the pool with you and is giving you those double arms saying to push harder and dig deeper. Even having a smile plastered on your face because the sound of your name when you are called to the podium is what the best of the best still feel when they're given a medal. Coach yells at everyone for attendance and you ache inside because you feel like you could've done something more even tho it's not possible.
Furthermore, the depressing feeling that comes around one in while, when you miss a week of practice and realize that you actually wish you were sore because it's the most satisfying feeling you can get.
That's why I do it. Not because I can't play any other sport, it's what all Arizona kids do during the summer, or because I enjoy having a panda tan line on my face, but because I love what I do. "No excuses."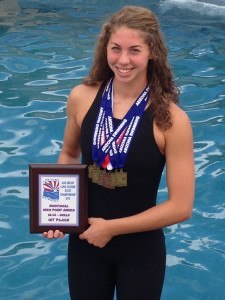 Katie Mcbratney, age 15, has been swimming club for the past eight years (2008). She currently swims for Arizona Gold. She specializes in the breaststroke, freestyle sprints, and the individual medleys.