In our post-Olympic Trials analysis, Texas A&M's Bethany Galat stood out as one of the meet's most dramatic improvers – she put up two of the four biggest time drops of all female swimmers in the meet. So we caught up with the rising Aggie junior to talk Trials.
Galat was quick to deflect much of the credit to her coaches, Steve Bultman and Tanica Jamison, but also chatted with SwimSwam about her pre-meet mentality and her technical improvements in two years with A&M.
"It's really important to know that I wasn't the only one dropping so much time on my team," Galat said. "I think there were 14 total best times from Texas A&M. That made me realize how helpful my coaches Steve and Tanica were."
Galat accounted for 3 of those lifetime-bests, hitting drops in her 200 breast (4.90 seconds), 400 IM (6.82 seconds) and 100 breast (0.32 seconds). The first two were the first- and fourth-biggest percentage time drops (respectively) among all women's events.
"The mentality – I think going in, I wasn't expected to do much," Galat said. "I wasn't ranked very high and I was just coming into it as a race.
"I wasn't feeling that much pressure, I just wanted to go in and race. I was really enjoying it, and I think that's how I was able to drop time, along with the training background I had."
Off-Event Surges
U.S. Olympic Trials is a notoriously difficult environment in which to swim best times. And even for those who have good meets, the pressure can still take a toll. Galat said her 400 IM and breaststroke races benefited from feeling like secondary events, while her 200 IM took the brunt of the pressure and expectation.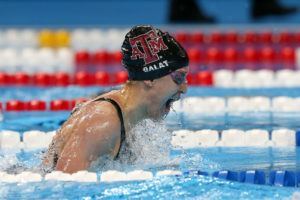 "I definitely felt too much pressure in that event," Galat said of the 200 IM. "I thought that was my better event going in."
With the 8th seed, Galat said she felt more expectation to make the final. She did so, but was a tenth off a lifetime-best with a 2:12.29.
Conversely, Galat said she'd never considered the 400 IM or 200 breast to be her primary race over the shorter IM. But that turned out to be a blessing in disguise, as a pressure-free Galat swam to surprise 3rd-place slots in both races.
An event lineup that turned out to include 10 swims over 5 events also helped keep Galat from stressing too much about any single swim. She competed in prelims and finals of the 400 IM, prelims, semifinals and finals of the 200 breast and 200 IM, plus heats of the 100 breast and 50 free.
Stroke Makeover
Galat said her time improvements are the result of several years of regular technical improvement. When she graduated high school in 2014, she left her hometown of Mishawaka, Indiana (which missed her so much it christened a city holiday "Bethany Galat Day" in her honor) early to join the Texas A&M program for the summer before her freshman year.
"I swear, every single time I came into the wall, Steve had something to say to me," she said with a laugh. "That was a big adjustment."
In the two years since, she says Bultman and Jamison have continued to tinker with all four of her strokes to great success.
"I don't think any of my strokes look the same. Not even close.
"I think that really shows Steve and Tanica's eye for a specific stroke. They're really special coaches in that way."
Moving Forward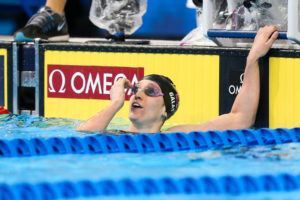 While the Olympic Trials are the biggest meet of the summer for most American swimmers, the season never ends, particularly for those in the college realm. Galat says the Aggie crew was back into training after Trials, with sights on the U.S. Open in Minneapolis this August.
From there, the target moves to next summer, which is the next time the U.S. will select a team for international competition. Next summer's nationals will select swimmers for the 2017 World Championships and World University Games – and Galat hopes to be competing for inclusion.
"That's always been my goal. I've always wanted to travel and compete internationally," Galat says. But in order to make that happen, she's taking care to manage expectations – just as she did before Trials.
A great Trials meet inspires optimism – "You really feel like anything could happen," she says – but also changes self-imposed pressure. "Seeing how I performed feeling little pressure, I don't want to put too much on myself," she says. In the end, Galat is finding a balance between the excitement and the calm – one she hopes is the same balance she found in Omaha.
"I'm just trying to keep perspective," she said. "I'm really enjoying racing and being with my team."