Courtesy: Big Blue Swim School, a Swim Swam partner. 
There are a variety of philosophies when it comes to teaching swimming, especially when it comes to young children. Often, toddlers are intimidated by swimming, which creates a lot of anxiety. The struggle for parents and swim instructors is that we know that children must learn to swim despite the fear that often arises when first introduced to the water.
On one end of the spectrum is "child oriented" teaching, which matches teaching to the child's comfort level and gradually builds with their ease in the water. On the other end is "forced adaptation" teaching, which subjects the child to rigorous drowning simulation to eventually build a safer swimmer.
Most swim-lesson providers fall somewhere on the spectrum between these two extremes.
While forced adaptation might sound necessary, the problem is that some programs adhere to a strict forced-adaptation philosophy and make false claims such as "drown proof" and "water safe". These false claims are dangerous myths as the truth is that no child can ever truly be 100% safe around water and should always have adult supervision. Knowing that no child is ever truly "drown proof", we must ask whether or not subjecting kids to forced adaptation is worth it.
At Big Blue Swim School, we believe it is our job to teach a child to thrive and not just survive in the water. Carelessly pushing children to extremely stressful situations has the potential to result in post-traumatic stress syndrome* or at least a deep aversion to swimming. We are very opposed to this approach.
Big Blue's curriculum was developed with the purpose of sharing our love and passion for swimming. We always try to push kids right up to the edge of their comfort zone, but we primarily take our cues from the feedback children give us. We consider children as individuals and not objects to be trained.
At the same time, we also see learning to swim as an opportunity to not only establish a pattern for overcoming fear but also, hopefully, the beginning of a life-long, positive relationship with swimming.
W.B Yeats once wrote that "education is not the filling of a pail, but the lighting of a fire." We love this sentiment, because we know how rewarding learning to love the water is.
Olympic champion swimmer Aaron Piersol is a great example of someone whose love of swimming was fostered from an early age. Aaron is a 5-time Olympic Gold Medalist and World Record Holder in the 200-meter backstroke, as well as an avid body surfer and swim instructor. He is an ambassador for the sport of swimming and says he can't remember a day where he did not go for a swim of some sort. He is also a friend of Big Blue Swim School.
Here is Aaron's opinion of our program:
"Big Blue's step-by-step approach is a great way for kids to learn to swim and to develop a love for something they can have and use their whole lives. It teaches cutting edge technique, important safety skills, and makes sure everyone is having fun while being exposed to a healthy and sustainable lifestyle."
Big Blue can not guarantee Olympic glory like Aaron, but we do strive to lead children to love swimming the way Aaron was taught.
We love showing children how fun learning to swim can be. We understand that, like all of us, they will have good days and bad days at swim lessons. Sometimes we need to push them and sometimes we need to listen when they say enough is enough. Teaching is an art — and that's why we love it!
*Lyons-Ruth & Jacobvitz 2008
ABOUT BIG BLUE SWIM SCHOOL
Big Blue Swim School was founded in 2009 by competitive swimmer Chris DeJong. The first location opened in Wilmette, Illinois, followed by Niles, Buffalo Grove and Hoffman Estates. In 2017, Level 5 Capital Partners acquired a majority stake in the brand, and is rolling out an aggressive strategy to grow through franchising to 150 locations by 2020. Big Blue Swim School's real estate footprint, proprietary technology Lesson Buddy, coupled with its practice of employing full-time child engagement specialists that teach based on a proprietary distance-based swimming methodology sets Big Blue up for long-term success. To learn more about franchise opportunities with Big Blue Swim School, visit http://YourBigMomentStartsHere.com.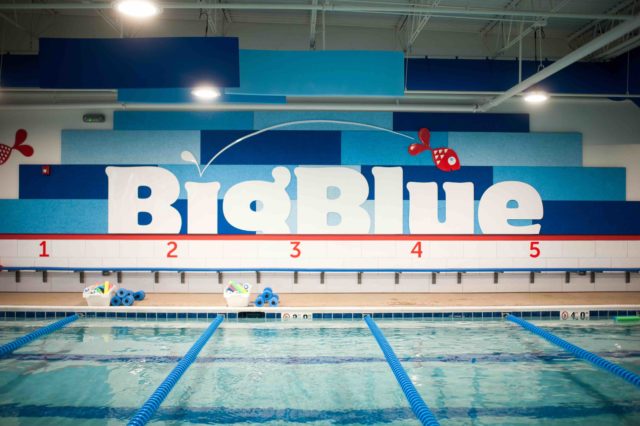 Big Blue Swim School is a SwimSwam Partner.