This week's FINIS Set Of The Week comes from Alan Bircher, coach of the Ellesmere College Titans and home to some of Great Britain's future Olympic stars.  Bircher is a FINIS Coach Ambassador and you can follow him on Twitter @AlanBircher.
The following workout is a speed development workout to help with race preparation.  This "power pool circuit" includes some stroke connection work and overspeed swimming.
Warm-up:
4×300 Alternating 100 Freestyle / Backstroke / Freestyle with Edge fins
8×50 Best stroke kick. (Odds: Fast, Evens: Distance per kick)
4×100 50 Best Drill, 50 Pull with paddles
8×25 Odds: Fast from the blocks, Evens: Build speed
Main Set (Repeat Circuit x3):
Station 1: 10×25 at 100-meter race pace
Station 2: SwimCordz 4x (20 seconds fast swimming, 15 seconds rest in between repetitions)
Station 3: 100-meter FAST Swim (choice stroke) with fins
Station 4: Dryland: 2x (20 Medicine Ball Slams + 10 Chin-Ups or Push-Ups)
Station 5: Stretch / Roller / Recovery
Recovery:
6×100 
1-3: Kick on your back with Edge fins (minimum of 10-meters underwater of every wall)
4-6: 50 Swim, 50 double-arm backstroke drill 
4×200 Distance Per Stroke Freestyle with paddles and snorkel

Workout Total: 6600
For more awesome workouts, visit FINIS' Training Tips & Workouts page today!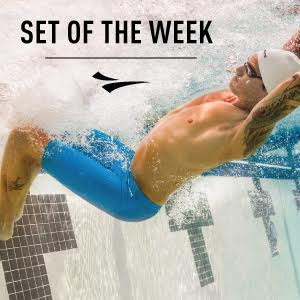 About FINIS, Inc.
John Mix and Olympic Gold Medal swimmer Pablo Morales founded FINIS in Northern California in 1993 with a mission to simplify swimming for athletes, coaches, beginners and lifelong swimmers around the world. Today, FINIS fulfills that mission through innovation, high quality products and a commitment to education. FINIS products are currently available in over 80 countries. With a focus on innovation and the fine details of swimming, FINIS will continue to develop products that help more people enjoy the water.
Swim training is courtesy of FINIS, a SwimSwam partner.