One of the topics brought up at today's congressional hearings where CEOs of several National Governing Bodies (NGBs) were interviewed by members of the United States Congress, was background checks.
The CEOs, by-and-large, didn't have complete details on the background check systems. Hinchey says that USA Swimming receives "monthly recurring reports" on approximately 50,000 non-athlete USA Swimming members who have access to children, but the CEOs couldn't, by-and-large, define what does and doesn't show up on these background checks.
These background checks were relevant in the recent case of Michael McCorvy, who was recently ruled permanently ineligible for membership by the U.S. Center for SafeSport, in spite of a 1993 indictment on sexual assault charges that was eventually pleaded down to a trespassing charge. McCorvy has appealed that suspension.
With the new, formal inter-relatedness of the SafeSport programs, a data point on what is and is not caught on background checks emerged. Earlier today on SwimSwam partner site VolleyMob, dedicated to the sport of volleyball, we reported that a Baltimore-area club volleyball coach and member of USA Volleyball Marc Moore has been given an interim suspension by the U.S. Center for SafeSport for sexually abusing a minor member of his team.
The piece that is relevant to background checks is that the club's owner, Sean Liu, tells us that he was background checked by USA Volleyball and SafeSport, and that his background check came back without flags – in spite of the fact that he was arrested and convicted of felonious theft in 2009.
Unlike McCorvy's sexual assault indictment, which was not carried through to conviction, Moore pleaded innocent to the theft charges but was found guilty by a jury trial. Unlike McCorvy's guilty plea for trespassing, Moore's charges were a felony.
Moore was sentenced to 5 years in jail, with all but 30 days of that sentence being suspended (which he served in 2-day increments over the course of 14 winks), and was ordered to pay restitution of $20,000. That case happened in the state of Maryland, the same state where Moore was coaching and has been charged with the new sexual assault crimes.
We have asked USA Volleyball for an explanation as to how Moore's previous arrest was not flagged and the club was not informed at the time of his membership. They have not responded.
Unlike the USA Swimming Code of Conduct, which makes any felony charge a violation, the USA Volleyball SafeSport handbook is more lenient. Specifically, it has a list of "automatic disqualifiers for participation in sanctioned junior events and/or activities" that took effect on September 1, 2013 that only disqualifies members who have "Felony Violence and Felony Drug offenses in the past 10 years." Violence misdemeanor offenses are listed to the last 7 years, as are "any other crimes (not listed) against children in the past 7 years."
While Moore's felony conviction would meet the time frame of the automatic disqualification, it is not a "violence" or "drug" offense. No other mention of disqualifications for arrests or criminal convictions is made in their handbook, though murder, sex offenses, and homicide don't have time limits.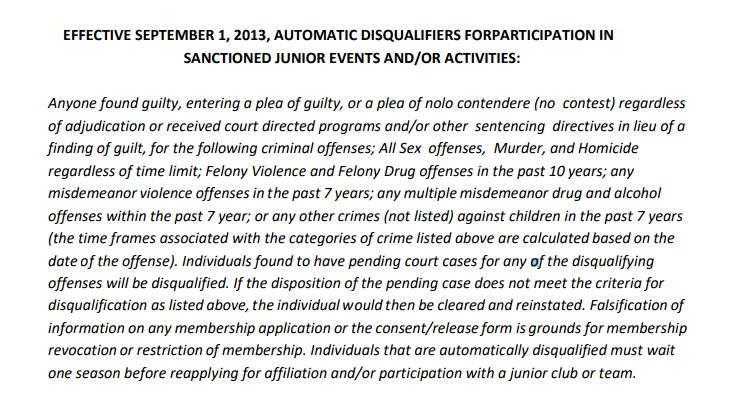 This creates a situation where there are vast inconsistencies among the sports governing bodies. For example, a coach who was convicted of felonious assault on a child in 2005 could become a coach at USA Volleyball today, but (if the background check system works) could not become a coach at USA Swimming.
But for Moore's previous felony arrest not even to be flagged and communicated to the club is of great concern, and is a gap in the background check system.
USA Swimming uses IntelliCorp, a nationally-known background checking company, to conduct its background checks. USA Volleyball relies on their RVAs (equivalent of LSCs) to conduct background checks, which use SSCI – an organization that specializes in background checks for youth sports and volunteers.