Courtesy of Excelle Sports associate editor Kim Vandenberg and Mutual of Omaha BREAKOUT Swim Clinic, a SwimSwam partner.
Janet Evans, a household name in the swimming world, is considered one of the greatest female swimmers of all time. In the pool since the age of 2, her legendary distance freestyle dominance included four Olympic gold medals, seven world records, and 45 American national titles. At 15 years old, she broke world records in the 400m, 800m, and the 1,500m freestyle distances and held the 800m and 1,500m world records for over 20 years. She was the first swimmer to win back-to-back Olympic and world championship titles in the 800m freestyle. Evans was named the female world swimmer of the year three times (1987, 1989, 1990) and competed in three Olympic Games (1988, 1992, and 1996) At the 1996 Atlanta Olympic Games, Evans was chosen to pass the Olympic torch to Muhammad Ali during the opening ceremony. An icon in the sports world, she continues to promote sport through her work as a motivational speaker and Vice Chair of the LA2024 Olympic bid.
As a child growing up swimming in the 1980s, Evans was a role model to me and to every swimmer I knew. As much as I admire her swimming accomplishments, I am equally impressed by her genuine cheer and humility. Her media presence is enchanting and sparks inspiration everywhere she goes. Even the head Olympic water polo coach Adam Krikorian remembers watching her swim when he was young and gaining inspiration from her talent in the pool. Her dedication made waves when she made a comeback at the age of 40, swimming in the 2012 Olympic Trials against swimmers half her age. Evans recalls that the experience was "empowering and courageous" as she was balancing raising two active children while waking up before 5 a.m. to train.
A few weeks ago in California, I shared a few cups of strong coffee with Evans in her laid-back beach home. Her down-to-earth nature and warm personality made it easy to feel like we were old friends as we walked along the water in Laguna Beach. As the Vice chair of LA2024, Evans is as busy as ever promoting the Los Angeles bid, preparing for her upcoming trip to Rio, and managing conference calls all while making breakfast for her two active children, Sydney and Jake. She is a force of productivity and does it all with a smile.
VANDENBERG: You are the Vice Chair of LA2024, what are your visions for the Olympic Games in Los Angeles?
EVANS: Well the IOC (International Olympic Committee) has asked for bidding cities to show that the city that wants to host the Olympic Games has infrastructure, sustainability, and can meet the IOC criteria with existing venues, along with great support from the local community. I think that Los Angeles ticks all of those boxes in that 97% of our venues are already built and will be built in regardless of the Games. We have a 88% approval rating in the community which was built on the goodwill of the 1984 Games. We are a town that lives and breathes the Olympics. We have the Olympics in our DNA and I think that we would amaze the Olympic world with creativity and innovation and definitely take the movement to a new level.
VANDENBERG: The Olympic Village would be at UCLA, right?
EVANS: Yes. The Olympic Village would be at UCLA which we felt was a very sustainable option rather than building another village, taking the existing world class facilities that UCLA has. Some of the greatest Olympians in our country have come from UCLA and as you know, the training facilities are world class – the pools, Pauly Pavilion, Drake Field, we have dormitories with a cafeteria with food that is incredible, I can't wait to eat lunch there, it is healthy and fresh and totally geared towards athletes. We really believe that UCLA offers that and for us it was our greatest option. The village is always the centerpiece of the Games and we feel that UCLA is our little crown jewel.
VANDENBERG: Do you have a favorite race from your swimming career?
EVANS: Yes, the 400m freestyle from the 1988 Seoul Olympics when I wasn't suppose to beat an East German named Heike Friedrich. I don't think she lost the race internationally nor had I. Everyone said she you need to be ahead of her at the 200m because her back half is really fast and my front half is really fast, so at the 200m we were 2:02, just a few tenths away from each other and at the 300m she was a tenth behind me and then she died at the end because I pushed her too hard. Nothing like Ms. Ledecky but still good for that era. On the last 100m, she died and it was so much fun to beat her because I wasn't suppose to.
VANDENBERG: When you swam in 2012, at age 40, how was your mindset compared to 1988, 1992, and 1996? Last month, when I raced in Omaha in the 100m fly for my 5th Olympic Trials, my mindset going into it was to enjoy the experience to be at that level and have fun racing. It was very nostalgic for me in a good way. What was it like for you?
EVANS: I loved it because I found it to be very empowering like I can do anything, I can be a Mom, I can go to morning workout and I can raise these two crazy wild children and I can still do all of that and be all of that, it is kinda in my soul and it's all I know. For me to be there and experience the racing and the crowds, it's exactly as you felt, it was amazing. Super empowering and courageous.
VANDENBERG: Who are you most looking forward to watching in Rio?
EVANS: Well I am really looking forward to watching Katie Ledecky because I think she is incredible, she swims an 800m like a 100m, she just keeps going. I also enjoyed watching Leah Smith because she kinda gave Katie a run for her money, I think she will swim really well. Of course I am excited to watch Michael Phelps but I am most excited about Katie.
VANDENBERG: What are your thoughts on Katie Ledecky?
EVANS: I think that all of the athletic accolades are amazing but apart from that I think she is also grounded and so normal, her parents have done a great job. I think she is so well mannered, put together, and respectful. She knows she is an inspiration and is building a legacy but she is also humble. Humility, to me, is such an important thing because for all of us this ends one day and it's the relationships we forge with our families and friends and what kind of person we are much more than our athletic accomplishments. To me, it is all wonderful but to be a nice person and humble is the most important thing and she has those qualities.
VANDENBERG: And you do too. I remember watching you when I was younger, you have always had that humility which I admire so much. Where does that come from? Does that come from family values?
EVANS: I think from family and the values that they place on swimming, I mean my Mom can't swim and my parents didn't know a lot about swimming nor did they care a lot about swimming. My Mom was a teacher and her thing was you have to get your homework done and be a good kid, have friends and to me, that really helped me because I need balance. I have balance now. My husband doesn't wake up and be like "Oh my god you're amazing, you won four gold medals." He is more like "we need to go to the grocery store" you know it's life! But my Mom said to me once, just because what you did was on TV in front of a lot of people, it doesn't necessarily mean there are kids that are any less special than you out there, there are concert violinist and other kids that do amazing things, just as amazing as you, but they are not on TV and that always humbled me because I think everyone has their own gifts. The Olympics build you up so much and I think it is how you handle it afterwards.
VANDENBERG: What are some of the most important lessons you learned from your swimming career?
EVANS: I think humility is the most important thing because that is going to get you eventually down the road in real life. I think on the swimming side, I had most of my success early and so the question was how did I deal with that. How did I take 3 gold medals as a 17 year old and then deal with not always winning. I think humility helped me with that because I just did the best I could. I realized the sun was going to come up tomorrow and my parents are still going to love me, and I think that helped with my comeback at 40 because it really was okay, no matter how I did. Swimming for me was always a personal journey, it wasn't for anyone else.
VANDENBERG: Can you give advice to other athletes pursuing Olympic goals?
EVANS: I think the Olympics has changed since I was a kid, there is so much media attention and so much that goes into it. The accolades are so great, financially and fame but I think fame these days has taken on a different level in our country. For me, it's not really focusing on that and that is what I love about Katie. She swims because she loves it and is good at it and is building her legacy. She doesn't swim for fame or fortune, I think that will keep her in the sport longer. My advice is to focus on the task at hand, which is fast swimming, working hard, inspiring people and being gracious.
VANDENBERG: All the Olympians who just missed the team a few weeks ago in 2016, what advice would you give to them moving forward into the next step? It seems like you have done it right.
EVANS: Use your platform to inspire other people. At the end of the day, the medals sit in a drawer safe and don't do anything, use your platform to inspire change and goodness in the world. I feel like people like Natalie Coughlin and Jessica Hardy seem to have a nice perspective.
VANDENBERG: What was it like to pass the torch to Muhammed Ali in 1996?
EVANS: It was amazing, it was my defining Olympic moment. For me, it transcended sport because it was that moment I realized it was okay not to win, you know he was sick, he had courage and he was there inspiring people.
VANDENBERG: Who were your idols, in the sport or out of the sport?
EVANS: My parents because I think they kept me humble, mellow and normal. I loved Tracy Caulkins because I thought she was humble and amazing at what she did so I loved Tracy.
VANDENBERG: Did you play other sports growing up?
EVANS: No, I just wanted to swim. It was all I wanted to do.
Excelle Sports associate editor Kim Vandenberg is an Olympic bronze medalist, Pan American gold medalist, World Championship silver medalist and three-time U.S. national champion and French national champion in swimming. She's also a member of Excelle's Athletes Council.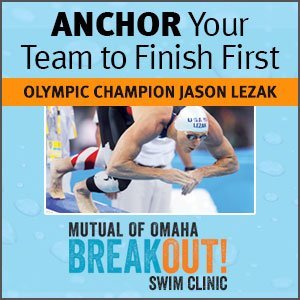 About Mutual of Omaha BREAKOUT Swim Clinic
Josh and Shantel Davis operate the Mutual of Omaha BREAKOUT! Swim Clinic and work closely with each client to ensure everyone has the experience of a lifetime. In the swim clinic business since 1995, they have a keen awareness of how to tailor clinics to meet clubs' needs and exceed their expectations.
As living proof that with hard work, dreams do come true, Josh and Shantel, along with Mutual of Omaha, believe every child has the potential for greatness. They and their staff look forward to working with your swimmers to get them closer to reaching their dreams.