While it feels like we've seen a lot of Division I programs cut over the past few years, this week's BSN Sports Team of the Week is an example of how it's not all gloom and doom for college swimming.
Virginia Wesleyan University is a four-year private university located in Virginia Beach, VA, and while the school has been around for almost 60 years, the Marlins swimming program is only in its third year of existence. The Marlins compete in the Old Dominion Athletic Conference and are one of several newer Division III swimming programs that have popped up in the state of Virginia over the past few years.
We spoke with the Marlins' head coach, Mike Ginder, to get his perspective on building a program from scratch, as well as some other thoughts about coaching in general.
Ginder describes his coaching philosophy as, "Whether it is for swimming, academics, or in life, I will show you all of the tools available and how to use them, but it is up to you to choose which tool(s) is best suited to accomplish the task at hand."
A new program, especially at the Division III level, has a different flavor than many established college programs, but Ginder largely sees this a positive thing.
Everyone, swimmers and coaches, have a bigger say in how we do things during the initial seasons of building this program.  With an established college team, you come as a freshman and are told this is what we do and how we do it.  Our team gets to have a voice in setting the traditions and culture that will be the foundation of Marlins Swimming for decades to come.  As a coach, I feel a little pressure to get everything right initially so even small decisions feel bigger than they need to.
That flexibility also ties into the team chemistry, something Ginder sees as a strength.
I think we have such a great atmosphere on deck because every person has a slightly different priority list and perspective on life.  For some, swimming is their passion and they are pushing themselves and others to be the best they can be.  Others are focused on their academics since they know swimming won't be paying the bills down the road.  Most of them are taking full advantage of the opportunities available at VWU and getting involved in multiple areas and groups across campus.  Each of our men and women chose to be a part of the Marlins Swimming family because they love the sport!
On the other hand, being part of a new program can also bring its own set of challenges.
Virginia Wesleyan sells itself in terms of the institution and location since we offer the small school environment but in the large, metropolitan area of Virginia Beach.  However, for 99.95% of the school's history, we have not been an option for swimmers looking to continue their careers at the collegiate level.  Getting our name out there to high school and club coaches has been the biggest challenge but we are starting to see results from those efforts.
Ginder's an experienced coach, having previously served on staff at Washington & Lee (his alma mater), Catholic, Georgetown, and Bucknell, but when asked about his favorite coaching memory, Ginder revealed that for him, what happens out of the water is even more important than what happens in the water.
Coaches don't have favorites!  The moments I really enjoy as a coach though are when I get to have a real conversation with one of my swimmers.  We're not talking about their swimming or how classes are going, but just sharing life stories.  I really appreciated that my college coach got to know me as a person so that's what I carry with me as a coach now.
The Marlins' third season kicks off October 12th with the ODAC relays at Washington & Lee University.
ABOUT BSN SPORTS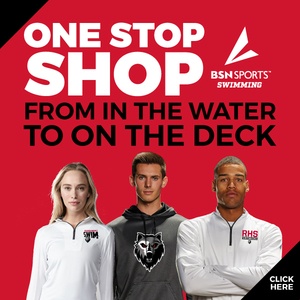 Founded in 1972 as a factory-direct equipment company, today BSN SPORTS is the largest distributor of team sports apparel and equipment in the United States, with over 3,000 employees across 80 regional offices. At BSN SPORTS we believe that sports have the power to change lives. At the heart of what makes sports happen are the coaches, teachers and mentors who work with young and old alike to build meaningful lifelong experiences. That's why our mission is simple. The more time we save coaches with everything they do off the deck, the more time they can spend changing lives. And that's the real final score.
Get your swimmers in custom team gear with your team's logo. My Team shop provides a one-stop-shop solution to custom apparel, suits, footwear, equipment and accessories. It's simple to setup and the My Team Shop platform can even serve as a fundraising solution to earn dollars for your program. To set one up today email us at [email protected] or call 1-877-217-9027.
To learn more about BSN sports visit us at www.bsnsports.com/ib/swimming.
BSN SPORTS SWIMMING ON Instagram – @bsn_swimming