Disclaimer: BlueSeventy Swim of the Week is not meant to be a conclusive selection of the best overall swim of the week, but rather one Featured Swim to be explored in deeper detail. The BlueSeventy Swim is an opportunity to take a closer look at the context of one of the many fast swims this week, perhaps a swim that slipped through the cracks as others grabbed the headlines, or a race we didn't get to examine as closely in the flood of weekly meets.
Australia's Cameron McEvoy is filling a role the sport of swimming didn't know it needed.
In a sport filled with a wide range of personalities – from the youthful swagger of Chad le Clos to the laid-back, fun-loving goofball side of Ryan Lochte to the bubbly optimism of Missy Franklin – McEvoy is his own completely distinct character, unapologetically himself, and quickly turning that self into one of swimmer's premier freestylers.
McEvoy is an unabashed nerd, a cerebral swimmer who is as open to talking about the physics of his training as he is to asking what aliens would think of an earth-based swimming competition.
The 21-year-old Aussie is the rare sports persona who feels like less of a carefully-tailored public image and more of a young man not afraid to be himself – quirks and all – in the media spotlight. And as McEvoy's analytical personality is beginning to find its niche among swimming's pantheon of characters, his swimming is also carving out a spot at the top of the world freestyle ranks.
Last weekend, McEvoy talked to reporters about balancing his Olympic swim training with his physics studies at the University of Bond, then took to the pool to present two lifetime-best swims among a trio of world-ranked freestyle races.
Mostly known for the 100 and 200 frees, McEvoy showed some outstanding range with a 21.73 in the 50 free – a new lifetime-best and the fourth-best time in the world this season. That was coming on the heels of a 200 free earlier in the session that saw McEvoy go 1:46.71, not far off his third-ranked time in the world for the season.
But the best swim, without doubt, was his 47.56 in the 100 free, a world-leading lifetime-best that would have won gold at last summer's World Championships.
The next step for McEvoy is doing what his predecessor James Magnussen couldn't in 2012 – putting up his best swimming at the Olympic Games. But for now, the cerebral young man has elevated himself into the top tier of the world's swimmers – and swimming personalities.
You can read more about McEvoy's 100 freestyle here and his 200 free/50 free double here.
Aptly named to suggest 70% of the earth is covered in water, blueseventy is the world leader in the pool, triathlon and open water wetsuits and swimskins. Since 1993, we design, test, refine and craft products using superior materials and revolutionary details that equate to comfort, freedom from restriction and ultimately a competitive advantage in the water. blueseventy products have instilled confidence in beginners as well as carried world-class athletes to countless Olympic and World victories.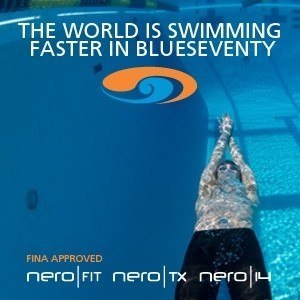 For the latest news and blogs from blueseventy visit www.blueseventy.com.
Twitter: @blueseventy 
Facebook: facebook.com/blueseventy
 Blueseventy is a SwimSwam partner.