arena is pleased to announce that it has signed World Championship medalist Farida Osman in a sponsorship deal that runs through to the 2020 Tokyo Olympics. The 23-year-old Egyptian, a freestyle and butterfly sprinter, won the 50m butterfly bronze at the 2017 World Championships in Budapest, and currently holds the African records in 50m freestyle, and 50 & 100m butterfly.
The daughter of dentist parents, Farida was born in Indianapolis, USA, and raised in Cairo, Egypt, where she started swimming at a young age. After taking a break to pursue her synchronized swimming passion – "I loved how we used to dance in the water, and how fancy, creative and flashy the swimsuits were" – she returned to swimming, and made the Egyptian national team for the first time at the 2007 Pan Arab Games in Cairo, where she became the youngest ever Arab athlete to win the 50m butterfly title and break the Arab record. She was 12 years old.
In 2009 as a 14-year-old, she competed in her first World Championships in Rome, and then two months later at the Junior African Championships in Mauritius she won the 50m freestyle, butterfly and backstroke events, setting junior African records in the first two. Farida won her first global title – 50m butterfly – at the 2011 FINA World Junior Championships in Lima, setting a new championship record in the process. In 2012 she made her Olympic debut in London, and a year later went on to her first World Championship final in Barcelona, where she finished seventh in her signature event (50m butterfly). In doing so she became the first Egyptian to qualify for a final at the World Championships.
Since then Farida's career path has continued to climb. In Budapest, 2017, she became the first Egyptian to medal at a World Championships, taking the 50m butterfly bronze in a new African record, and in 2018 in Tarragona, Spain, she broke Mediterranean Games records in both her 50m freestyle and 50m butterfly victories.
"Super excited to be joining the Arena Family!!" said Farida. "arena is known for supporting the strongest athletes from all over the world, so the fact that I get to be part of that is truly an honor. Thank you arena for believing in and supporting me to take my career to the next level. I'm really looking forward to continue being a leader and inspiring others through this partnership."
After starting out with the Gezira Sporting Club in Cairo, Farida moved to the US, where she trains with coach Teri McKeever at the University of California, Berkeley. At the 2016-17 NCAA Championships, she was one of only three Cal athletes to win individual titles.
As an iconic sports personality in Egypt – she was named the Best Female Athlete from Africa by the Association of National Olympic Committees in 2017 – Farida is keen to encourage youngsters from Egypt and the Arab world to take up swimming, since it "teaches us a lot more than just medals and achievements – a healthy lifestyle, my strengths and weaknesses, how I react under pressure, time management – and so it also builds character."
Right now Farida's medium-term sights are concentrated on the 2019 World Championships in Gwangju, South Korea, where she hopes "to be able to medal and final in more of my events."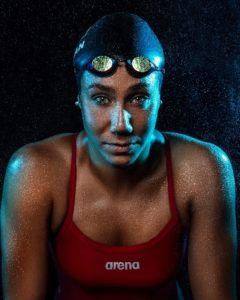 Farida Osman Profile
Born 18 January 1995 in Indianapolis, USA
Coached by Teri McKeever at the University of California, Berkeley
World Championship medals: 1 bronze (2017)
First Egyptian athlete to win a World Championship medal in swimming
First represented her country's national senior team as a 12-year-old at the Pan Arab Games, where she became the youngest ever athlete to win an event (50m butterfly) and break the Arab record
Currently holds the African records in 50m freestyle, and 50 & 100m butterfly
Awards:

2017 Best Female Athlete from Africa by the Association of National Olympic Committees
2017 Female African Swimmer of the Year by Swimming World magazine

Tom Hansen Medal as the top female athlete for the 2016/17 season at the University of California Berkeley
Nickname: The Golden Fish
Hobbies: Travelling, shopping, fashion design, kickboxing
Passions outside swimming: Fashion. "I really enjoy shopping and keeping up with fashion trends. I love dressing up. If I didn't have swimming, I would probably consider modeling."
Motto: Never a failure, always a lesson
Motivation: "Swimming teaches us a lot more than just medals and achievements, it builds character and skills that you can apply in all spheres of life beyond swimming."
About arena:
Since 1973, arena has created and marketed waterwear products for competitive swimmers and swimming fans worldwide, and is universally recognized as one of the premium brands of high quality swimwear and equipment. Over the last 45 years, arena has developed strong expertise in creating best-in-class products with particular focus on the pool segment, while also expanding into leisure and beach wear. Today the arena brand has a presence in 116 countries around the globe. With direct representation in Italy, France, Germany/ Austria and the United States, the group also employs a network of 35 qualified business partners in more than 100 countries, while the Japan-based Descente Ltd owns and manages the brand in 11 countries of the Far East. arena's ties to the world of sport, and swimming in particular, are reinforced through sponsoring activities at different levels, including governing bodies, national federations, athletes and clubs. In an historic agreement signed in early 2014, arena became a principal sponsor and technical partner of the swimming world's governing body, FINA (Federation Internationale de Natation). In addition, arena is technical sponsor and official supplier to many swimming federations including the United States, Australia, Netherlands, Italy, Hungary, Germany, Poland, Sweden, Croatia, Norway, South Africa, Austria, Romania, Czech Republic, Finland, Portugal and Estonia.