Courtesy of AthleticFoodieTM, a sports performance company that helps athletes unlock their potential
Written by Cristina Caldwell and Garrett Weber-Gale
Smoothies are a fan favorite among athletes, and what's not to love; they're super tasty, cold, refreshing, and quench your thirst. Help boost your recovery, post-workout, by bringing a shaker bottle filled with your favorite smoothie, or the simple recipe we've included below.
Here's what you need to remember:
Add ingredients from all of the most critical categories, as listed in our previous article.
Be sure to add plenty of ice, or a few ice cubes after blending, to keep your drink cold for when you finish workout.
Shake the bottle before drinking, to mix up any ingredients that have settled.
Drink immediately after workout, for the greatest benefit to your recovery.
We've included one of our favorite smoothie recipes so you can get started without even having to think!
Berry Recovery Smoothie:
1 cup (fresh or frozen) mixed berries
½ large banana
1 cup of plain nonfat Greek yogurt or 1 scoop of vanilla protein powder
1 cup of unsweetened vanilla almond milk (or skim/hemp, soy, coconut)
1 tbsp. ground chia seeds
Additional ice if desired
-Blend all ingredients together in a high powered blender. Use additional ice if desired.
-To make a smoothie bowl, reduce milk to ¼ cup and top with 1/3 cup of AthleticFoodie granola
Nutrition for Smoothie:
384 Calories
56g Carbohydrate
25g Protein
8g Fat
12g Fiber
216mg Sodium
Nutrition for a Smoothie Bowl:
514 Calories
76g Carbohydrate
29g Protein
15g Fat
15g Fiber
340mg Sodium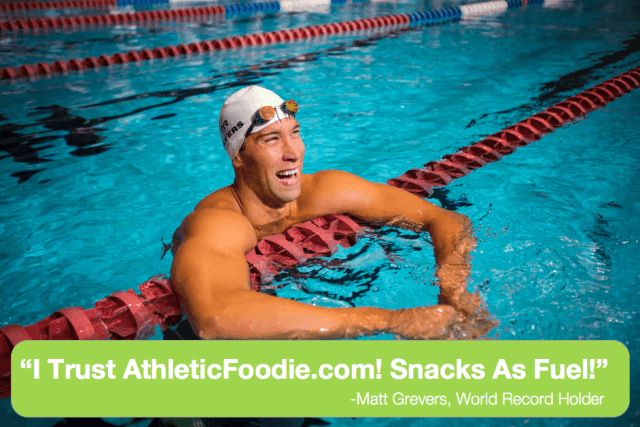 AthleticFoodieTM is a sports performance company, founded by Olympic Gold Medalist Garrett Weber-Gale, which makes snacks that are specifically designed to help athletes perform. Please visit www.athleticfoodie.com for more information about ordering AthleticFoodie snacks, and getting fuel that will help you swim fast.
Author Cristina Caldwell
Cristina Caldwell works with AthleticFoodie to create useful nutrition information for athletes and parents. Cristina is a former Div. 1 swimmer at Miami University, is a Certified Sports Nutritionist, and is the founder of Fueled and Focused. She works one on one with youth and adult athletes, and has a customized meal plan service designed to provide athletes with fueling guidelines for peak performance. To learn more about her services or to sign up for a customized meal plan, go to www.fueledandfocused.com.
About Garrett Weber-Gale, Founder of AthleticFoodieTM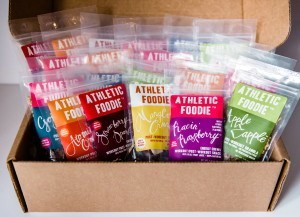 In 2005, Garrett was diagnosed with dangerously high blood pressure, and was almost forced to give up his Olympic dream. Luckily, a small dose of medication, and a total revamp in his diet saved his dream and put the Olympics back in sight. Garrett began to see the direct connection between what he put into his body, and what he could get out of it.
After his diagnosis with high blood pressure, Garrett made it his mission to learn how to make healthy food taste great. He's traveled the world working in famous restaurant kitchens in Italy, France, Copenhagen, Spain, and New York City. Garrett has taken his knowledge and experience from all over the world, and shared it with others through speeches at the White House, to schools, sports teams, TEDx, universities, TV and radio appearance, cooking classes, authored articles and AthleticFoodie Events.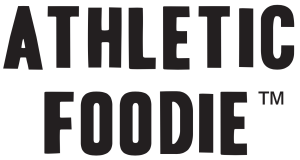 AthleticFoodieTM is a SwimSwam content partner.