Courtesy of Ryan Turner, a swimmer at Columbia and Lancaster Aquatic Club.
One of the most entertaining aspects of this sport happens only for a brief second right after the finish of a race. It's the look on a swimmer's face, reacting to what they had just done in the water only moments before. Good or bad, many of these reactions have become iconic images for the sport. Some have even become internet-famous, while others are faces we never wish to see.
Here are 8 post-race reactions:
1. The Smile and Nod
The reaction we all hope to have.
2. The Get Out and Walk Away
I'll admit it. Back in my younger days, I did this several times. A bad race can be overwhelming but it's important to remember that one race never defines your entire meet.
3. The Not-So-Subtle Fist Pump
It's the reaction of a champion. There's little that compares to the feeling of raising your fist high in victory. Nathan Adrian does it well (image  courtesy of Tim Binning).
4. The Blank Stare
This is probably the most common one of them all. It's that look of exhaustion where a swimmer is simply too tired to show any emotion.
5. The 2008 Michael Phelps
You just had the best race of your life and you want to let it out.
6. The Hand Over the Mouth
Maybe you went a best time against all odds, or maybe you're just shocked that you finished the race.
7. The Lane Line Hug
Where would be without lane lines? Races would almost certainly have a different outcome if they didn't exist. Besides helping us not crash into one another, lane lines also serve as a great thing to lounge on after a race if there isn't a gutter to hang onto.
8. The Squint
If you have poor eyesight, it can be frustrating when you can't see your time on the scoreboard, especially if you were hoping to swim a certain time. Don't be afraid to ask your neighbor! (Yannick Agnel, image courtesy of Mike Lewis)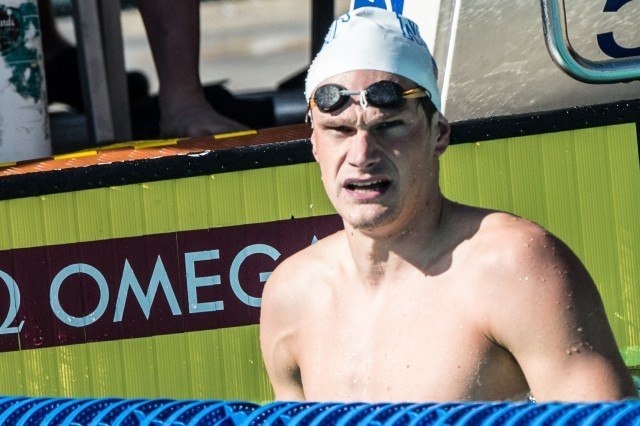 Can you think of more post race reactions? Share them in the comments!