Courtesy of Claire Forrest
Get the Party Started by P!nk played on every mixed CD during meet warm ups for at least a decade.
You TiVo'd Tara Kirk's episode of What Not to Wear to watch after practice, and when they tried to throw away her parka, you were outraged.
You accepted countless Hug a Swimmer Day! events on Facebook.
Your high school team's shirts had the lyrics "backstroke, breaststroke, stroke of a genius!" on them, and you thought you were super original for it.
The fact that Kerry Washington, a.k.a Olivia Pope, was on her high school's swim team is enough validation for your whole life. It's handled!
You started your career killing time at meets by playing Bejeweled Blitz on your flip phone, and ended it by killing time on an iPad with Candy Crush.
Your college team made a million jokes about the movie Swimfan.
You considered hosting a car wash to raise money to buy a BlueSeventy…you heard the rumors about how it could float on its own in the pool.
The existence of the pink BlueSeventy always puzzled you.
But if the bumps have fallen off my Fast Skin, can I still wear it? you pondered, in the locker room a few too many times.
You still remember the speech your coach gave at the start of practice the day after the Men's 4×100 relay in Beijing.
You idolize both Janet Evans and Katie Ledecky for different reasons.
You've discussed the proper pronunciation of Jeah! at length.
When you were a freshman in high school, none of the upperclassmen offered to drive you home from the pasta party because they had to watch The O.C., and when you were a junior or senior, you said the same excuse about Gossip Girl.
You saw a huge increase of male swimmers in 2009 thanks to 'The Michael Phelps Effect.'
You watched the 2012 Olympics Call Me Maybe viral video more times than you care to admit.
Your AIM Screen Name was most definitely something related to swimming.
Every time I dive in my pool, it's hard to be humble….you're already mouthing the rest of the lyrics, aren't you?
You rewound Missy Franklin's leg of the 4×100 at the 2011 World Championships and said, "Wait, she's only sixteen years old?!"
The first thing that comes to your mind when you hear the word GOAT will never be an animal.
The portrayal of Emily's swimming career on Pretty Little Liars makes you laugh out loud with its inaccuracy.
Your meet playlists started out on a boom box, then a portable CD player, then all the generations of iPods (the click-wheel one was such a luxury!), and ended up on an iPhone with Spotify.
You played M.A.S.H. to pass the time, but used the names of your crushes from other teams.
When Missy sold out her last high school meet, you knew she'd earned the title of the Taylor Swift of Swimming.
Noodles & Company should just give you a sponsorship deal already.
Through good times and bad, Dory's words from Finding Nemo always make you smile.
You watched the instructional video for Crank That (Soulja Boy) and wondered why he was dancing in an empty pool.
You tried to get re-tweeted 'SwimmerProblems' on Twitter and shared links from the Tumblr 'What Should Swimmers Call Me.'
The Lenny Krayzelburg to Aaron Peirsol transition made you simultaneously happy and devastated.
You read Catching Fire and knew you'd at least survive the start of that Hunger Games since the first task was swimming to the shore.
Before Facebook let you modify the 'is' in status updates, you made your status 'is swimming' and then didn't change it for a month.
Your cringe worthy #TBTs aren't party photos, but rather all those embarrassing poses of you in tights and a swimsuit during taper.
When you honestly hear "Torpedo" as "Thorpedo."
Matt Grevers' proposal to Annie Chandler at the Missouri Grand Prix is your definition of 'relationship goals.'
The moment you learned that Summer Sanders was an Olympic gold medalist and not just the host of Nickelodeon's game show Figure It Out, your world spun out of orbit for a second.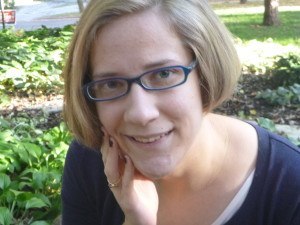 Claire Forrest is a recent graduate of Grinnell College with a degree in English. She is currently based in Minneapolis, Minnesota as a freelance writer. The only competitive swimmer in her family, Claire went to her first swim meet at the age of eleven on a whim without even knowing what a swim cap was. She fell in love with the sport and never looked back. A S6 classified disabled swimmer for US Paralympics, Claire specialized in mid-distance freestyle and backstroke and made national and world rankings throughout her career. She was a 2008 and 2012 Paralympic Trials participant. Claire is passionate about integrating disability swimming into the larger swim community, having swam for able-bodied club teams and her college's DIII team. She enjoyed both Paralympic and prominent integrated able-bodied meets equally for the many commonalities they share. Over 13 years after her first meet, she's happy to report she now owns more swim caps than she can count.