USA Swimming has announced the 2016-2017 National Junior Team which is greatly reduced this year after the organization implemented newer and more stringent requirements.
65 swimmers were selected for the 2015-2016 squad, which is down from 114 last year.
Whereas simply being one of the fastest six 18 & under swimmers in the United States in an Olympic event used to be all it took to qualify, now only the top two in each Olympic event are guaranteed a spot on the roster.
The cutoff date for swims is September 8th, 2016 (with the FINA database as the list of record), and athletes must have been 18 or younger as of September 1st, 2016
The priorities, which will be applied until a minimum of 26 boys and girls are selected, and up to 40 of each, in this order:
Priority One: The top two athletes in each individual Olympic event.
Priority Two: The third and fourth ranked swimmer in the 100 and 200 meter long course freestyle.
Priority Three: Additional FEMALE athletes who have a world ranking within, and including, the top 75 in an individual Olympic event and additional MALE athletes who have a world ranking within, and including, the top 100 in an individual Olympic event.
Relay lead-offs, time trials, swim-offs and intermediate splits will NOT be considered.
Long course times will be considered from January 1st, 2016 through and including August 31st, 2016 from all USA Swimming and FINA approved competitions.
Read More About the Selection Criteria Here.
The team ultimately landed on 65 total swimmers, represented across 27 states (with Florida leading the way with 7 on the team).
Note: swimmers on the senior National Team are not eligible for the National Junior Team.
Four swimmers qualified for the team in three events:
Note: Maxime Rooney was previously on this list, but USA Swimming updated to correct an oversight in their calculations. The corrected roster, which adds Noah Lense in the 100 fly, is below.
The full rosters are below:
Boys' Roster: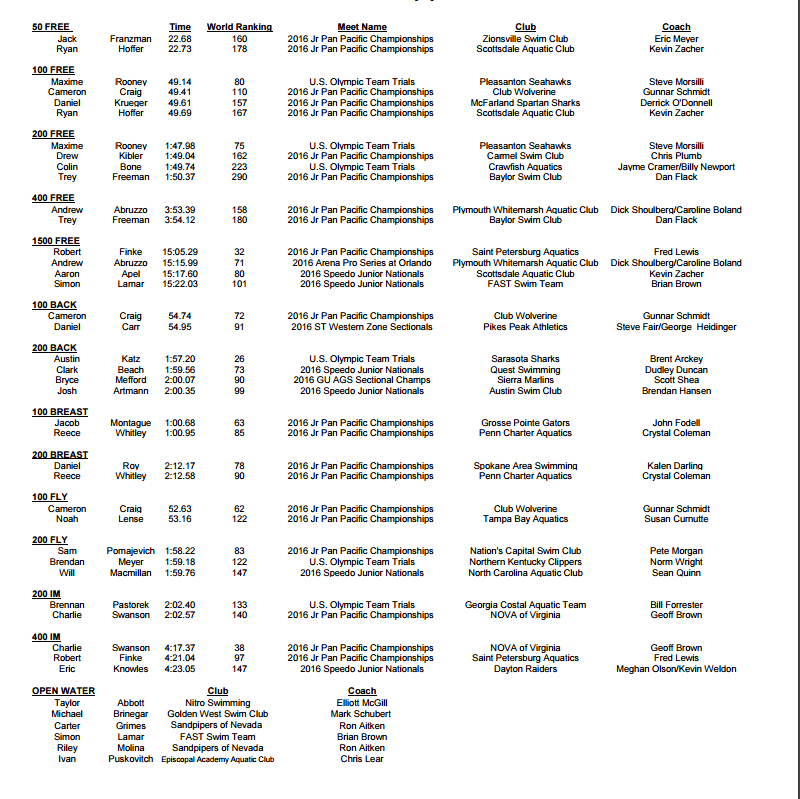 Girls' Roster: