TYR Sport is pleased to announce the acquisition of world-class pool and open water swimmer Ashley Twichell to the company's athletic roster.
This past weekend, the 24-year-old American swimmer earned first place at the annual Midmar Mile in South Africa for the second year in a row. With 15,000 participating athletes from around globe, the Midmar Mile is recognized as the largest open water swimming competition in the world. Twichell claimed the women's title with a time of 19 minutes and 45 seconds.
Just a week earlier, Twichell took first place at the BHP Billiton Aquatic Super Series in the "Swim the Swan" 10K open water event in Australia. She clocked in with a time of 2:03:51.27, beating out fellow American and reigning 5K world champion Haley Anderson.
Twichell is definitely on fire in 2014, but she has notched many achievements in the past few years as well. A 2011 graduate of Duke University, Twichell first stepped onto the global stage at the 2011 FINA World Championships in China, where she earned the first international medals of her young career: gold in the 5k team pursuit and bronze in the 5k open water event. Twichell went on to earn a spot on the U.S. Open Water National Team in 2011-12 and 2012-13. In 2013, she struck gold in the 10k open water event at the World University Games in Russia.
"It's an honor to be representing the TYR brand alongside so many incredible athletes," said Twichell. "I'm so excited to be a part of this family, and I can't wait to see what the future has in store."
TYR Sport is thrilled to team up with Twichell as she focuses on qualifying for the 2014 Pan Pacific Swimming Championships in Australia this summer. Looking ahead, she aims to compete in the FINA World Championships in Russia next summer, and her ultimate goal is Rio 2016.
Named for TYR, the Norse god of warriors, we are a company started by athletes and powered by athletes. We are dedicated to re-imagining technologies that help athletes obtain peak performance through innovation and design. Like all athletes, we always work with an intense spirit of competition. Everything we do revolves around creating the fastest, most advanced performance products. Always in front.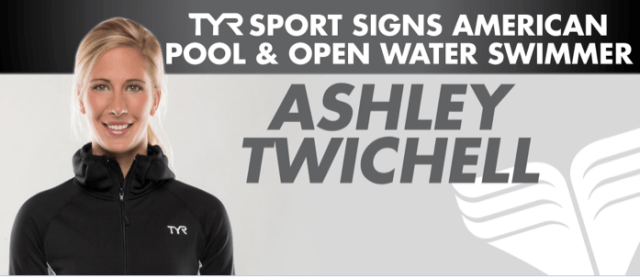 This release was provided to SwimSwam by TYR Sport.