TritonWear and Swim Swam are bringing you the best in swimming race analysis. With the power of TritonWear, you can have an in-depth analysis of your practice every day with zero effort. Stay up-to-date with this live NCAA race analysis by following TritonWear after visiting their full race analysis page through the link at the bottom.
The freestyle events at the NCAA D1 Women's Championships have been especially exciting this year with some of the fastest swimming ever seen.
The 100 free was no exception, and once again, it was very much a 3-woman race coming out of prelims between Simone Manuel, Olivia Smoliga, and Mallory Comerford who all clocked sub-47's in their morning swims.
Manuel, the current NCAA record holder of 46.09, had the top seed heading into finals by over half a second with a 46.30 and she was looking for a big win tonight after being overtaken in the final lap of the 200 Free yesterday to claim third.
The final was a packed heat filled with 7 Olympians and promised to be a race for the history books as the swimmers lined up behind the blocks.
Off the blocks, Smoliga had a blistering first 25 to take the early lead with powerful, long underwaters where she stayed under almost 5 seconds to break out ahead of the field combined with a strong stroke rate of 1.11 seconds/cycle. However, Manuel was close behind and managed to overtake the Bulldog's sprinter with her unmatched turns – see in the analysis below how her turns are faster than the other top Women at 0.75 seconds.
By the 50, Manuel split a 21.90 – well ahead of record pace – and had a commanding lead at almost half a body length ahead of Smoliga, Comerford, and the rest of the field. At this point, Comerford was neck and neck with Smoliga.
At the 75, Manuel held an uncatchable lead and it's a battle for second and third. Smoliga looked to be ahead after the breakout, but the only non-Olympian in the field, Comerford, pushed hard to the wall with her powerful stroke and fast rate of 1.13 seconds/cycle. It would unfortunately not be enough and she would touch in third, only five one-hundredths behind Smoliga. Stanford's Lia Neal put in a strong back 50 with the fastest stroke rate in the field to touch in fourth and also break the 47 barrier at 46.76 for a new PB.
However, it was Simone Manuel who stole the show with her NCAA and American Record breaking swim of 45.56, the first woman ever under 46 and breaking the record by over half a second.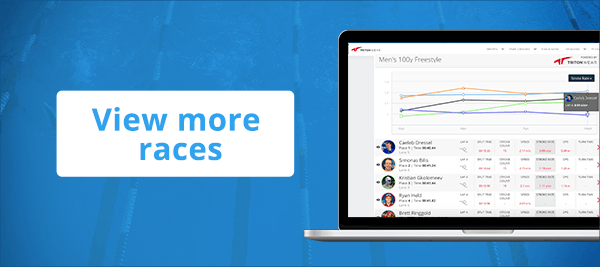 Swim analysis courtesy of TritonWear, a SwimSwam partner.