TritonWear and Swim Swam are bringing you the best in swimming race analysis. With the power of TritonWear, you can have an in-depth analysis of your practice every day with zero effort. Stay up-to-date with this live NCAA race analysis by following TritonWear after visiting their full race analysis page through the link at the bottom.
The Men's NCAA Division 1 Championships started off with a bang and haven't slowed down. The 200 IM final was no exception. The field was packed with big names and it was guaranteed to be a fight to the finish.
Olympic Gold Medalist Ryan Murphy was out like a rocket in the final out in Lane 1 like he had something to prove after the Bears miss in the 4×200 Free Relay the night before. Murphy touched first at the 50 heading into backstroke, his strongest leg.
Murphy surged ahead of the field in the backstroke leg with his fast and powerful underwaters and his efficient stroke. See in the data his high Stroke Index (combining his speed and distance per stroke to give his stroke efficiency) reaching a high 5.41. He hit the 100 mark at a blistering time of 46.22, more than half a second ahead of the next best – however, the rest of the field was tight together.
Murphy turned to the breaststroke leg with monstrous underwaters, keeping him under longer than the rest of the field by almost a second, clocking 6.5 and 6.0 seconds underwater and staying under almost to the 15m mark. However, it was Will Licon in Lane 4 who made the biggest moves in the breaststroke leg – his best. Lincon turned at the 100 in dead last but managed to split a huge 27.96 with his long stroke (holding 2.17-2.27m/stroke) to gain over a second on the rest of the field and turned in 3rd into the final 50.
Murphy still held the lead into the final 50, looking in control of the race, but the rest of the field was tight on his heels. He began to lose efficiency in his freestyle ramping up his stroke rate, but decreasing his DPS below the rest of the field, slipping through the water. The rest of the field was gaining on him throughout and heading into the finish and the race was too close to call with Mark Szaranek and Will Licon now neck and neck, gaining ground quickly on the faltering Murphy.
In the end, Szaranek and Licon touch simultaneously to become co-champions in the 200 IM with a time of 1:40.67, just out touching Murphey who took home third in 1:40.73, followed closely by the rest of the field.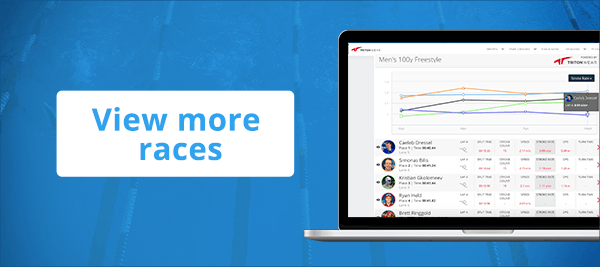 Swim analysis courtesy of TritonWear, a SwimSwam partner.