2000 Olympic Games, Sydney. I wasn't there. I took it in like most people, a fan, riding the couch, caught up in the human drama. My emotion peaked when a 15 year old, gawky kid dropped a 1:57 in the 200m butterfly. I levitated off the couch, staring at the TV agog, jabbing my finger at the swimmer in 5th place.
"That kid's only 15! "
15 years later, we are all still watching the best television series drama in sport…and the star is a swimmer.
I think we all feel a kinship with Michael Phelps. It's different for everyone, how they identify with him, the swimmer. I swam 200 fly, Phelps' breakthrough event. I understand the pain, the totality of work required to properly compete in that race. It's real, raw, shoulder-grinding miles and years of plain suck. Mostly, and this is something all swimmers know intimately, it can be lonely and utterly unglamorous, logging hours upon hours with your head submerged underwater. Phelps suffered that long, long before anyone ever pointed a camera at him.
The Olympics, often driven by nationalistic pride and the country medal-count, morphed into something else over the 2004, 2008 and 2012 Games. We all lived the experience through Phelps. Swimmers globally cheered him on, and after the celebrations ended and the cameras powered down, being a swimmer changed. When you told someone, anyone, you swam, they knew Phelps, knew swimming was important, beautiful in its own way, and challenging, a sport to be respected. Michael did that, more than anyone in the history, and we are all the beneficiaries.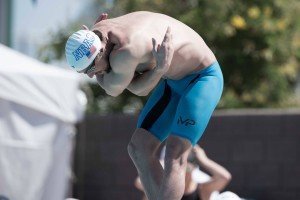 Phelps' return to competition in Mesa was met with fanfare, and it answered a lot of questions. Yes, he's back in training, and, more importantly, he's not on autopilot. He's doing real work. His choice to race 400 free is a strong indicator. No one wants to churn their legs for 400 meters to, as Phelps described it, "see where I'm at…see what I can do." His analysis after the 100 butterfly, his 52.3, was more telling. "I need to train 200 fly," he said. "I need it to feel my stroke, to get my stroke count down to 16 instead 17 per lap." Phelps performances in Mesa, his times, were solid, but it was clear he was training-through the meet. Coach Bob Bowman, always great fun in the media scrum, described the situation with a tight, nearly gleeful grin, "He's tired. Last year he didn't do enough work to get tired. This year, Michael's doing the work."

As media, you're a fly on the wall at competitions. You stay out of the way and keep your mouth shut. Mostly, you watch, listen closely, and hope you're witnessing history, something you'll look back on and say, yeah, that was the moment when it started, when we knew something great was coming. Mesa, that mundane, middle-of-the-season swim meet, may have been it. There was a quiet confidence about Phelps…and Bowman. It was subtext. I couldn't put my finger on it on until late into the following week, but the Mesa engagement with these two men felt more like a pre-2008 Olympics meet.  There was more intention and focus behind the Mesa competition as a lens to the future. 2016 isn't far off, and they're already there, in Rio, in their minds, preparing for every minute detail. Conversely, on Phelps run-up to the 2012 Olympics, it seemed he was working at it, struggling at times–the pro swimming star, carrying the torch, keeping the mantra alive. "I want to change the sport of swimming."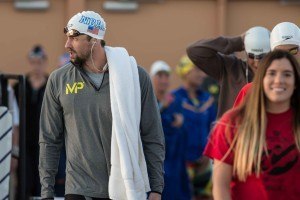 Legacy matters to all elites in sport. It's exponential when you have 22 Olympic medals and potentially more. There's no reason to suffer the pain of preparation without a bigger purpose. Phelps, as of Mesa, appears poised to handle that weight and cap his career in style. Life has roughed him up, but he's come out of it with almost zen-like calm. "I'm happy to be back in competition," he said with an easy smile. "I'm just happy to be here."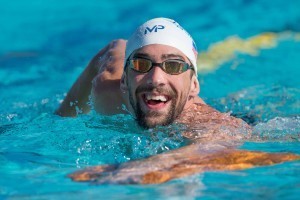 Energized with the support of the Phelps family in the stands, now one stronger with his fiancee, the scope of his purpose in swimming is becoming more crystalline. His plan to change the sport, meaning grow the sport, has stronger cohesion. The Michael Phelps Foundation, now in its 7th year, is maturing as a nonprofit, and Phelps' Swim Schools are popping up in countries as far away as India. Phelps' reach, however, while global, wasn't a bricks-and-mortar distribution system. It is now. The launch of his MP brand, designed by Aqua Sphere, pulls it all together. Aqua Sphere's reach is massive. They have footprint in over 90 countries. Phelps and Coach Bowman's excitement is palpable when they talk about MP, and share how they were hands-on developing the products engineered for performance and speed.  It's hard to not get caught up in their enthusiasm, knowing their history and passion for the sport they've dedicated their lives to.
The takeaway from Mesa is that Phelps has a lot of reasons to be motivated, and they're all coming together right now.
Next up Phelps competes in Charlotte. It's one of roughly ten to twelve competitions left before the 2016 Olympics Trials in Omaha. Pop your popcorn, sit back and enjoy the show. I don't know about you, but this is one chapter in swimming history I'm going to watch very, very closely, and one day, share with my grandkids.