The city of Mason, Ohio has begun the production of a major aquatic facility, one that will change the tide of swimming in the Southwest region of Ohio. The $20 million facility will have three pools: a "splash" pool, a leisure pool, and a 10 lane 50 meter/ 20 lane 25 yard competition pool. The aquatic center will seat 900 people, making it capable of  hosting high-level competitive events.
The goal of the facility is to cater to swimmers of all ages and abilities. The three pools provide different opportunities to athletes and non-athletes alike to use the water as a tool for healthy and competitive lifestyles. 
The Mason Manta Rays is the swim team that will practice in the aquatic center. The Mason Manta Rays is a USA Swimming Gold Medal Club and is currently the highest ranked team in the country that does not have a 50-meter pool. The Manta Rays have been represented at every Olympic Trials since 2008 and will be sending 11 athletes to the 2020 Trials, including teenage brothers Carson Foster (a member of the USA Swimming National Team) and Jake Foster (a member of the USA Swimming Junior National Team). Mason Manta Rays swim coach, Ken Heis, emphasizes the importance of training in a 50-meter pool, remarking that it is what the best swimmers in the world do. 
Heis is excited for the opportunities that the facility will provide to swimmers, "We are excited [that] the city and A Matter of 50 Meters wants to create an environment where even more swimmers have the opportunity to achieve Olympic dreams"
A matter of 50 Meters is a program that is helping the city of Mason accumulate $5 million in funding for the project. A Matter of 50 Meters Chair, Kathy Fish, says of the project, "The new aquatic center… will make a difference for swimmers and be a true asset for the Southwestern Ohio swimming community."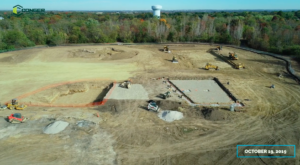 This facility will help the region of Southwestern Ohio economically by potentially garnering revenue from programs such as Masters' swimming and Triathlon training, as well as Special Olympics and Paralympics events.
It is the dream of the city of Mason to help support athletes on the track to Olympic aspirations, and its new aquatic facility is the first step in making that goal a reality.