Courtesy of Donna Hale
Seems like everyone wants to speculate that Michael Phelps will return to competition and again go for Olympic gold.  I do not believe this will happen because Michael, like many of us who love swimming, know that he has achieved his true legacy in this sport.  And it's not the Gold Medals or the excitement he has created for what seems like a lifetime.
Phelps legacy is the number of kids, my daughter included, that he encouraged to fall in love with life between the lane lines. And he did this by acknowledging his demons and facing them with courage.  Because of him, young people know that you don't need to be a perfect person – just one who learns from mistakes and inspires others to face challenges head on.
When my daughter was ten she was chasing her first Junior Olympics cut in 100 fly. She had ADHD as well, and some moments were a struggle. When we asked for an autograph,  he sent a personalized note penned by him offering encouragement and support to swim on.  Yes, she got that 100 fly cut the very next meet, followed soon by the 200 fly and others.  Michael inspired her to turn what some see as obstacles into opportunities.  He's been doing it for years.  That is his legacy. And I believe his goal now is to inspire others to dream large. Okay, he is the greatest swimmer to ever don goggles.  Here is why Phelps will always be this swimming's greatest legacy.
ONE
Michael is a real person. He admits to struggling with depression and to getting the help he needed. There is no telling how many swimmers sought help because he spoke up and spoke out. So many swimmers can relate.  He was a catalyst for change.
TWO
Phelps is a passionate swimmer that shows his pure love in every race. This is what we teach our swimmers if we are great coaches and parents. The beauty is not found in the medals, but along the journey. You can spot these athletes in summer pools, in USA Swimming, and in NCAA.  Win or lose, they light up the pool with electricity.
THREE
Michael views teammates as friends not just  competitors.  This is extraordinarily important in a sport where you spend so time with same people.  He understands and nurtures that bond.  These bonds are precious treasures that are forever etched in your  memory.
FOUR
He gives back to this sport, teaching others to swim not just to compete but for water safety.  He inspires kids to fall in love with the journey.  He changed the sport forever. And keeps it up in myriad ways including his foundation
FIVE
Phelps has taught millions the importance of hard work. Success does not happen without commitment. Somewhere in one of his commercials he talks about it is what you do in the darkness when no one is looking that shines when the spotlight is on. This is such a life lesson.  Talent will carry you far. But hard work will take  you all the way.
Phelps will always be an ambassador. I cannot wait to enjoy his next chapter.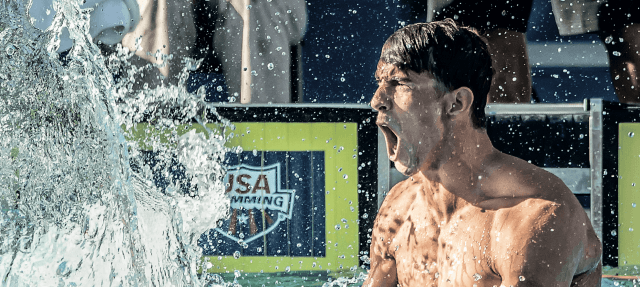 About Donna Hale:  Donna Hale has been swim mom for 16 years. Her daughter swims for Davis & Elkins College.