Speedo's Nemesis Fin, the cutting-edge new fitness and swim training fin from the world's leading swim brand, has been named Gear of the Year by Men's Journal magazine as one of the "very best" new products of 2014.
Designed using biomimicry and inspired by the pectoral fin of the Humpback Whale, the Nemesis Fin is one of only 50 products – out of thousands tested – selected by the editors of Men's Journal as the best of the year and is honored in the December 2014 issue of the leading men's lifestyle and gear magazine, on newsstands now.
The editors of Men's Journal, who note that "in the pool, [we're] all for anything that helps [us] perfect technique without having to think about it," selected the Nemesis Fin for doing "exactly that by copying the anatomy of a humpback whale," and for its results – "more speed in the pool, quicker times, and less boredom."
"We're incredibly proud that the Nemesis Fin has been recognized by Men's Journal as 2014's Gear of the Year," said Barry McGeough, Speedo USA's Vice President of Hardgoods. "It is a huge honor, and a testament to Speedo's heritage of innovation."
It is the latest in a string of awards for the Nemesis Fins, which won Outside magazine's coveted "Gear of the Show" Award at the Outdoor Retailer Summer Market show earlier this year, and was also featured in Triathlete magazine this summer – all honoring the Nemesis Fin for its innovative design.
The scalloped outer edge of the Nemesis Fins, which mimics the tubercles found on the Humpback Whale's fin, creates greater surface area for water to pass over versus a smooth, straight edge, allowing the swimmer to push more water during kicking drills and training sets.
The medial edge openings of Speedo's Nemesis Fins are larger on the bottom-side and smaller on the top-side, also like on the pectoral fin of the Humpback Whale, creating more resistance on the down-kick, while flow channels on the top and bottom of the fins help guide water in the proper direction for maximum kick efficiency.
Made with Injection Molded EVA (IMEVA) Foam, the fins are naturally buoyant, aiding the swimmer with an elevated body position, keeping hips and feet in a more streamline position – all helping to improve efficiency, swim technique, and to help you swim faster.
"Speedo has looked to nature for design before, most notably with the revolutionary Speedo FASTSKIN line of racing swimsuits inspired by shark skin," added McGeough. "With the Nemesis Fins, we've built new technology for swimmers of all levels using what we've learned from studying the Humpback Whale, which moves through water with incredible speed and agility considering its (massive) body size and (small) fin size."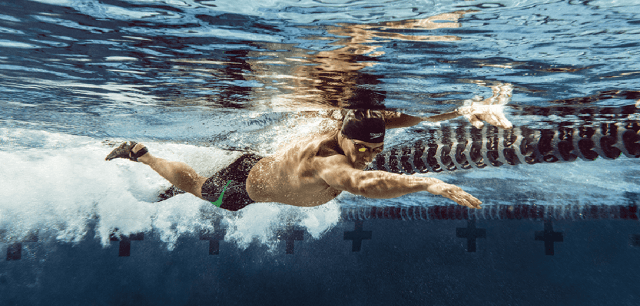 Swimming Gear News courtesy of Speedo USA, a SwimSwam partner.