Ryan Lochte and his wife Kayla Reid Lochte are expecting their third child. Already parents to Caiden, 5, and Liv, 3, the couple will welcome another girl in June 2023. Caden and Liv were also born in June.
Lochte, a 12-time Olympic Medalist and 65-time World Championship Medalist, is still the World Record Holder in the 200m individual medley. While he continues to train, he seems to have ruled out trying for a fifth Olympic Games in 2024. Instead, he is actively promoting his swim camp series, 1:54, named after his 200 IM world record time. His camps are geared for kids aged 10-16 years old with an interest in working through the fundamentals of all four strokes.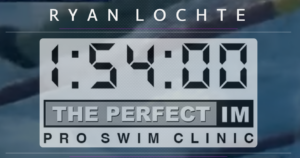 He is also on TV in a new reality series, The Traitors, streaming on Peacock. The show, a competition that takes place in a remote castle in the Scottish Highlands, debuted on January 12th.
Kaila posted a teaser on her Instagram account:
For the reveal, the couple's son Caiden opened an envelope and read the letters G – I – R – L aloud, while his younger sister Liv looked on: