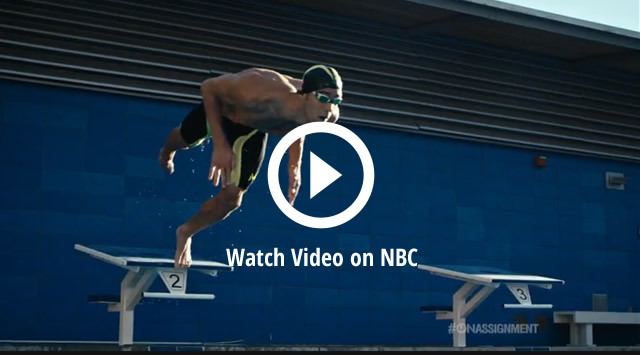 4 months out from the Rio 2016 Olympic Games, Michael Phelps is going in with a much different mindset than he had prior to the 2012 London Olympics. Tonight he was interviewed by Matt Lauer on Dateline NBC and discussed his rehab, attitude, and his changed mindset going into the next Olympics.
Behind the mad success of his previous games, Phelps was a much different person on the inside than one would expect, as he told Lauer: "I went in with no self-confidence, no self-love. I thought of myself as just a swimmer, and nobody else,". He describes the negative period he went through, where he hated swimming as well as life itself. 
He explained his apathy towards the 2012 Olympics and swimming in general, something that made the relationship between him and his coach a toxic one. He admits to skipping practices and not showing up for days at a time, getting into fights with his coach, and hating swimming: "I didn't care. I actually didn't care,".  His coach, Bob Bowman, tells Dateline that he wishes Phelps would have quit then: "I didn't want him to go through this and I thought it was going to end badly,". 
Shortly after the London Games, Phelps was sinking further, and was arrested for driving under the influence of alcohol. He explained that the night he was arrested, something clicked in his mind; he realized something needed to change and that he didn't want to keep living this way: "I was in the lowest place I've ever been. Honestly, at one point I felt like I didn't want to see another day. Felt like it should be over,".  
He touches on what he was feeling at the time, and how getting arrested opened his eyes and changed his attitude towards his life:  "100% I was lost, pushing a lot of people out of my life, people that I wanted and needed in my life. I was kind of running and escaping from whatever it was I was running from… I sent myself down a downward spiral. I think it was more of a sign than anything else, that I had to get something under control, whatever it was. I look back at that night and everything happened for a reason. I drove that way, but I never go that route,". Soon after that night, he checked himself into a rehab center and began therapy.
He explains his motives for checking himself into the rehabilitation center: "I checked myself in because I think I was at a point in my life where something needed to change and I needed to figure things out,". Phelps says that through his rehabilitation, he was able to overcome the belief that his father did not care about him: "One of the biggest things that I was able to really overcome was the feeling of being avoided by my father, being abandoned by my father. I was a kid that always wanted a family, whether our parents are together or not, I still wanted a mom and a dad. I haven't had that for so long,". 
Phelps' father, who divorced his mother in 1994, has not had much contact with the swimmer in the last twenty years. Regardless, Phelps invited him to visit him in rehab and his dad accepted the invitation. Discussing this, Phelps said, ""It showed that he wanted to still be in my life, so that feeling I had of being avoided, of being abandoned, was a misunderstanding?" 
Phelps describes letting out the fact that he admitted himself to rehab, and showing his true emotions: "I dunno if it was like, afraid of letting go and showing who I am or what it was, and I finally was just like, screw this, I'm not hiding behind anything anymore, I am who I am, and if you don't like it, it's really not my issue and it's not my problem,".  
When asked what the change was that made Phelps become more open about his difficulties, he said, "Because I'm comfortable about it. I'm a lot more laid back, I'm a lot more relaxed,".