Three-time Olympic gold medalist Brooke Bennett is making a comeback, with her sights set on a spot on the open water team for the 2016 Rio de Janiero Olympics.
Bennett was the world's best distance swimmer from 1996-2000, where she won a gold medal at 16 at the 1996 Games in the 800 free, and gold in both the 400 and 800 at the 2000 Olympics Games.
After the 2000 Olympics, however, Bennett had surgery on both of her shoulders in 2001, and wound up 3rd at the 2004 Olympic Trials in the 800, missing the team.
Now, at still only 33 years old, Bennett is back full-time.
"I am excited, scared and nervous at the same time," Bennett said of her comeback. "This is a totally new journey, it can't compare to what I've already accomplished as open water is a totally different beast. I will use my wisdom of knowing my body's limits to push it beyond its comfort zone.
She officially returned to the drug-testing pool in 2012 and swam at the Orlando Grand Prix in February of 2013. At the time, she said she was "having a blast swimming" and was non-committal on what her return meant.
The word is out now, however, and Bennett's return is focused on the open water. She's left her job as a journalist for the Bright House Sports Network covering Florida High School sports and has made her goal a spot on the 2016 Olympic Team in the open water 10km race. She will continue training with Randy Reese and the Clearwater Aquatic Team in Clearwater, Florida.
"As for the career I've built over the last 5 years in the TV sports broadcasting world," Bennett continued, "Bright House Sports Network in Tampa has agreed to keep me on as a freelancer to keep my skills fresh, I have all intention to return to the field once this final chapter of swimming is closed."
The open water field is still very fluid in the United States. The career "open water only" swimmers are really starting to earn some recognition in the broader swimming world now with spots on the Olympic Team available, but many pool-based swimmers are still trying to pull double duty. The American open water swimming elite group is still shifting and settling into its rhythm, which leaves a spot for a swimmer like Bennett to make a comeback.
Reese also trains 16-year old Becca Mann, who was on the United States' open water World Championship team this past summer. As compared to some of the comebacks we've seen in the pool, by open water standards, 33 years old is in the thick of the elites. 4 out of the 9 women's open water medals at the World Championships this summer went to swimmers in their 30's, including 38-year old double medalist Angela Maurer from Germany.
She is being represented in her comeback by Evan Morgenstein of PMG Sports, the same man who managed the comeback-careers of Janet Evans and Dara Torres. "Brooke was the first star Olympic athlete that signed with PMG Sports," Morgenstein said. "She changed the face of my company and my future forever. I owe her so much. I did my first cereal box deal with Brooke (Wheaties) and so much more."
"I am so glad she is making a true comeback, which to me means you have to not train for one or more Olympic Games. Seeing Brooke do what she loves is always gratifying. We already have several apparel companies interested in working with Brooke who not only is a 3-time Olympic gold medalist but is also a certified personal trainer and nutrition expert. Can't wait to watch her in Rio!"
Brooke Bennett Wheaties Box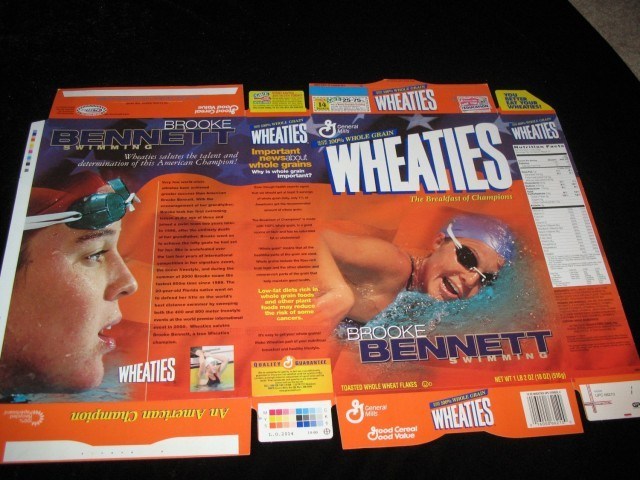 Follow Brooke Bennett on Twitter here.
Like Brooke Bennett on Facebook here.