Courtesy of SwimSwam contributor, Douglas Lennox, an Olympian, Princeton University graduate and NCAA All-American. Doug is presently an assistant coach at New York University and Asphalt Green Unified Aquatics.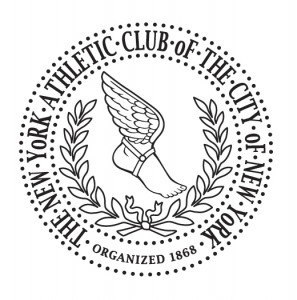 Question: Which countries have sent at least one athlete representative at each of the 27 modern Olympic Games since they were first hosted in 1896 by the city of Athens, Greece?
Answer: It is believed that five countries have perfect records of participation: France, Great Britain, Greece, Switzerland and Australia. 
As impressive as this feat is for each of these countries, it is equally (if not more) impressive to note that an athletic club with fewer than 10,000 members has almost earned the same rare distinction. Missing out only on the 1980 Moscow Games, the New York Athletic Club has achieved a 96% attendance rate at the Summer Olympic Games.
As the name indicates, the New York Athletic Club (NYAC) is located in New York City and perched on the southern perimeter of the famed Central Park in Manhattan. Founded in 1868, the New York Athletic Club was created during an era of sports when the landscape lacked structure, organization and uniformity of measurement. Since its inception, the NYAC proclaims to have always held a singular commitment to the growth and development of amateur sport in the United States. This commitment to growth and development initially manifested itself in sports like boxing, fencing, cycling, track and field, and squash, but over the years has evolved to include a heavy focus on swimming, too.
Over the course of its existence, New York Athletic Club has not only had athletes participate in almost all of the Olympic Games, but the NYAC has also won a total of 248 Olympic medals, comprised of 131 gold medals, 53 silver medals and 64 bronze medals across all sports. The New York Athletic Club has won at least one medal in almost all of the games it has participated, except the 2000 Sydney Games. Recently, there has been a huge surge in the medals won by aquatic athletes, including a majority percentage of the U.S. rowers in the Men's and Women's Eight boats, as well as many of the players on the men's and women's water polo teams, highlighted by the world's top player, Tony Azevedo. In 2012, Tyler McGill helped the NYAC swim team join the Olympic party by bringing home a shiny gold medal from London, too.
Before McGill, who graduated from Auburn in 2010 and earned his Olympic gold medal as part of the 4×100-meter medley relay, there had already been an esteemed trio that had made their mark on international competition. These three highly decorated athletes are Randall Bal, Mark Gangloff and Kim Vandenberg. Bal is the most senior member of this four-some, having graduated from Stanford University in 2003. Bal is also a former world record holder in the 50-meter backstroke – both long and short course. Gangloff, a 2005 graduate of Auburn University and former American record holder in the 100-meter breaststroke (59.01 seconds) won a gold medal at the 2004 Athens Games as part of the 4×100-meter medley relay. Vandenberg graduated from UCLA in 2007 and won a bronze medal as a member of the 4×200-meter freestyle relay at the 2008 Beijing Olympics.
On top of these four outstanding American athletes, a deeper look into the NYAC roster shows that several more elite swimmers represent the Winged Foot, too. The list begins with Arkady Vyatchanin, the world class backstroke stalwart from Russia. When asked how he heard about the NYAC, Vyatchanin cited his Russian compatriot and former 100-meter breaststroke world record holder, Roman Sludnov. Sludnov, who became the first man to break one minute in the 100-meter breaststroke back in 2001, told Vyatchanin about the NYAC and shared some basic information on how it functions. Vyatchanin admitted he "found out about the tremendous history the NYAC has, its traditions, and, of course, people who make this happen." Now, Vyatchanin is a proud member of the NYAC. When asked what he enjoys most about being a NYAC member, he gleefully claimed "the NYAC supports me emotionally and financially, and opens some great opportunities, which already have had a positive impact on my swimming career."
Other elite athletes who compete for the NYAC include England's sprint sensation, Adam Brown; former NCAA champion, Brett Fraser (Cayman Islands); and, USA's second-fastest backstroker, David Plummer. While these gentlemen have had recent international success, the NYAC is also home to many more elite swimmers who continue to swim for fitness and leisure, including another former world record holder, Leila Vaziri, as well as former NCAA standouts like Tobias Oriwol (Stanford, 2006), Hong Zhe Sun (Stanford, 2007), CJ Nuess (ASU, 2008), Ryan Hurley (UVA, 2008), Doug Lennox (Princeton, 2009), Matt Bartlett (Georgia, 2011), Kevin Frankenfeld (Georgia, 2011), Mike Vernoia (Minnesota, 2012), Josh Hall (Minnesota, 2013),and Whitney Sprague (UNC, 2009).
While most of the swimmers on the NYAC team live, work and train in New York City, elite athletes who are training full-time post-collegiately are permitted to train wherever they choose under the coaching staff of their choice. This personal freedom is found in the swim team's official mission, which is to provide support and a networking platform for the advancement of elite swimmers and to help elite, post-collegiate swimmers pursue their Olympic dreams while easing some of the financial burdens associated with being an amateur or professional swimmer. Much like a university provides financial aid and streamlines logistics for the collegiate athlete to train and compete, the NYAC plays a similar role for post-collegiate athletes. Vyatchanin went as far as to proclaim, "I actually think that right now I love swimming more than ever. Thanks to this unique combination of being able to train in Florida with the best coaches in the world – Coach Troy and his Crew – and at the same time represent NYAC, and be supported by the Club. I am very grateful for that."
In life after swimming, members of the NYAC swim team can opt to remain part of the NYAC family, with connections to over 8,000 club members – many of whom are top executives in every imaginable industry. While this may seem an unprecedented way of fielding a team, the NYAC has long been committed to encouraging ambitious athletes to pursue their Olympic dreams. According to McGill, "NYAC is great at understanding what it means to be an Olympic athlete.  As an organization and a club, there is an understanding and a respect for what it takes to be a great athlete in an Olympic sport.  They understand the sacrifice, the necessity for support, and the daily grind that the athletes go through.  It's because of this understanding that so many NYAC athletes, across all sports, have been successful, and will continue to have even greater successes."
As McGill predicts and the trend shows, it is very possible that we will be hearing more about these NYAC athletes making waves in the swimming world throughout this Olympiad and many more to come.