shoal
1[shohl]
Nobody really knows how to pronounce Nate Tschohl's last name…surname, if you will.  That never seemed to matter on deck, though, where he was always known simply as "Coach Nate".
Prior to becoming an insurance agent and consultant, Nate could be found on deck at Old Dominion University where he was the Assistant Coach from 2006-2010.  Or, on deck somewhere else as the Head Senior Coach for Tidewater Aquatic Club (TAC).
He now spends his time protecting the small business owners of America by managing all their risk management needs.  When not preserving the American Dream, Nate can be found walking the shores of the Chesapeake Bay with his lovely fiance, Carly, and their two dogs, Tim & Fran.
As a former collegiate coach, I used to spend a lot of time researching our next opponent.  A 
great dual meet lineup can give an overall weaker team the chance to win–you just need the information and expertise to make the right moves.
It starts with "crunching numbers"–the new buzz phrase so many commentators, reporters, and 
bloggers have been throwing around the last few days. 
(Editor's note: that Tweet isn't our Braden Keith. For him, the answer is pretty obvious).
The attached image is the epitome of "crunching numbers".  It's an analysis between Michael Phelps and 
Ryan Lochte that I wrote sometime last week.
I was "crunching numbers" so that I could answer the biggest media question of the 2012 Olympic 
Games…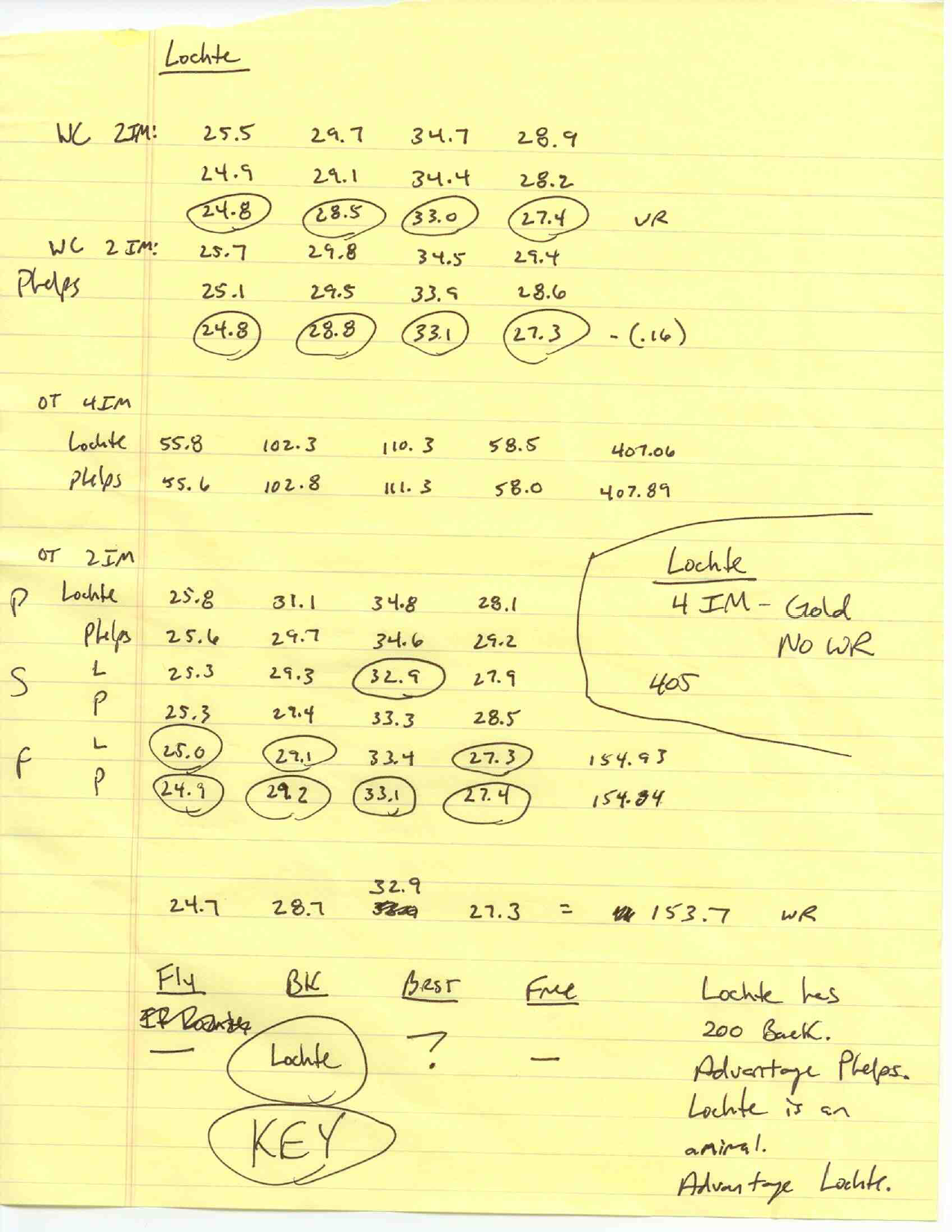 Phelps v. Lochte: Who will win Gold in the 200 & 400 IM's? 
Without being a 
SWIMNERD
, you would think all this information is merely chicken scratch; yet, it can 
tell you a lot.
That is why I'm going to analyze my analysis for you…
The top of the page starts with the splits of Ryan Lochte's 200 IM at World Championships (WC) in 
2011.  The splits for "Fly-Back-Breast-Free" go across each row.  Prelim splits are on the top, followed by Semis, and finally Finals.  Below Lochte's splits are Michael Phelps' splits from the same meet.
I'm looking for trends and patterns in the splits.  As you can see, I've circled one time in each 
stroke column for both swimmers.  This represents the fastest split of the three times they've swum each stroke.  Interestingly enough, each one of them went faster, in all 4 strokes.  Phelps only lost by .16.
The 2nd set of splits are from the 400 IM at USA Olympic Trials just a few weeks ago.  I didn't 
feel the need to over analyze such a long race by doing it by 50's–in fact I almost didn't do this at all.  After watching this race live on NBC a few weeks ago, I knew Lochte was going to win so why bother "crunching numbers"?  Lochte didn't look like he was even trying while Phelps looked more like he was crying from how painful that race was.  He should have known right then that the 400 IM was the event to drop–not the 200 Free.
Regardless, on the right hand side I drew a box that essentially says Ryan Lochte will win Gold in the 400 IM 
but he won't break the World Record (WR).  And, he'll do both of those things in 4 minute and 5 seconds.
And, just for those who didn't get the memo…
Lochte won Gold in the 400 IM in 4 minutes and 5 seconds…which is not under the World Record.
To the left of that box you will find the splits for the 200 IM, for both Lochte and Phelps, at OT's
.  As you can see, this time there is a circled split that doesn't match up.  Lochte's fastest splits were not all in Finals like they were at WC in 2011.
Phelps' were, though.  And, oddly enough (or not so oddly enough), Phelps beat Lochte at OT's by 
.09
The thing that concerned me the most was how much slower Lochte's breast split in Finals of OT's 
(33.4) was than his Semi-finals breast split (32.9).  Half a second slower over a single 50?!  The last two races were won/lost by .16 and .09 — one cannot afford to split .5 seconds slower on one stroke alone and still expect to win!
Then, after I compared that split to his World Record setting time at World Championships in 2011 
(33.0), it all made perfect sense.  
It made me realize that breaststroke was not important–it wasn't the leg of the race that would 
predict the outcome.
Lochte wasn't fully tapered at OT's.  So, after swimming a 200 Back Final against Tyler Clary, 
wouldn't you think his legs would be sleepy?  Thus, I shouldn't be surprised to see Lochte's breast split drop so significantly from Semis to
Finals.  And, without having to try very hard in the Semis of the 200 Back just to make Finals, I shouldn't be surprised to realize it also lines up with Lochte's fastest breast split.
So, the moral of the story is that when Lochte is tapered, nobody should be worried about his 
breast split being slow due to him being tired after swimming the 200 Back.  I just don't think it's going to happen.  And, it's a bet that I'm willing to take.
Hence, the bottom right hand corner which details this in more simplistic terms:
BUT
SO ULTIMATELY
My focus is now back at square one….Who has what advantage where?
In fact, Lochte was as fast or faster than Phelps in the first 50 of each of the 3 swims at WC last summer.
Thus, I'm going to assume this first 50 is not what matters.  If you asked me 4 years ago, it'd probably be a different story because Phelps was such a better flyer at that point.
Lochte is the World Record holder in the 200 Back.
Lochte outsplit Phelps on the backstroke leg all 3 times at WC's last summer.  
He also out split him in both Semis and Finals at OT's.
When Lochte set the WR last summer he outsplit Phelps by .3 in Finals and .4 in Semis.
At Olympic Trials, though, Phelps was only outsplit by .1 in both Finals and Semis.
The strategy that Lochte must employ to beat Phelps in London is to be at least .3-.5 tenths in front of Phelps going into the pullout.  If he does that, his chances of winning are much higher.  
Yes, he has the 200 Back right before the 200 IM but he is fully trained and fully rested–mentally and physically. And, he doesn't even need to outsplit Phelps (and most likely won't).  Lochte just needs to keep it close.
Their freestyle splits have almost all been equal across all 6 races. 
So, if Lochte is .2 seconds in front going into the last 50, I'd put my money on Lochte
Therefore, I'm guesstimating that Lochte wins and breaks the World Record in 1:53.7 (24.7 28.7 32.9 27.3)
…analyzing..
The only thing I'm worried about now is that Phelps' backstroke splits were much faster at OT's this year than they were last summer.
Has Phelps been focusing on this as his major weakness for the past year?
For his sake, I hope so.
Update after Prelims: