The International Swimming Hall of Fame (ISHOF), recognized by FINA, the international governing body for the Olympic aquatic sports, would like to remind the swimming world that ISHOF's 52nd Annual Honors Weekend, is right around the corner!
The event will take place October 28-30, 2016, in beautiful Santa Clara, California. The International Swimming Hall of Fame is extremely excited to honor the class of 2016 with a full weekend of festivities.
ISHOF would like to invite swimming enthusiasts and corporations to help up honor these amazing athletes. Table sponsorships and individual tickets are still available. See the attached weekend schedule, which includes a VIP reception with Olympians, a spectacular water show at the historic George Haines International Swim Center, and a formal dinner on Saturday night where Dara Torres, Aaron Peirsol, among the rest of the 2016 class will be honored.
"Coming off of a spectacular Rio Olympic Games," says ISHOF CEO Bruce Wigo, "we believe the weekend of celebration will provide a great opportunity to promote swimming and the new Santa Clara Community and Recreation Center, which will be our new home."
About the ISHOF

The International Swimming Hall of Fame & Museum was established in 1965 as a not-for-profit educational organization in the City of Fort Lauderdale, Florida and was recognized by FINA in 1968. The mission of ISHOF is to PRESERVE and CELEBRATE aquatic history, to EDUCATE the general public about the importance of swimming as the key to water safety, drowning prevention, better health, a better quality of life, and to INSPIRE everyone to swim.
ISHOF's collection of swimming memorabilia, art, photos and films, along with archival documents and rare books in the Henning Library, make ISHOF the premier repository and academic research resource for swimming and aquatic history in the world.
For more information on the 52nd Annual Enshrinement Weekend Celebration, to purchase a table, or become a corporate sponsor, please go to www.ishof.org or email [email protected]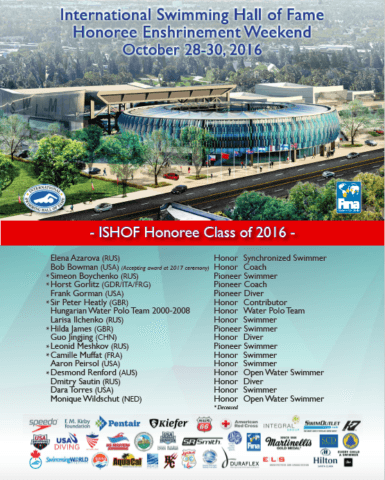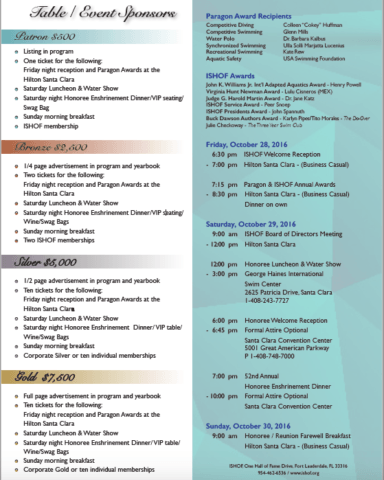 Courtesy of International Hall of Fame.