The HardCoreSwim of the week goes to Diana Nyad, for her 110 mile swim at 64 years old! Nyad became the first person to ever swim from Havana, Cuba to Key West, Florida without the aid of a shark cage.
Nyad finished the 110 mile swim successfully in just under 53 hours and was able to walk up the beach without assistance. Her official time: 52 hours, 54 minutes 18.6 seconds.
After initial shock and awe of her record, many folks have chirped up questioning the validity of the record, English channel rules, shark divers, and jellyfish masks. All of those facts are terribly relevant to whether or not the open water community accepts this as a "record," and should not be diminished.
None of that, however, has any bearing on how hardcore this swim was. Yes she had a jellyfish mask, but that mask was incredibly uncomfortable, and impaired her breathing. Her shoulders hurt within the first few hours. She's 64 years old! She swam as many miles without holding a wall, standing on the bottom, or pushing off as even mega yardage teams like the Florida Gators do in a week. Record qualifications are entirely a valid subject for debate and argument but whether or not this swim was HardCore is not.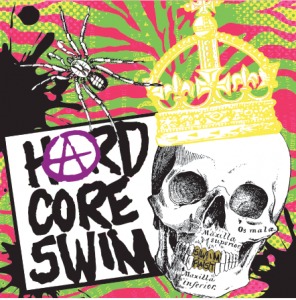 Founded on the pool decks of Southern California, HARDCORESWIM examines and explores the ethos of the hardcore swimmer. HARDCORESWIM is an authentic and innovative designer, marketer and manufacturer of premium quality men's and women's swimsuits, Custom Team Swim Suits, training gear, clothing, accessories and related products. Our true, authentic, innovative, iconoclastic, and creative style differentiates us from the bland competitive swim industry and gives us reason to be. All made in the USA. Check us out at www.hardcoreswim.com or find us at www.facebook.com/hardcoreswim .
Follow HardCoreSwim on Twitter here.