The ultimate standard for any program is to have dryland workouts that compliment swim training. Unfortunately this is often easier said than done. Especially if you're not taking a systematic approach to your dryland training!
In this next webinar presented by SURGE Strength, we'll be talking about the steps you need to go through in order to make sure both dryland and swim training work together.
Dryland Workouts that Compliment Swim Training
When you think about it, if the dryland training you're doing isn't work with your swim training you're actually preventing progress. It's basically hard work for no real result!
You or your athletes don't deserve that kind of result with the type of dedication the sport of swimming takes. Swimmers are notorious hard workers, but if the programming between dryland swimming isn't well done, their hard work is mostly in vain.
Raise your standard of dryland training for the upcoming season! And a great first step is attending this webinar. Just register to get access either way! We hope to see you on the next SURGE Strength Webinar!
LEARN HOW TO HAVE DRYLAND AND SWIM TRAINING COMPLIMENT EACH OTHER ON THE NEXT SURGE STRENGTH WEBINAR

JOIN OTHERS FROM AROUND THE WORLD THAT ARE
BECOMING SURGE STRENGTH DRYLAND CERTIFIED (SSDC)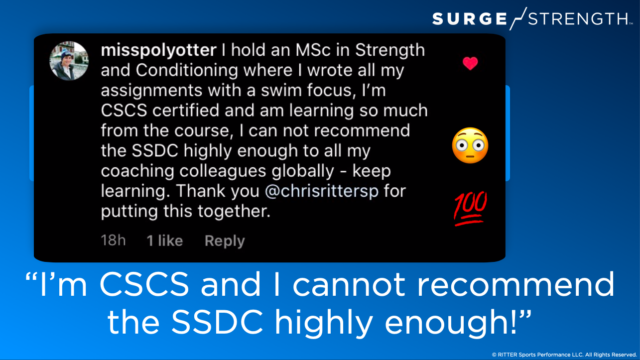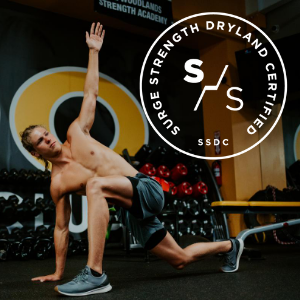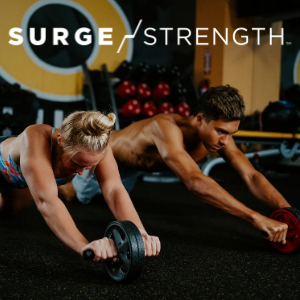 BUILD BETTER ATHLETES TO GENERATE FASTER SWIMMERS


Courtesy of SwimSwam's exclusive dryland training partner, SURGE Strength.
SURGE Strength, a strength training brand created by Chris Ritter, CEO of RITTER Sports Performance, aims to build better athletes and faster swimmers through dryland programs, and coaching education.