The headline from the press release goes something like:
"Building on its foundation of designing the most innovative performance products for race day, [ROKA Sports] is proud to introduce elite training swimwear engineered for the challenge of daily training."
Here's the real story:
ROKA started on a dare between former teammates, sparked an obsession, and has grown into a rapidly-expanding performance apparel brand.
It's 2010. Rob Canales and Kurt Spenser, former co-captains and All-American swimmers at Stanford, sign up for an IRONMAN® 70.3 on short notice to get back in shape and rekindle the competitive fire they'd been missing since their days as teammates nearly a decade earlier.
Self-proclaimed "undersized" guys, Rob and Kurt bonded out of a deep respect for the art and science of proper swim technique. Out-executing and out-working the competition was their way to level the field against bigger, stronger opponents from the time they first stepped up on the blocks.
Headed into their first IRONMAN with limited time to train, their thinking was those thousands of hours in the pool, proper technique and expensive gear would give them the advantage they were looking for.
Not quite.
The race went great but the swim didn't (at least by their standards). They swam slower, and spent more energy doing so, than they anticipated. They certainly weren't in the shape they once were, but the problem was also in the product. They couldn't find a wetsuit without major design flaws that got in the way of what they knew to be the *right* way — the fast and efficient way to swim. All the suits had some unacceptable trade-off that compromised body position, range of motion, rotation, thermodynamics or buoyancy.
This is where the obsession part (and a degree from Stanford with a focus in product design) comes in. Of course, as all good startup stories go, there's a garage involved.
The "build a better mousetrap" passion project began at Rob's garage in Austin Texas and turned into an obsession for the right materials, technology and manufacturing process. Fueled by late-night design sessions after work, video conferences with the top materials scientists and manufacturers around the world, and lots of prototypes, that garage gave birth to a radically new wetsuit design dubbed the "Maverick Pro."
"When we got to the final prototype we realized that it not only liberated us from the limitations of other suits on the market, but also enhanced our mechanics, making it possible to swim faster and more efficiently than we ever did in the pool." said Kurt.
Rob and Kurt knew it was the fastest, most comfortable wetsuit they'd ever swam in, but they needed to put it to the test.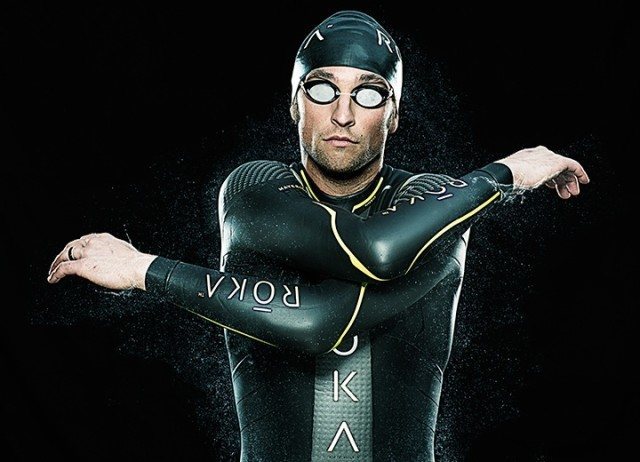 Enter emerging pro Jesse Thomas (image above). Jesse was a standout steeplechase runner at Stanford and had burst onto the triathlon scene. Jesse also had a mechanical engineering background and was looking for every possible way to improve his swim. Involving Jesse, a developing swimmer, in their process allowed for some key final tweaks to the suit that would help serve the full spectrum of athletes and provide validation that this was something special.
The prototypes were testing incredibly fast in the pool against the competition. So fast that Jesse wanted to race in it as soon as possible. In his first race wearing the Maverick Pro, Jesse scored his first front pack swim and went on to win his first professional IRONMAN 70.3 race. The next race brought another unprecedented front pack swim. He later went on to repeat as champion at the highly competitive Wildflower Triathlon.
For Kurt, the experience was transformative.
"It's one thing to make a product that you love, and that makes a difference for you. It's a whole other level of excitement and fulfillment when you see that product make a real difference for someone else trying to conquer an epic challenge," said Kurt.
Keeping the patent-pending design to themselves might have been better for the trio's race results but word got out pretty quickly, and demand among pros looking for an edge was extremely high.
Top-tier triathletes followed Jesse, including multiple IRONMAN champions, and culminated with the two most dominant triathletes in the world: Javier Gómez and Gwen Jorgensen.
ROKA had arrived in a big way, and Rob and Kurt were all-in, quickly building a team of former elite athletes and top-flight product designers. ROKA followed up the Maverick Pro with the Viper swimskin, the best-of-breed textile race suit for warm-weather swims. At the Kona IRONMAN world championships, the Viper Pro was the first suit out of the water in its debut. It was an unprecedented result for the new brand, and was repeated in 2014.
For training, Rob and Kurt created the SIM short — an innovative training tool designed to simulate the buoyancy benefits and body position of a wetsuit in the pool.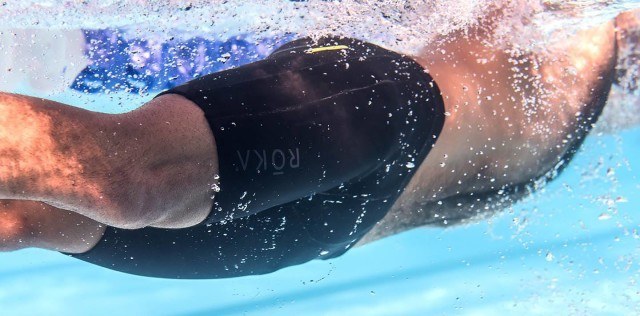 In early 2015, ROKA launched SPCTRM, a purpose-built goggle collection that provides a range of frames and lens tints to serve athletes in every race and training condition across the triathlon landscape.


Regardless of the product, the development process has been consistent, beginning and ending with a strict "design for performance" mindset that places the needs of the athlete above all other considerations.
ROKA just launched performance swimwear for training. True to form, it's a line that meets the uncompromising standards of Rob and Kurt and the rest of the team, and it delivers performance — day in, and day out. The suits are designed to stand up to the rigors of the pool and they offer a fit, feel and look that inspires confidence.
Looking ahead, ROKA will enter new categories with a range of innovative products inspired by the performance and success of the Maverick Pro, and sustained by the spirit of teamwork, obsessive attention to detail and execution that united their founders from the get-go.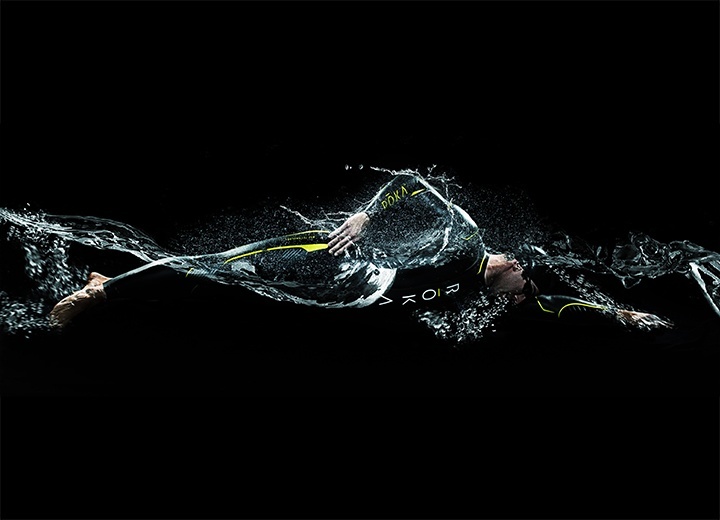 Visit www.rokasports.com to learn more about the company's expanding lines of premium performance gear, apparel and accessories.
Follow ROKA at Facebook, Twitter and Instagram.
Headquartered in Dallas, Texas, ROKA is a premium multisport brand dedicated to empowering athletes with the performance technologies they need to defy their limits and excel beyond what they thought was possible. Like the athletes it serves, ROKA believes reaching one's best is not a destination but the first step on the next journey of greatness, and the company continually strives to achieve the most innovative and highest quality products available for those who want to perform beyond their best.
ROKA was founded in 2011 by former Stanford All-American swimmers who, after being frustrated by the offering on the market, set out to make the fastest wetsuits on the planet. Success led to an array of premium innovations utilized by numerous world-class athletes including ITU World Champions, IRONMAN® World Champions and Olympic medalists, and today ROKA is building on its reputation for quality, performance and unsurpassed customer experience as it expands into new product categories. The company takes pride in making a difference for athletes who respect the shared passion for performance excellence. For more information, visit www.rokasports.com.
Swimming News is courtesy of ROKA, a SwimSwam partner.