The following is a press release courtesy of FINIS:
Livermore, CA (April 1, 2015)—FINIS, Inc., a worldwide leader in technical swimming development, is proud to announce the So More Can Swim initiative. Starting in April 2015, FINIS will donate a percentage of every goggle purchase to nonprofit organizations that make swimming more accessible.
"Here at FINIS, we've set out to achieve one goal: to help more people enjoy the water. We keep that singular mission in mind with everything we do, and this initiative is no exception. With the launch of So More Can Swim, I am thrilled to give our customers a new way to look at goggles while making a difference in the world of swimming." – John Mix, CEO, FINIS, Inc.
According to the Centers for Disease Control, drowning is the fifth leading cause of unintentional death in the United States. Ten people die each day from unintentional drowning, 20 percent of them children aged 14 or younger.
Ultimately, a team of FINIS employees determined that overall cost and access to local pools are two key factors that prevent adults from seeking learn-to-swim programs for themselves or their children. To solve these problems most effectively, FINIS will partner with nonprofit organizations that improve access to learn-to-swim resources.
"I attribute so much joy in my life to my time in the pool—a sentiment shared by many swimmers around the world. We developed So More Can Swim based on the simple belief that everyone deserves to feel happy and healthy in the water." – Jill Dahle, Community Development Coordinator, FINIS, Inc.
After one year of internal planning, the So More Can Swim initiative is now officially operational. FINIS will measure total goggle sales each month and make donations to the inaugural nonprofit partners listed below.
Goggles for Guppies distributes donated swim equipment to swim schools and teams that provide affordable learn-to-swim programs to underserved youth. Two young brothers started Goggles for Guppies in 2011 and have managed to build this effective organization while juggling their swimming and school commitments.
CLICK HERE to learn more.
Swimming Saves Lives Foundation is the charitable arm of United States Masters Swimming. The purpose of the Swimming Saves Lives Foundation is to raise awareness, and to serve as a resource for programs providing adult learn-to-swim lessons.
CLICK HERE to learn more.
In addition to the contributions made to nonprofit partners, FINIS will reward socially conscious swim teams in the form of surprise giveaway days. The Oakland Undercurrent was the inaugural recipient of a FINIS surprise giveaway day.
The Oakland Undercurrent, based in Oakland, California, is a member of the Oakland Community Pools Project, an organization that provides affordable, community-driven swim programs to engage local youth and empower them to achieve success. Head Coach Rolandas Gimbutis and his assistant coaches work hard to build a team of self-motivated and competitive young swimmers.
Members of the FINIS team worked secretly with an Oakland Undercurrent parent to determine what products would best support the coaches and swimmers. On March 6, 2015, members of the FINIS team, including CEO John Mix, arrived on deck for the Oakland Undercurrent's Friday afternoon practice. To the coaches' and swimmers' surprise, they were greeted with new equipment for the entire team and a stroke clinic led by FINIS employees. After an energetic hour in the pool, coaches, swimmers, parents, and FINIS employees shared laughs over a cannonball contest and a pizza party.
"The surprise giveaway for the Oakland Undercurrent was one of the most rewarding days of my career. It felt great to give back to a program right in our backyard. Interacting with the coaches and parents who work so hard to make a difference is an experience I'll never forget." – Josh Early, FINIS, Inc. Marketing Manager
Moving forward, FINIS aims to expand the efforts of So More Can Swim. Future plans include additional partnerships, a learn-to-swim reimbursement program for FINIS employees, and more giveaway days. Currently, FINIS is collaborating with Paralympic Gold Medalist and FINIS-sponsored athlete Mallory Weggemann to identify an organization that makes swimming more accessible to individuals with disabilities.
To learn more about how FINIS gives back, visit the So More Can Swim page at FINISinc.com.
About FINIS, Inc.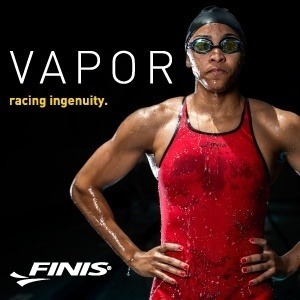 Founded in 1993 in Northern California, FINIS was started by John Mix and Olympic Gold Medal swimmer Pablo Morales. The Monofin and the Swimmer's Snorkel were the first products they developed for the U.S. market; later, they continued to focus on creating training tools for swimmers and coaches worldwide. FINIS products are currently available in over 65 countries and are used by U.S. and international Olympic teams, elite triathletes, and fitness swimmers.
Innovative research and design is FINIS's highest priority. This dedication has resulted in unique products like the Swimmer's Snorkel, which is recognized as the paramount tool to improve a swimmer's technique; the Neptune MP3, which uses bone conduction technology to transmit music to the inner ear instead of ear buds; and the Z2 Zoomers fins, which demonstrate FINIS's intimate understanding of swimming musculature, hydrodynamics, and engineering.