Fike Swim is excited to announce the addition of 2017 World Championships bronze medalist Zane Grothe to its growing team of ambassadors.  Zane, a standout at Auburn who majored in Aerospace Engineering, is a fast-rising star in American distance swimming, winning the 400 meter freestyle at the 2017 World Championships Trials, taking silver in the 800, and grabbing bronze in the 200.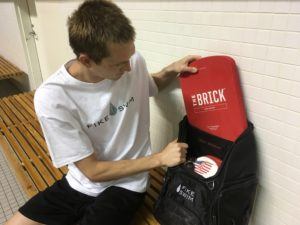 "Joining Fike Swim is an exciting experience for me. I'm looking forward to working with a company that has true athlete feedback and values at the core of its product research and development. Being a part of the Fike Swim ambassadors team is a step in the right direction for my career, and I can't wait to add to their brand." said Zane.
Zane is currently training at Indiana University alongside a strong contingent of Olympians including Lily King, Cody Miller, and Blake Pieroni, who just edged out Zane for silver in the 200 freestyle at World Trials.  As he prepares for the 2017 U.S. Winter Nationals and 2018 Pan Pacific Championships, Zane will help Fike Swim test and roll out more of the innovative products it is becoming known for.
"Zane is a real bright guy and one of the fastest American 400 freestylers ever, and he's only just scratching the surface of his potential.  I am beyond excited for Fike Swim to be here at the beginning of his professional journey to the top and so proud to support another one of the world's toughest athletes- swimmers! We are going to see a lot of fast swimming from Zane over the next few years." added Fike Swim founder James Fike.  
Going forward, Fike Swim is looking to add to its team of professional athletes as it expands its product offering around the world.  You can get the latest news, product updates, and videos by liking Fike Swim on Facebook and subscribing to their YouTube channel.  And you can get a candid look at Fike Swim's journey to help swimmers SWIM DIFFERENT by following them on Instagram.
About Zane Grothe
Here's a short Q&A with Zane.  The complete Q&A with post-workout meals, season and practice goals, and more can be found by visiting Fike Swim's ambassador profile page.
Q: What is your favorite event?
A: "50 free.  It's not my best so when I get to swim it there's no pressure.  Fast or slow I have a fun time doing it either way.  (And I usually beat someone who I should not so that's always fun)"
Q: How many yards per week do you usually swim?
A: "At max volume I will be around 80k-85k yards per week."
Q: What is one of your favorite sets?
A: "15×200 @ 2:10 SCY, threshold, the best I've ever done on this set was last fall: 6×1:46, 3×1:45, 2×1:44, 3×1:43, 1×1:39"
Q: How did you get into swimming?
A: "My parents got me into swimming when I was just a baby. We had a boat and lived by a lake. Water safety classes turned into novice swim lessons, and before I knew it I was competing at World Championships."
Q: What is something most people probably don't know about you?
A: "I bet most people don't know I rode a Razor scooter around campus for all 4 years of college. I can't really do any tricks, but I can ride like a pro."
About Fike Swim
"We design products exclusively for the most difficult sport in the world.  We unapologetically place swimmers on a pedestal.  The rigors they embrace on a daily basis can only be understood by another swimmer and they deserve a company focused 100% on helping them succeed.  Whether you're just starting out or training for Tokyo, we stand behind you."

– James Fike, Founder
Fike Swim Products was born when founder James Fike put a brick on top of a kickboard and transformed just another legs-only kick set into a total body workout felt into the next day.  Since then it's been our mission to create unique swim equipment with the single-minded goal of making you faster.  We don't sell toys.  We create tools to help you reach your potential.
About the Founder
James Fike has always had a passion for swimming.  He started swimming competitively at age 5, ultimately training under Eddie Reese at The University of Texas from 1999-2003 where he had the privilege of swimming alongside some of the greatest swimmers in the history of the sport.  James has continued swimming through all the phases of his life- from working as an investment banker, to getting his MBA back at UT, and back to working in corporate America.  Finally, his passion for the sport led him to opening The Fort Worth Swim School, which teaches students of all ages and abilities and works to foster his same lifelong love for the sport.  
Now, what started with a brick on a kickboard and a drive for always finding new ways to grow in the pool has become Fike Swim Products, a company dedicated to helping you Swim Different!
Press Release courtesy of Fike Swim, a SwimSwam partner.