BIRMINGHAM, MI., June 12, 2016 — Ultra-distance triathlete Adam Ellenstein will attempt a Guinness World Record for the fastest north-to-south non-stop swim of Okanagan Lake in Penticton, Canada, by swimming 105 kilometers (65 miles) on July 25-26.
Ellenstein, 39, is an accomplished ultra-distance athlete who has successfully completed Ironman (140.6 miles) and UltraMan (320 miles) triathlons. He is a solo Race Across America (RAAM) qualifier (400 miles) and last year he completed a 30 km (18 mile) swim across Lake Winnipeg in preparation for his attempt. He estimates the swim will take 40 hours.
"I am motivated to compete at extreme distances by a desire to challenge my mental and physical being every day," Ellenstein said. "The race is just one day. If you do not enjoy the training as much as you enjoy the racing, it is not worth it."
A Guinness World Records adjudicator will evaluate evidence which includes videos, photos, independent witness statements and a GPS tracking log to verify and confirm whether Ellenstein establishes a new Guinness World Records title.
Fans can follow Ellenstein as he trains and receive updates during the race on the VictorySwim105 Facebook page (www.facebook.com/VictorySwim105) and use the hashtag "#VictorySwim105" when posting to social media.
"Because of the extreme distance and non-stop activity, events like this cannot happen without a crew," Ellenstein said. There is no way I could do it alone. While on the surface, it sounds like a solo attempt, it is really a team sport. My training puts me in a position to succeed, and the crew keeps me fueled, on course and filled with love. Success in these events is all about the crew."
A crew of 10 motorized boats and safety kayaks will accompany Ellenstein on his swim.
VictorySwim105 will raise awareness and support to benefit those with Parkinson's disease through a partnership with the Davis Phinney Foundation (http://www.davisphinneyfoundation.org/). The Foundation's mission is to help people with Parkinson's to live well today. For this reason, Ellenstein considers this his most meaningful endurance challenge to date.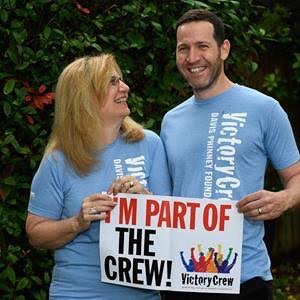 "The swim has a greater meaning than simply going out to test my endurance limits," he said. "I am swimming to support and honor my aunt, Susan Scarlett, who has Parkinson's disease. To her own amazement, she is training to swim portions of the swim with me. We hope people with Parkinson's, their caregivers and their loved ones will also be empowered to take up the challenge."
People can get involved in two ways by visiting my.davisphinneyfoundation.org/victoryswim105
Donate now
Become a fundraiser and swim along at a local pool on

July 24

, 25 or 26. Swim along fundraisers are encouraged to post updates to Facebook with the hashtag #VictorySwim105.
About Adam Ellenstein
Ellenstein trains in a suburb of Detroit, Michigan, and can often be found swimming in the lakes of South Eastern Michigan with his wife and crew chief, Amelia Ellenstein, kayaking alongside. Follow Adam, and the entire VictorySwim105 crew atwww.facebook.com/VictorySwim105
About Davis Phinney Foundation
The Davis Phinney Foundation was created in 2004 to help people with Parkinson's disease live well today.  Its major initiatives include:
The Every Victory Counts® manual – developed by movement disorder experts to provide practical ways to live well with Parkinson's
The Victory Summit® symposia series – this event brings experts into communities to share advances in science, care and to inspire those affected by the disease to take action
The Living Well Challenge™ – educational webinar series
The "Parkinson's Exercise Essentials" video
Funding of research focused on exercise, speech and other quality of life therapies.
For more information, visit the website: www.davidphinneyfoundation.org
About Guinness World Records
Guinness World Records (www.guinnessworldrecords.com) is the global authority on record-breaking achievements. First published in 1955, the annual Guinness World Records® book has become one of the biggest-selling copyright titles of all time, selling 120 million copies to date in 22 languages and in more than 100 countries. The internationally renowned brand is now also available across a number of platforms — GWR's global television shows are watched by 250 million viewers annually; digital media and online record-processing services attract more than 50 million visitors a year; and the live events team annually entertains and inspires 1.5 million people around the world. GWR receives more than 1,000 applications each week and has a specialized team of multi-language record managers and adjudicators who travel the globe to verify official record attempts. GWR also has a commercial division (Guinness World Records Corporate) that offers accessible record-breaking business solutions to other organizations and brands.
Swimming news courtesy of Davis Phinney Foundation.