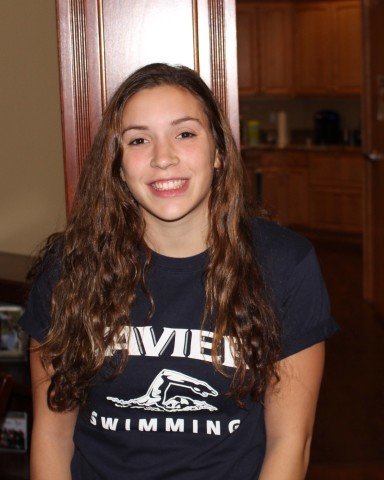 Emily Conners from Blackline Aquatics in Apple Valley, Minnesota has verbally committed to the Xavier Mustketeers.
She'll join the program already just two-tenths of a second short of the school record in the 50 free, giving the program another sprint weapon after breaking the school record in the 200 free relay in each of the last three seasons.
---
Best times in yards:
50 free – 23.85
100 free – 52.19
200 free – 1:55.74
100 back – 1:00.43
---
Xavier, like everyone on the women's side of the Big East, is chasing the Villanova Wildcats in the team battle. While Villanova has always had an impressive distance group, in the newest version of the Big East they've been dominant in the sprint events as well too.
The defending conference champion in the 50 and 100 free, Kaisla Kollanus, is a senior, however, and so Conners' arrival could be an opportunity for Xavier to at least chip away at one portion of Villanova's scoring dominance – and jus in time, as the program's three best sprinters from last year will all be gone before Conners arrives.
Conners competes scholastically for Visitation High School and placed 3rd in the 50 free and 4th in the 100 free at the Minnesota Class A (small schools) State Championship meet last season.