FINA CHAMPIONS SWIM SERIES 2019 #2 – BUDAPEST
May 11-12, 2019
Budapest, Hungary
LCM (50m)
Saturday – 7:30 pm local / 1:30 pm ET Opening Ceremony, 8:00 start
Sunday – 7:30 pm local / 1:30 om ET start
Extended Start Lists (TBA)
Olympic champion Dana Vollmer injured her left shoulder during her 100 fly at the second stop of the inaugural FINA Champions Swim Series in Budapest, she posted on Instagram Saturday evening.
"Hard 100 fly, can't say I felt fully recovered from the fly and unfortunately injured my left shoulder during the race," she wrote. "We don't know how much yet and I will see my trainers when I get home. It seems muscular so hopefully heals fast. That was my only swim of the meet and I head home early Monday morning. I'll keep everyone updated. This has not been the series of performances I'd hoped for, but trying to stay positive."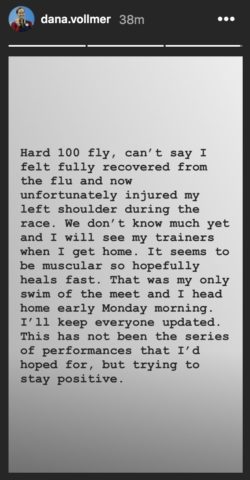 After the first stop of the series in Guangzhou, China, Vollmer battled a severe flu for about a week. In China, she took fourth in the 100 fly in 1:00.78, and was fourth in Budapest with a 1:01.23.
Vollmer, 31, has committed to trying to make her fourth Olympic Games (she made it in 2004, 2012, and 2016), and has had two children since 2014. She recently returned from a five-week training trip in Tasmania and is presumably back to training under longtime coach Teri McKeever with the Cal team.