The logo for the 2017 FINA World Championships in Budapest, Hungary has been revealed on the FINA website.
Budapest is a late-comer to hosting this event in 2017, taking over the event after Mexico backed out as 2017 hosts due to financial issues. Budapest was originally scheduled to host the 2021 World Championships, but moved up four years to fill the spot vacated by Mexico.
The logo, which you can see below, is fairly low-key, especially compared to logos from previous World Championship events, and compared to the logos for the Rio 2016 Olympics and 2016 Short Course World Championships, which you can see alongside the Budapest logo here.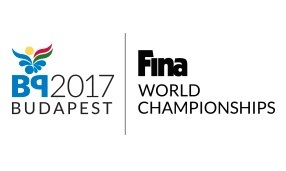 The logo subtly incorporates Hungary's flag, a tri-color pattern of red, white and green in horizontal stripes. You can see the flag slightly repurposed on the right side of the splash logo above the "B" and "P."
The logo also plays on Budapest's unique history and geography. The city was actually two different cities until 1873, when the city of Buda was merged with the city of Pest to become the new combined capital of Hungary. The two cities were originally distinct as the Danube river flowed between them. The Chain Bridge, built in 1849, became the first permanent bridge across the Danube, suddenly connecting the two cities and sparking what would eventually become a merging into one combined capital.
Geography lesson aside, the 2017 Budapest World Championships will take place from July 15-30 of 2017, and should take advantage of Hungary's swimming-crazy population as well as its larger-than-life swimming icons (Katinka Hosszu, Laszlo Cseh, Daniel Gyurta) to draw a large crowd to the event.