While what happens in the pool may get the lion's share of the attention of casual swim fans, true fans know that some of the grittiest swimmers can be found dueling stroke-for-stroke in races that are longer than most swimmers' entire practices.
This summer, Team USA's open water squad walked away from the World Aquatic Championships with three medals: a bronze from Hannah Moore in the 5km, a silver from Haley Anderson in the 10km, and a bronze from the mixed relay team of Anderson, Jordan Wilimovsky, Ashley Twichell, and Michael Brinegar.
Catherine Vogt, one of the most accomplished open water coaches in the world, served as the head coach for the USA's open water team at worlds this summer. She served in the same position in 2015 and was head coach for the open water team at the 2016 Rio Games. In addition to leading Team USA to medals at major international meets, she serves as the assistant coach for the highly-successful USC Trojans.
BSN Sports Team Ambassador Jessica Hardy spoke with Vogt to get some thoughts on this summer, as well as coaching in general.
Vogt's coaching philosophy emphasizes seeing swimmers grow in all areas of life, as she wants to…
help athletes learn about themselves as people, not just athletes– through challenges, successes, failures, and teamwork. Love my role as a teacher and motivator as get to watch their personal development and growth; coaching is relationships!
More specifically, Vogt described how she – and other coaches – work to help swimmers develop as leaders.
As coaches we get an opportunity to work with athletes when they are figuring out what they want in life – it's a fun time to help them understand their strengths, recognize some weaknesses and see what drives them.  I think it's important to ask questions, always let the athletes talk more and I try to listen, as a mom raising a daughter I see how important it is to teach confidence, accountability, and responsibility!
While swimmers on USA's international teams have often competed against each other on the college level, not to mention having to compete against each other for spots on the international squads, USA athletes still thrive together as a team, creating a unique environment.
Chemistry on [our] open water team this summer was really special. [You] can look at it as a small community or a big family, but bringing together 4 veterans (Ashley, Haley, Jordan, David) and 5 rookies in such a critical year (qualifying for the Games) the group came together and performed under pressure.  [We had] great leadership, maturity, passionate athletes made it fun to be part of this group.  [There are historically] not many opportunities for open water athletes to race together under TEAM USA so when they had the chance, they put in an amazing training camp, shared from past experiences and came together as one.
Like every other high-level coach, Vogt stays busy with a lot of responsibilities, and what she described as her biggest struggle in coaching will sound familiar for many coaches.
[My] struggle – as always – [is] maintaining life balance! Being able to prioritize family, college, open water, me time!  Luckily have amazing staff at USC support from Dave [Salo, USC head coach], my family to allow me to do what I love, coach athletes at the highest level.  [I] learned over time, If I don't take care of myself there is nothing to go around for anyone else.
With a long career and many favorite memories to choose from, Vogt chose to describe her favorite memory from this summer.
Every year there are awesome memories; for this summer I have to say seeing 2 women qualify for 10K in Tokyo was special and knowing it was Haley's 3rd time – seeing her smile after winning the silver medal is a memory that will last a lifetime.  Knowing what it takes to be your best over a grueling 2 hour race, when the pressure is at the highest, and coming out on the podium…..she is definition of sustained success. Also, the rookie Hannah Moore winning the bronze medal and the relay —- and lastly, can't forget [Michael] Brinegar ran down Paltrinieri and the foursome (relay) were awesome
ABOUT BSN SPORTS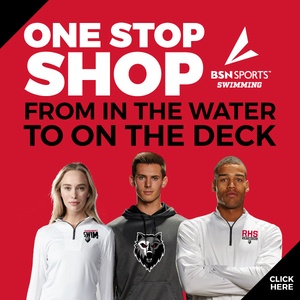 Founded in 1972 as a factory-direct equipment company, today BSN SPORTS is the largest distributor of team sports apparel and equipment in the United States, with over 3,000 employees across 80 regional offices. At BSN SPORTS we believe that sports have the power to change lives. At the heart of what makes sports happen are the coaches, teachers and mentors who work with young and old alike to build meaningful lifelong experiences. That's why our mission is simple. The more time we save coaches with everything they do off the deck, the more time they can spend changing lives. And that's the real final score.
Get your swimmers in custom team gear with your team's logo. My Team shop provides a one-stop-shop solution to custom apparel, suits, footwear, equipment and accessories. It's simple to setup and the My Team Shop platform can even serve as a fundraising solution to earn dollars for your program. To set one up today email us at [email protected] or call 1-877-217-9027.
To learn more about BSN sports visit us at www.bsnsports.com/ib/swimming.
BSN SPORTS SWIMMING ON Instagram – @bsn_swimming