While swimming competition has been on a hiatus because of the effects of COVID-19, BSN Sports continues to want to recognize the wide variety of swim teams from across the country that make our sport so unique. And while we're not entirely sure what college sports will look like in the months to come, one positive trend we've seen is that quite a few NCAA Division III or NAIA colleges and unveristies have actually been adding swimming programs.
This week we want to highlight one of these new programs, the Piedmont College Lions. Last summer, the Atlanta-area school announced that Teddy Guyer would be the first head coach in the Lions' history, and that both men's and women's teams would begin competing in the 2020-2021 school year. We caught up with Guyer to get some insight into some of the challenges and rewards of starting a program from scratch, as well as some of his thoughts on coaching in general.
Guyer describes his coaching philosophy simply as…
Do things the right way… Good things happen when you work hard in the water and classroom. Be good and respectful to all, represent the team in a positive way, and have a good attitude at all times. I treat my swimmers like they are my own kids and we are a family. They know I am there for them and will help them in anyway, but if they do something wrong there will be consequences.
The vast majority of college coaches join established programs, so we asked Guyer to share some of his insights on establishing a new college program.
This will be the 3rd college team I have started from scratch. It is the challenge of seeing what you can do and how fast you can develop the team into a competitive team. The challenge is, I have started these teams with no to little scholarships, which makes it even a bigger challenge. It is very rewarding to see what you can do with a group of freshmen swimmers and turning the group of individuals into a team and having those leaders developing as you go. Adding to the challenge this year is the pandemic, I had to stop recruiting, no going to swim meets since March, no campus visits for anyone that might be interested, and the uncertainty of summer swimming. It is hard to ask swimmers to come to a school they have not seen or swim for a coach they have not met in person.
Another thing that makes Guyer unique is that he's never been an assistant coach at the college level, having been a head coach at Mars Hill University and Warren Wilson College, and having started both programs there. So when we asked him about who's had the biggest influence on him as coach, he pointed not to someone he's coached directly under, but rather, one of the most well-known names among US swimming coaches.
I have always been a huge fan of Georgia's head coach Jack Bauerle. He has been one of the best coaches in the country and one of the nicest and friendliest people you will ever meet.
With over 30 years on the deck, Guyer has seen his shares of ups and downs, and we asked him to reflect a bit on his biggest struggle as a coach and how he's learned to overcome it.
This question hits the target with me and is why I am here at Piedmont. My biggest struggle for the last 30 years has been time, not having the time to spend with my swimmers and feeling like I was not doing a good job because I couldn't give my swimmers the time they needed, even though I was working 12 to 15 hours a day. This was caused because coaching the team was just part of the job, I was also the aquatics director, teacher, lifeguard, janitor, and more. I have never had a paid assistant coach to help with these things. So my days have been filled with everything but coaching and helping my swimmers and this is a problem with a lot of college swim coaches. This was a deciding factor when I took the job at Piedmont College. My main responsibility will be coaching my swimmers and spending as much time with them as I want. I will still put in the long hours because that is just me, but now that time will be doing what I love coaching.
Of course, which that much time on deck, Guyer has racked up plenty of great coaching memories, and his list of the types of memories he cherishes reminds us what the sport of swimming is really all about.
That is a hard one to answer, because there are so many things:

Anytime a swimmer does a best time and they are happy about it
When they accomplish something, they have been working hard for
When they receive awards and accolades outside the pool
When they graduate and I can look them in the eye and tell them how proud I am and wish they could see themselves through my eyes and then they would truly see how special they really are!!!
ABOUT BSN SPORTS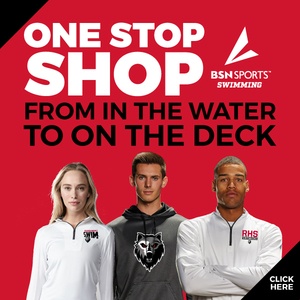 Founded in 1972 as a factory-direct equipment company, today BSN SPORTS is the largest distributor of team sports apparel and equipment in the United States, with over 3,000 employees across 80 regional offices. At BSN SPORTS we believe that sports have the power to change lives. At the heart of what makes sports happen are the coaches, teachers and mentors who work with young and old alike to build meaningful lifelong experiences. That's why our mission is simple. The more time we save coaches with everything they do off the deck, the more time they can spend changing lives. And that's the real final score.
Get your swimmers in custom team gear with your team's logo. My Team shop provides a one-stop-shop solution to custom apparel, suits, footwear, equipment and accessories. It's simple to setup and the My Team Shop platform can even serve as a fundraising solution to earn dollars for your program. To set one up today email us at [email protected] or call 1-877-217-9027.
To learn more about BSN sports visit us at www.bsnsports.com/ib/swimming.
BSN SPORTS SWIMMING ON Instagram – @bsn_swimming