While swimming around the world still looks a lot different than normal due to the effects of COVID-19, we're still highlighting and celebrating swim teams from across the country. This month, we're taking a closer at the La Mirada Armada, a year-round USA Swimming club based out of La Mirada, CA.
The La Miranda Armada consists of about 370 swimmers at three sites in the Los Angeles area: La Mirada, Covina, and Palos Verdes. In partnership with the City of La Mirada, they train at the Splash Aquatic Center, a pool the team helped fund and build in 2006. Splash has been a significant part of the SCS swimming schedule for major meets for the past 15 years. It includes an 8 lane 50 meter facility and an 8 lane 25 yard pool, plus dryland facilities, meeting rooms and the team offices. The site is the current home of the Kevin Perry Invitational and has hosted numerous college conference championships, Western Zone Sectionals and JO meets.
The team is led by head coach Richard Shipherd, and the core of the coaching staff has been together for years, even before the team's founding 15 years ago. Since the Armada's inception, they've consistently had a swimmer on the National team or National Jr Team for all but one year in the 15 years of the team's existence, including swimmers like Kevin Vargas, Taylor Ault, Sam Shellem, Kirstie Chen, and Ryan Kao.
We spoke with Shipherd and the rest of the Armada coaching staff to gets a sense of what makes the team special, as well as more thoughts on coaching in general.
The team has two main mantras that could be considered the team's mission and method:
1. Praise an athlete as he is, and he will remain as he is, expect him to be as he could be, and he will become what he should be.

2: Through truly intense training we raise the ceiling on an athlete's physical limit, and their confidence to fulfill a new potential.
Every club has something encoded in the "team DNA" that makes it unique. We asked the Armada staff to describe what makes the Armada team chemistry special.
There is a history that has reinforced an unspoken conversation between coach, athlete and parent – a contract to pursue our best us. The kids, coaches and parents believe we are dedicated to that goal.
One of the best parts of chatting with coaches is hearing about each team's iconic team set. For years now, the Aramda has had a challenge set that they use to determine all group move-ups, and a ranking of the results has been maintained on an 'all-time' list since the 90s. That set is simply:
5 x 500s free @ 6:00
2 min rest
5 x 400 IMs @ 6:00
We asked the staff how they would describe their biggest struggle as a coach, and what they do to overcome that struggle.
In a growing commitment by society to, 'leave no one behind' and achieve a positive self image through words for all, we have forgotten the true nature and powerful effect of competitive sport. Margaret Thatcher put it best.

Let our children grow tall, and some taller than others, if they have it in them to do so ! …Margret Thatcher

We overcome the trend by measuring everything done in workout and only praising new levels of performance while encouraging persistence and real grit in the effort to rise above. There is a time to pat kids on the back, kick them in the butt, or reassure them that their effort will pay off. The trick is to use each feedback at only the appropriate times.
Finally, we asked Shipherd was his favorite coaching memory has been. Like many long-time coaches, he had a hard time picking just one, but we'll include his whole response.
I have been coaching for forty-five years so that is difficult. I have seen so much. Many of the most memorable memories are memories I had nothing to do with, but they immediately come to mind, so I think that makes them the most important to me.
1. The US beating the East Germans in the 4 x 100 free relay in 1976 (knowing the GDR girls were steroid enhanced). Jill Sterkel, third on that relay, was from the Industry Hills Team where my coach was a coach for many years and I would later coach for many years).
2. Erik Vendt breaking 15 minutes in the mile in Indianapolis in 2000. Because it eliminated a goal I very much wanted to be a part of. I was coaching athletes at the time that had that dream and suddenly it was gone.
3. Watching Italian Federica Pellegrini break 4 minutes in the 4 free with a negative split swim in 2009, in Rome, her home country.
4. Watching my swimmer, Morgan Hentzen, swim the 400 free in the finals at Olympic Trials in Long Beach in front our whole team which had rented a club deck box for the night. It was an electric evening.
Elmbrook Swim Club is one of 3,000 swim clubs in the United States. How can we grow that number and promote the sport? 
ABOUT BSN SPORTS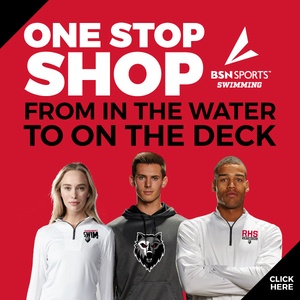 Founded in 1972 as a factory-direct equipment company, today BSN SPORTS is the largest distributor of team sports apparel and equipment in the United States, with over 3,000 employees across 80 regional offices. At BSN SPORTS we believe that sports have the power to change lives. At the heart of what makes sports happen are the coaches, teachers and mentors who work with young and old alike to build meaningful lifelong experiences. That's why our mission is simple. The more time we save coaches with everything they do off the deck, the more time they can spend changing lives. And that's the real final score.