Disclaimer: BlueSeventy Swim of the Week is not meant to be a conclusive selection of the best overall swim of the week. The BlueSeventy Swim is an opportunity to take a closer look at the context of one of the many fast swims this week, perhaps a swim that slipped through the cracks some as others grabbed the headlines.
In women's swimming, there are few places in the nation more intimidating to visit than Athens, Georgia, home of the two-time defending NCAA Champion Georgia Bulldogs.
Part of what makes a dual with Georgia so difficult is the near-certainty of falling into a big deficit early, thanks to Georgia's top-flight 1000 free lineup.
The first individual event of a traditional dual meet, the 1000 free for Georgia features Brittany MacLean and Amber McDermott, two of the nation's best over a distance. Case in point: the "Mac-Attack" went 1-2 in the 1650 free at last year's NCAA Championships, and currently sits 1-2 in the national rankings this season.
Yet in their dual with Georgia this past weekend, the Texas Longhorns found a way to do something almost no one in the NCAA has yet been able to do: solve the Georgia distance conundrum.
That came courtesy of senior Kaitlin Pawlowicz, who's been on a roll so far this season. The 5-foot-7 standout originally from Virginia was instrumental in the Longhorns' back-to-back upsets of Stanford and Cal, and kicked off the team's upset bid against the defending national champs by beating both MacLean and McDermott head-to-head with the 4th-fastest 1000 free time in the nation this season.
The race was fantastic. Swimming in Georgia's fearsome home-pool environment, Pawlowicz fell behind the Macs over the first 150 yards, but managed to pass up the defending NCAA champ MacLean by the 200-mark. Still fighting, Pawlowicz painstakingly reeled in McDermott, catching her by the 450.
The two battled side-by-side for several more laps, neither giving up any ground, but Pawlowicz found another gear at about the 700-mark, descending her splits as McDermott could only maintain her current pace and watch the Longhorn swim away with the title.
Pawlowicz rode that momentum to a surprisingly-wide winning margin: 9:43.82 to McDermott's 9:46.65. MacLean was 9:46.93.
That was a huge boost to Texas, who actually managed to maintain a lead over the Bulldogs through most of the meet's first session, until a Georgia 1-2-3 of the 200 fly put a damper on things.
Though Texas wasn't able to pull off the upset (Georgia seems just too good and too deep to lose at this point, especially at home), they did come closer than any team yet this year, pushing Georgia to a final score of 163.5-135.5.
And for Pawlowicz, the swim put her in elite company. In 1000 and 1650 frees so far this season, only one other swimmer has won a race over the top of either MacLean or McDermott – that was Virginia's Leah Smith (third at NCAAs in 2014), who won the Georgia Invite. The only other swimmers to beat either of the two in a distance event are highly-touted Cal freshman Cierra Runge (3rd at the Georgia Invite with MacLean 2nd and McDermott 4th) and Florida's Jess Thielmann, who finished between 1st-place McDermott and 3rd-place MacLean in a dual last fall.
That's a huge step forward for Pawlowicz, who has never finished higher than 22nd individually at NCAAs. If she can transfer what's been an unbelievable regular season into some postseason fireworks, Pawlowicz has the look of a potential All-American for a feisty, rising Texas squad.
Full recap of the Texas-Georgia meet, courtesy of SwimSwam's Ian Murphy
Aptly named to suggest 70% of the earth is covered in water, blueseventy is the world leader in the pool, triathlon and open water wetsuits and swimskins. Since 1993, we design, test, refine and craft products using superior materials and revolutionary details that equate to comfort, freedom from restriction and ultimately a competitive advantage in the water. blueseventy products have instilled confidence in beginners as well as carried world-class athletes to countless Olympic and World victories.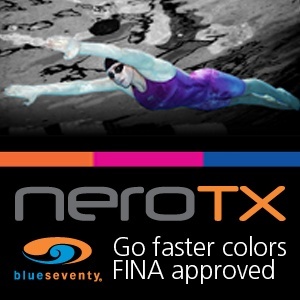 For the latest news and blogs from blueseventy visit www.blueseventy.com.
Twitter: @blueseventy 
Facebook: facebook.com/blueseventy
 Blueseventy is a SwimSwam partner.