Precisazione: la rubrica di blueseventy  "nuotata della settimana" (blueseventy swim of the week) non è destinata ad essere una selezione conclusiva della migliore nuotata assoluta della settimana. Piuttosto offre una vetrina per esplorare nei dettagli una gara particolarmente significativa. La rubrica di blueseventy è l'occasione per dare uno sguardo da vicino ad una delle tante nuotate veloci della settimana. Può essere una gara che non ha portato a nessun titolo oppure una che nel contesto generale non abbiamo avuto la possibilità di approfondire.

L'articolo è tradotto dall'inglese. Puoi leggere l'articolo in lingua originale qui
Ai Giochi Asiatici, la cinese Liu Xiang  ha battuto il record del mondo dei 50 metri dorso femminili.  Questo è un record che vanta una delle storie più strane del libro dei record del nuoto.
La storia del Record del Mondo dei 50 dorso femminili
Dal marzo del 2008 al luglio del 2009 (un periodo di 16 mesi che comprendeva l'esplosione dei 'super costumoni in gomma'), il record del mondo dei 50 metri dorso è stato stabilito non meno di 8 volte. In quesi 16 mesi è passato da 28,09 a 27.06 .
E 'stata un'esplosione a livello mondiale che ha visto sette donne stabilire quel record. In particolare fu stabilito in entrambe le semi finali e poi nella finale dei  Campionati del Mondo 2009.
Poi, dal 2009 fino ad Agosto 2018, quindi un periodo di oltre 9 anni, nessuno ha sfiorato il record.
Quattro donne nel 2009 che si sono alternate nello stabilire un record. Nessuna per i nove anni successivi ci era andata vicina.
Da quando la cinese  Zhao Jing  ha stabilito il record del mondo a 27.06 nel 2009, solo due donne avevano raggiunto un tempo ad un decimo dal record.
E' un record strano, e forse se ne è discusso poco. I Record del Mondo più difficili da battere, tra quelli fissati nella "super suit era" sembravano quelli dei 200 stile libero femminile e dei 200 farfalla. Invece, la storia ha dimostrato che anche quello dei 50 dorso non era così semplice da eguagliare.
La cinese Liu Xiang ha sbaragliato ogni pronostico, rompendo il muro dei 27 secondi per la prima volta nella storia del nuoto. Il suo 26.98 è più veloce di 13 centesimi di secondo dal record in gommato. Ha vinto oro e titolo ai Giochi asiatici con un vantaggio di 7 decimi cancellando le altre concorrenti, tra le quali la campionessa del mondo  Fu Yuanhui
FACCIAMO tutto per i NUOTATORI.
Non c'è un secondo che passa senza che il team di blueseventy non stia pensando a te.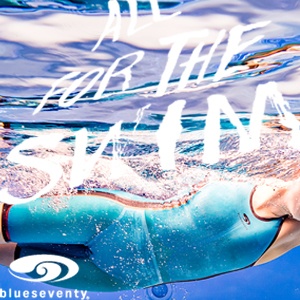 Come mangi, respiri, ti alleni, giochi, vinci, perdi, soffri e festeggi.
Come suggerisce il nome, il 70% della terra è coperto di acqua. Blueseventy è leader mondiale in piscina e in acque libere.
Dal 1993, progettiamo, testiamo, affiniamo prodotti artigianali con materiali di qualità superiore e dettagli rivoluzionari. Comfort, libertà senza restrizioni e, in definitiva un vantaggio competitivo in acqua.
Questo è ciò che facciamo.  Siamo tutti per il nuoto.
VISITA
blueseventy è un partner SwimSwam.