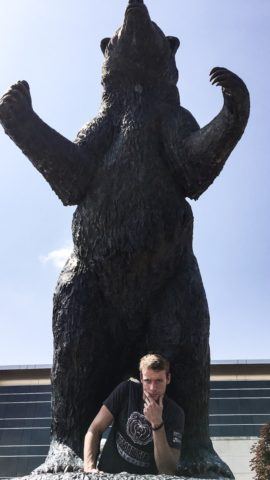 In a rare move, NCAA point-scorer Blair Bish has made the commitment to transfer his remaining two years of eligibility from Arizona and the PAC-12, to the Mid-American Conference and the Missouri State Bears.
Bish has been Arizona's top sprint breaststroker over the first two years of his college career and holds the fourth fastest all-time performance for the Wildcats in the 100 breast, contributing second place points in that event at the 2017 Pac-12 meet.  As a freshman he won the consolation final of the 100 breaststroke at the 2016 NCAA Championship with a 52.18.  In 2017 he managed to take .05 from that personal best with 52.13 in the prelim, but finished 15th overall in the NCAA final with 52.51.  Bish has also served an important role in relays, having turned in breaststroke splits of 51.50 for the 100, and a near nation-leading 23.01 for the 50.
Bish will be a valuable asset to MSU Head Coach Dave Collins' program which finished just one point shy of the Mid-American Conference title this year.  He will be joining an already exceptionally deep breaststroke squad, led by Artur Osvath who finished 15th at the 2017 NCAA Championship in the 200 breast after hitting his lifetime best 1:53.87 in the prelim.  Missouri State's other NCAA Qualifier for 2017 was distance ace Antonio Thomas, who is part of a large Bears' contingent from the Arkansas LSC who were no doubt a factor in bringing Bish closer to his Little Rock roots.
Bish will be an important player in more than just the 100 breaststroke for the Bears, as his 20.40 flat-start 50 freestyle and his strength in the 200 breast (1:56.23,) 200 IM (1:48.70,) and 100 free (45.34) will contribute greatly in their quest to take the MAC back from Eastern Michigan and to expand their presence at the NCAA Championship.
Bish made this statement to SwimSwam:
"I have admired Dave Collins and what he and his coaching staff have been able to do at Missouri State for a long time. They have been at the top of their conference, sent athletes to the last five NCAA Championships, and they have made every athlete that has walked through the doors better. With three people on the team that have gone to NCAA's and many more that I firmly believe will be there soon, MSU is looking to burst onto the national scene in the coming years. I hope that the success of this team, not only in the MAC Conference, but also in the NCAA Championships and beyond, will breed further success and MSU will attract difference makers, hungry to improve and compete in swimming. I have some audacious goals in swimming, including competing for a national championship, and I know that MSU has exactly what I need, in the team atmosphere and coaching staff, to continue to pursue those goals.
I appreciate the University of Arizona, the coaches, and the team for my time there. I grew a lot in those two years, and I will treasure the friendships and relationships I made there for the rest of my life. However, it is time for me to move on to my next home and family in MSU, and I couldn't be more thrilled to be a part of this team."