Courtesy of arena, a SwimSwam partner.
The beginnings: appointment with destiny

The arena's story begins fifty years ago, with a fortuitous meeting between a shrewd entrepreneur and a multi-Olympic medallist. The entrepreneur was the young and ambitious Horst Dassler – then president of Adidas France, founded by his father Adolf Dassler – and the athlete was Mark Spitz, regarded as "Mark the Shark" who was the world's number one swimmer of all time.
The spark was kindled at the 1972 Munich Olympics. Young Dassler was a keen spectator: from the deck of the Olympic swimming pool, he watched Spitz compete and earn seven gold medals (while also setting seven new records) and witnessed the collective adulation the athlete garnered. Amazed by that moment, the visionary Dassler realized the business value of a company associated with Spitz's image, envisioning the launch of a line of exclusive swimwear for the world's top athletes. Mark Spitz's victories did more than inspire a generation of swimmers: they inspired the creation of a brand. Dassler set to work turning his vision into reality and, in 1973, arena was born.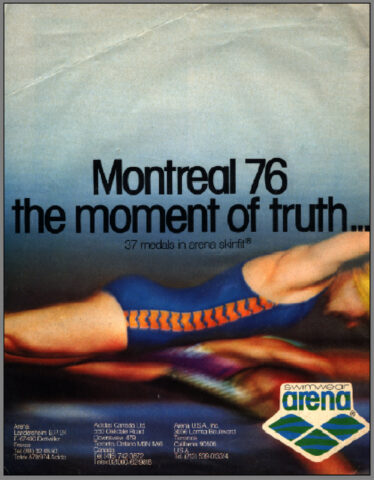 The brand's name is no coincidence: an arena like that of Rome's Colosseum, a setting that hosted gladiator fights and other events, including sport competitions. Given its competitive connotations and historical origins, the name "arena" was the perfect fit for an emerging brand looking to catch the public's eye in the most important sporting venues in the world. And not only in these. In tribute to adidas' three-stripe logo, arena adopted three vertically stacked diamonds in the orange color as its motif. At first, the logo was only displayed on clothing's inner label, without the brand's name. Only later the ambassadors Mark Spitz and Shane Gould wore it, emblazoned on their swimsuits, unleashing a powerful promotional hype that would quickly arouse the curiosity of industry operators.
Many national teams flocked to the brand: Canada, France, England. The logo was soon re-arranged into a more compact visual, with two horizontally-aligned diamonds set slightly above a third diamond nestled between them. However, this would not be the definitive version. In the most recent variation of the logo, the diamonds are flattened and rounded, arranged in such a way as to resemble a blue wave. Although later recoloured in shades of grey and black, it still remains a globally recognizable symbol of superior quality.
The 70s, 80s and 90s: an epochal change shifts in competitive swimming
Dassler sparked what would come to be perceived as a revolution in the history of the swimwear industry. His aspirations of excellence fueled an obsessive attention to quality and innovation, shaping a technological imprint that became arena's long-lasting signature style, right up to the present day.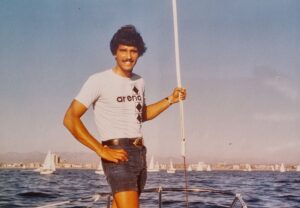 Leveraging the personal connections built over time with professional athletes – a natural skill for such a strong communicator – Horst invited the swimming community's biggest names to join an Elite Team of ambassadors and directly involved them in the development phase of arena products, a distinctive practice the brand still follows today. Following its original ambassadors, Mark Spitz and Shane Gould – an Australian prodigy who collected five individual Olympic medals in women's swimming events in 1972 – the brand recruited other champions of the stature of Matt Biondi, Franziska Van Almsick, Alexander Popov and Krisztina Egerszegi. Over the years, the list would grow to include some of the most celebrated swimmers of the time. Many athletes proudly joined the arena family, from Italian swimmers Filippo Magnini, Massimiliano Rosolino and
Alessia Filippi to South Africans Ryk Neethling and Roland Schoeman. In 2010, new talents of different nationalities joined the team: Rebecca Soni, Aaron Peirsol, Oussama Mellouli, Cameron van der Burgh, Ranomi Kromowidjojo, and Katinka Hosszú. More recently, arena welcomed Gregorio Paltrinieri, Sarah Sjöström, Florent Manaudou, young athletes Nicolò Martinenghi and Florian Wellbrock, and rising world-class star David Popovici.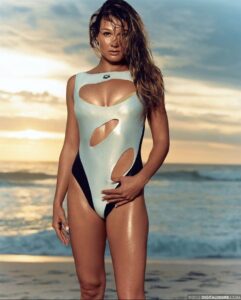 To see arena swimwear in the starting blocks, it was necessary to wait for the European Championships in Vienna in 1974 where the first Skinfit® line was presented, which initially consisted only of three models of men's swimwear Champion, Jet (with logo on the side band) and the Superstar, the only printed model, Superstar. This marked a historic turning point for arena's production and marketing of racing swimwear. Skinfit was an innovative fabric: ultra-light and water repellent, it adhered to swimmers' bodies like a "second skin" and reduced friction in the water, making it an essential item for competitive swimming.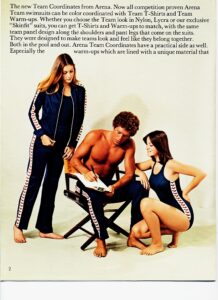 Dassler not only created high-performance products – as proved by the number of medals won by professional athletes wearing arena swimwear – but integrated the brand's technical know-how into quality sportswear. The range was immediately expanded to include sweatshirts and sports trousers, characterized by the Team Stripe, a vertical band with the logo repetition, as well as products such as the Marco Sandal and the Pull Kick , a multi-function tool to be used as a pull buoy or kickboard. Perfect for water sports lovers, both items are still in production after more than 30 years.
In the 80s, the brand put forward a swimsuit which, in addition to being very sensual, was perfect for competitive swimming. The Flyback®, whose name is inspired by the Butterfly discipline, had thin shoulder straps and a deep neckline, giving athletes greater freedom and fluency of body movement. It was an immediate and lasting hit, becoming an iconic product that is still part of the brand's offer today.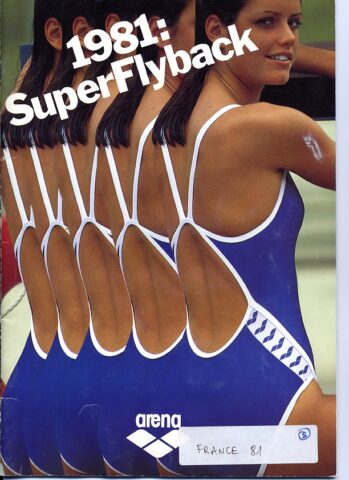 The new millennium: continuous innovation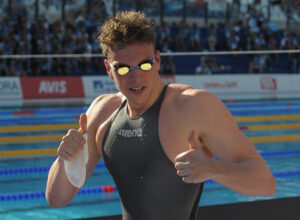 While the 90s were a period of incredible innovations for arena (starting with AquaRacer®, designed to reduce friction with water; followed in 1997 by X-Flat® , an even thinner, smoother and lighter fabric than its predecessor, weighing 25% less than any other fabric used for racing products), it was in 2000 that the brand stunned the waterwear world with the launch of a real technological jewel.

The new millennium marked a drastic change in the world of competitive swimming, introducing the possibility of employing "full-body" swimsuits. Born of the creative genius of Michel Joseph (a leading sector expert and advisor to Horst Dassler) following over two years of research, Powerskin was the progenitor of a new generation of "full body" swimwear that covered the swimmer's entire body. The Powerskin fabric's water absorption
was as low as its friction coefficient. Being incredibly light, it allowed for exceptional speed during performance. arena developed its technology in collaboration with international scientific research centers such as the University of Reims Champagne-Ardenne, the High Performance Olympic Centre in Berlin and the Milan Polytechnic's MOX Institute. The Powerskin was seen on the highest steps of every international competition's podium. In 2008 it was updated with the Powerskin R-evolution, the ultimate frontier of racing swimwear, weighing only 100 grams.
In 2009, the Powerskin X-Glide® was named one of the 50 best inventions of the year by Time Magazine . This  multi-layered, full body swimsuit was equipped with a special coating to increase stability in the water and further reduce friction ("and it doesn't even have some kind of motor" as Time Magazine mentioned)
During the 2009 World Championships in Rome, 43 world records were broken – more than any previous Championship or Olympic event -. In January 2010, FINA changed its regulations to ban the use of hi-tech full-body swimsuits, a move which could have inhibited further research into new technological trends.
But despite more restrictive regulations, after about a year, arena launched a revolutionary swimsuit, Powerskin Carbon Pro, the first racing suit that integrates carbon fibers in its fabric.  Stronger than steel, but much lighter, carbon had until then been employed in the making of high tech products, from Formula 1 to the aerospace industry.
Thanks to its carbon component, the Powerskin Carbon-Pro provides the right level of compression (intelligent compression) at all levels of stretch, while also keeping it constant over time. Development continued, as arena's capacity for innovation grew: the Powerskin Carbon line evolved over time, becoming increasingly high-performing to meet the different needs of professional athletes. The next models launched are: Powerskin Carbon-Flex, Powerskin Carbon-Ultra, Powerskin Carbon Air2, Powerskin Carbon Duo, Powerskin Carbon Core FX and Powerskin Carbon Glide. Each was equipped with innovative technological features, such as the single-piece construction, the seam-sealing tape or the innovative panel lining providing maximum flexibility and compression.
arena's innovation is not limited to carbon technology, but also extended to a range of racing and leisure items. Among these, the Cobra goggles, equipped with Swipe anti-fog technology, which cleans the lens with a simple the swipe of a finger and guarantees clear vision lasting ten times longer than standard solutions.
The One goggles ensures a watertight fit on any face, providing an excellent suction and crystal-clear visibility. Winner of the Red Dot Design Award and the Adi Design Index in 2012, the Smart Cap is the first cap designed to hold long hair in place in five seconds, without creating unsightly bumps that could affect a swimmer's hydrodynamics.
Another novelty in the swimwear range is Bodylift swimsuits, designed since 2008 to shape, support and enhance the female body. In the sportswear category is launched the Icons line, inspired by the style of arena's early days, but with a streetwear twist. The Rule Breaker, on the other hand, is the line dedicated to young women who love break the rules. Started out with mix&match bikinis, it has been enriched over time of other models: the Hooked Reversible swimsuit, a reversible one-piece with side clips to slip in and out of it without having to lift up the feet; and the Twist'N'Mix, which can be worn in four different ways. In the accessory range, the FastPack backpack is a must-have: designed with inner compartments willing to "locker" to easily access and store the stuff.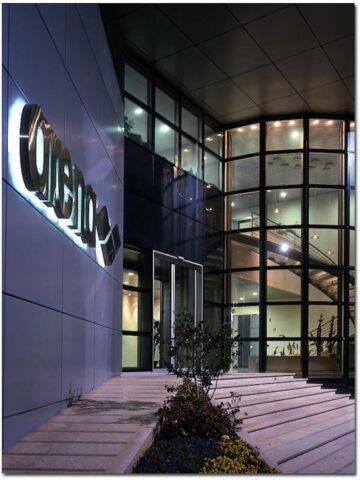 arena, today…
The arena headquarter is currently located in Tolentino, a charming little town in central Italy, while the Powerskin production plant is located in Rovetta, in the surroundings of Bergamo dedicated exclusively to the manufacturing of technological jewels for competitive swimming. These swimsuits are the result of cutting-edge scientific research, rigorous tests and the precious contributions of many past and present-day champions who played an integral role in the development process.
Since 1973, arena swimwear has colored the most important pools in the world and get on the most famous podiums. The collections reflect the company's core values: authenticity, responsibility, innovation and passion, which have made arena an international leader in the world of waterwear. arena is particularly devoted to sustainability: to reduce the impact on the planet, the brand is committed to designing and manufacturing in an increasingly environmentally friendly way, working with the best and most reliable partners. This commitment can be clearly seen in the Pool Swimwear collection, made entirely with recycled fabrics. In the Racing category, the FINA-approved Powerskin ST NEXT celebrates and promotes sustainability with its over 60% recycled yarns and its sea-inspired print.
Among the brand's future objectives, the most important is the development of new environmental protection solutions for every production phase, from raw materials to finished products, extending the life cycle of every item to increase both sustainability and durability.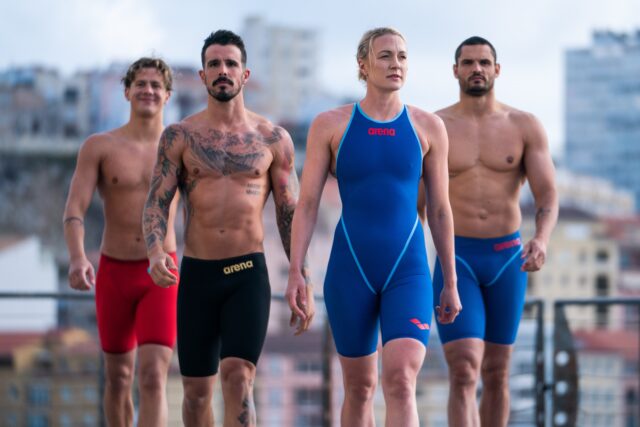 As further proof that care and love of the environment is an important source of inspiration and aspiration for arena, the company will become a B Corporation by 2024. B Corp (where the "B" stands for "benefit") is one of the world's most respected certifications, taking a holistic approach to measuring companies' performance in multiple areas. Being a B corporation means operating not just to generate profit, but to create a benefit for people and the planet.
The core business remains unchanged, providing innovative swimwear for racing and training that ensures perfect adherence and hydrodynamics. In addition to the competitive swimwear range, arena's interest continues to focus on equipment, sportswear and beachwear garments.
In addition to the competitive sector, arena's interest continues to embrace equipment products, sportswear and the world of beachwear.
And in terms of style and luxury, arena's preferred approach is to strike up collaborations with fashion brands. In 2006, Balenciaga chose to revisit the Santamarias men's swim briefs in a luxury version. In 2019, arena announced its partnership with Bape (A Bathing Ape), the Japanese streetwear giant, by designing essential clothing and accessories for swimming and sportswear. More recently, arena has collaborated with Fendi for a limited edition capsule collection: a kit consisting of caps and goggles distinguished by the unmistakable FF logo.
Today, arena is present in 128 countries around the world (5 direct markets, 111 distributors and 12 Asian countries served by Descente Ltd). arena has a long history of promoting swimming and water sports through technical sponsorships of governing bodies for aquatics, federations, clubs and athletes. arena has sponsored FINA (nowadays World Aquatics) and LEN, and today supports 40 individual athletes and 25 national federations.
…The evolution of excellence: beyond collecting records and champions, arena wins the heart of water lovers

In 2023, arena celebrates its 50th anniversary: a great milestone achieved thanks to the dedication and unfaltering commitment of a team of professionals and enthusiasts of aquatics. People interested in studying the latest trends, without ever losing sight of the roots of the brand and always looking for new technological solutions to improve the consumer experience with their products. An approach that has earned the trust of many people who over time have appreciated the qualitative excellence of arena and who, over the years, have formed a community linked by common values.
arena's family is large, composed by professionals and passionates, with a special connection to water, who respect the environment and promote inclusiveness. Water lovers aim to take swimming wherever is possible: from the open sea to lakes, from triathlons to icy waters, without ever setting limits.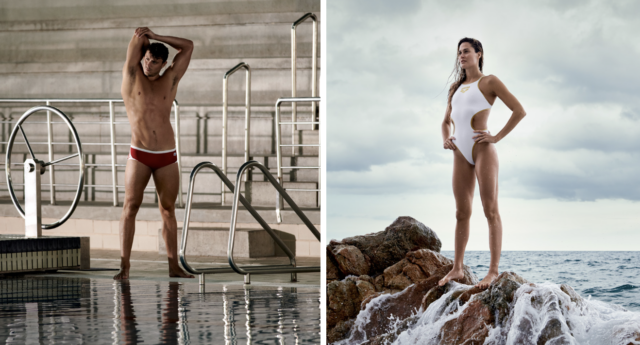 Pushing past one's limits is the foundation of arena's legacy, which has always been characterized by a bold vision for innovation: the very same boldness that inspired its founder, Horst Dassler, in 1973.
With perseverance, goals are achieved, challenges overcome, and new records set. Champions know this, as does water itself, which is always able to create new openings when trapped. In much the same way, arena was able to evolve over time, always finding new courses to chart and new waves to ride, moving forward to stay where it's been for the past 50 years: on the topmost step of the podium.
HORST DASSLER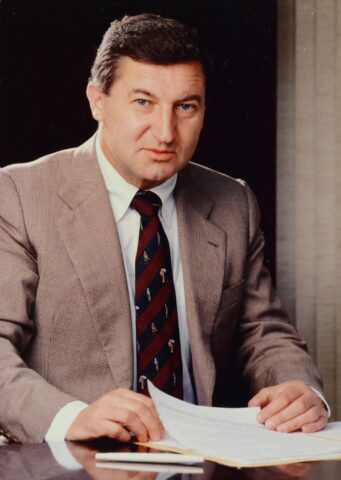 Horst Dassler was born in 1936 in Erlangen, Bavaria, the eldest and only son of Käthe and Adolf Dassler, founder of adidas. The heir to the family business, together with his four younger sisters, he studied at the Frederician college in town before attending the Nuremberg School of Commerce. Used to living away from home since he was a child, his relationship with his father was born and grew in peaceful silence, during the weekends, in which they went running together, practicing the art of javelin throwing, a sport for which Horst has a natural predisposition.
When Horst was 20 years old, he was entrusted with his first important assignment: to go to the Melbourne Olympics and promote the adidas brand. It was 1956 and Horst demonstrated his brilliant intuition: at a time when sponsorships – athletes wearing branded clothing and accessories during competitions – were not legislated, Horst decided to give the shoes away, hoping to see them again during the games. This idea proved popular with the athletes, who often had to pay out of pocket for sports equipment, making it last until it was totally worn out. Over the course of the Olympic Games, the company racked up 70 medals.
Horst's Mediterranean attitude, backed by his perfect knowledge of Spanish and a long stay in Barcelona, and his talent for building relationships with both colleagues and athletes were a recipe for success, allowing him to create a network of loyal and lasting friendships with the leading lights of the sporting world.
After returning to Germany, eager to take over the reins of the company, Horst decided that he should move to Landersheim, Alsace, where he founded the French branch of adidas with his parents' backing. At this time, he also married Monika Schäfer, a former gymnast with whom he had two children, Adi and Suzanne. He was managing the French branch separately from the German parent company. These years were punctuated by many successes, but the ambitious and dynamic Horst Dassler was constantly searching for new challenges.
Horst earned the nickname "Le Patron": demanding and comfortable making bold and instinctive decisions, he required his co-workers to match his level of dedication. For example, he once asked Alain Ronc – who joined the company as an assistant in the export department and soon became one of his most trusted allies – to participate in a meeting in Malta on his wedding day. When Alain expressed his reluctance, Horst advised him to bring his future bride with him and make the trip into an unexpected honeymoon. Horst Dassler won his team's esteem by showing them the same level of consideration and respect as his family and the athletes: he was known for remembering their personal details, meticulously inquiring about them and being able to count on an impressive memory, reflecting his belief that "business is built on personal relationships". A style that required large investments, but which has certainly paid off over the years.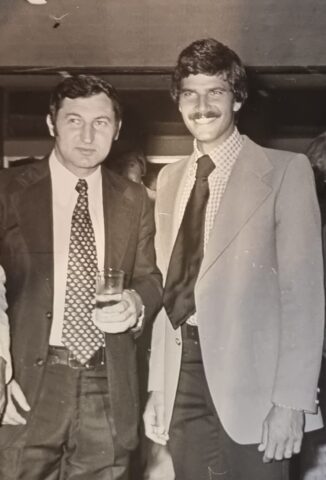 At the 1972 Munich Olympics, Horst was inspired to embark on a new adventure: he was very impressed by "Mark the Shark", the nickname of the American swimmer Mark Spitz, who won 7 gold medals (and broke 7 world records) and asked the athlete to sign a contract with adidas hoping to create a swimwear collection. Eager to give rise something that could feel all his own, Horst faced significant resistance from his family, who were reluctant to break into an unknown market. Horst was not discouraged and decided to create a new brand, just to have Spitz, the greatest swimmer in the world, on his team.
So he brushed up on arena, a brand he had launched the year before to manufacture canvas shoes, as adidas was dedicated to all-leather designs. Horst bought the name, held by a company in Nîmes located near the city's Roman arena, and registered it internationally. He was only 37 years old. At the end of 1972, he called Alain Ronc into his office to entrust him with "a challenge": creating the arena brand.
"During the three-hour meeting, I took notes for five years of work. Horst used to make decisions based on instinct: he was not interested in consultations, he was always thinking at two hundred miles an hour, and everyone who worked with him was sweating to keep up. About arena, however, he had a very clear vision of what he wanted, and it was up to me to make it a reality," Ronc would later recall.
The pair convinced Spitz to promote the brand, even though it did not actually exist yet, and he signed a contract with arena. It was the year 1973.
The brand was officially launched in 1974 at the European Aquatics Championships in Vienna, where Horst and Ronc arrived with a line of just three swimsuits. They soon won over coaches and distributors, including the coach of the Canadian team, who all competed to obtain arena swimwear. Actually, they were selling the image of Mark Spitz, more than the arena itself, since it was a still unknown brand. A year later, the collection was expanded to include women's swimwear, and a very young Shane Gould was chosen as ambassador. In two years, the success became worldwide, thanks also to the personal relationships that Horst had built over the years, both with the federations and with the athletes.
Among those who promote the brand there are all the greatest champions of the time, from Novella Calligaris to diver Klaus Di Biasi, passing through the Americans Schollander and Babashoff, and the British Wilkie. A so much enviable dream team that in1975, at the Cali Championships, 70% of the medals were won in the arena.
In the meantime, Horst was increasingly involved in high-level Olympic committees and FIFA. He set up a company called ISL (International Sports and Leisure) a sports rights agency and was in constant contact with various politicians and federations, always on the hunt for new opportunities and working on multiple projects.
On his father's death, Horst decided to accept his mother's invitation to return to Germany to run the entire adidas group. From the town of Herzogenaurach, Horst controlled all his companies, including arena, until the onset of the tumour that killed him in 1987. His death came as a great shock to his friends and colleagues, as he had long hidden his disease. A marketing pioneer, a dynamic visionary, a man with his sights set on the future, who knew how to embrace the challenges and opportunities of a constantly changing market: Horst Dassler was all this and more.
TIMELINE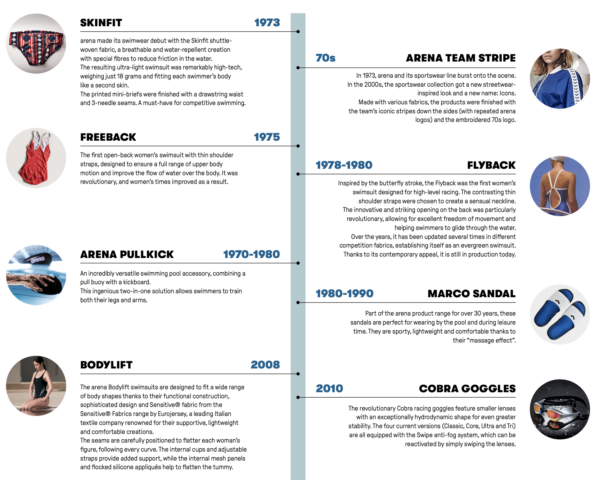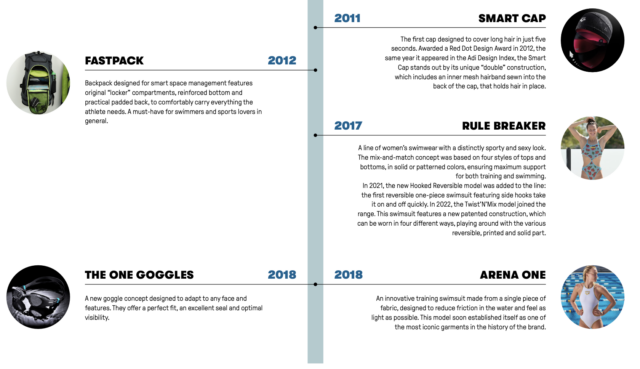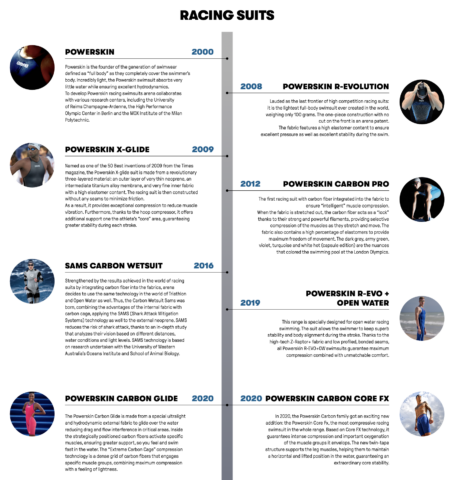 arena has revolutionized the world of aquatic sport through insightful collaboration with world class athletes and the development of cutting edge competitive swimwear since 1973. Today, this spirit of collaboration and innovation lives on through a continuous evolution of advanced materials and Italian design that improves the performance, style and expression of all those who chose arena. From leading the lanes to living in style, arena is dedicated to providing all swimmers with the tools they need to express themselves, feel confident, win and achieve more.