It's that time of year again! Hell week is quickly approaching, the week between Christmas and New Years when swimmers do a month's worth of training in five long, difficult days. Here's what you're going to need to get through it:
1. Ice

Cranking thousands of yards a day can do some serious damage to your shoulders if you don't keep the strength up and the swelling down. Rest, ice, and heat in between practices will keep your body in optimal condition. (Remember: 20 minutes on, 20 minutes off.)
2. Advil
Soreness is difficult to avoid and by the end of the week, the swimmer population of the world may be singlehandedly buying out the local drugstore's supplies of Advil and Aleve. Don't worry, you're not the only one. We're all in this together.
3. Teammates
When trying to push through a tough set, one thought always comes to mind: There are eight other people in this lane that are doomed to the same fate. Encouraging one another throughout these long workouts brings a positive thought to your mind and puts a positive thought in someone else's. Pass it on.
4. Rollers
Tight muscles can be a swimmer's worst enemy when the hours get long. Grab a foam roller to roll out your thighs and calves to prevent cramping. It might hurt now, but you'll be glad you did it later.
5. Food
The best thing about this week is that you'll be burning a zillion calories a day–which means you need to eat just as much to keep yourself energized. Make sure to snack on foods with protein and ingredients that will sustain you. Avoid refined sugar if you can help it. Try breads, pastas, and grains. Carbs galore!
6. Positivity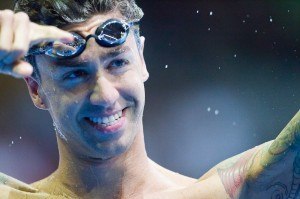 Yup, it sucks spending every waking hour of your winter break drenched in chlorine, but the best way to look at it is as an opportunity to improve. While you're spending hours staring at a black line during this week of pain, think of all of your non-swimmer friends who are spending their break laying in bed watching Netflix and eating chips. When it's over, you can look back and reflect on how hard you worked. Be proud.
It may seem bad now, but this week is one of the most important weeks of the year. This week, races are won and lost. Cuts are made and missed. What you put into this training is what you will get out of it. If you put forth your best effort, your future self will be thankful in February when championship season comes around and you finally break that personal best.