Courtesy of FINIS, a SwimSwam partner. (Featured Image: FINIS Athlete Anthony Ervin)
Try these three drills to maintain a powerful backstroke kick.
#1 – It's all in the hips
Like freestyle, backstroke requires a tight core and streamlined body rotation for ultimate efficiency. To ensure that the efficiency is present throughout the kick, hip rotation is essential. The following drill helps key in the core and leg muscles that initiate a hip-driven backstroke kick.
3 x 25 Flutter kick on back (right arm up, left arm down)
3 x 25 Flutter kick on back (left arm up, right arm down)
6 x 25 Backstroke; 6 kicks on right side, 6 kicks on left side
To ramp up the hip rotation, try using tools like the Tech Toc or the Hydro Hip.
#2 – Off the wall
Maintaining speed off of each wall stems from a combination of aerobic and mental conditioning – two skills that don't come without a challenge. The drill below will force you out of your comfort zone and into a stronger underwater kick.
20 x 25 Backstroke (begin with 2 dolphin kicks off the first wall, adding 1 dolphin kick each 25)
Try using a Tempo Trainer to maintain you underwater kick speed when fatigue sets in.
#3 – Going Steady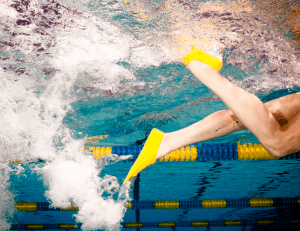 Of all strokes, backstroke lends itself most to a break in kick. The powerful arm drive and dramatic body rotation means that swimmers often allow for a pause in their kick without even realizing it's happening. Try this drill to practice a backstroke kick that intensifies upon each body rotation.
8 x 25 Flutter kick on back (right arm up, left arm down) 6 kicks easy, 6 kicks overkick, switch to left side and repeat
8 x 25 overkick, begin with 16 strokes per 25 and subtract a stroke every 25
For added focus on speed, complete this drill with the Zoomers Gold fins or the Long Floating fins.